"Fertilizer runoff is the chief cause of excess algae growth in ponds, lakes and rivers."
Here's a topic — and myth — I've already touched on a few times this season in different features on the site, but since it's leaf rakin' season, let's deflate the myth quickly for those who are new to RG.
By far the biggest cause of phosphorus build-up in water systems is the introduction of grass clippings, leaves, and other plant waste into the storm drainage systems that run under most city and suburban streets. All this yard waste, especially grass clippings and leaves, contain very high levels of phosphate, and do more to create life-choking algae in water than does the phosphorus form of phosphate found in garden and lawn fertilizers.
Every curb is a shoreline. Now that the fall season is here, compost your lawn waste, bag it and dispose of it, do anything you want with it except rake/sweep/blow it out into the street.
For those interested in more on this topic, check out a column from earlier this summer, Every Curb is a Shoreline.
"Always buy and plant perennials in threes."
This age-old piece of advice is not completely wrong, but it certainly is a myth that perennials can't be planted as a single specimen plant. Japanese garden design influences, picked up by west coast designers and now filtering into the Midwest, are a good example.

The myth can keep beginners out of design trouble, sure, but before long you'll realize the limits this rule places on the development of your personal style. Besides, the rule is so arbitrary — I recall buying mums from a top mum grower years ago, toddled up to the sales desk with three of the same variety, and he looked at me funny.


I grow a single Angelica gigas next to my front-garden bench every year, because I like the way it turns into a sculpture, adding interest to the bench all season. We don't place sculptures in threes. I leave the plant up all winter; after a snowfall, it looks like a bronze or copper abstract, accented by pure white on any horizontal portion. Dazzling.

Sometimes, the "what's left over" approach leads one to break the rule. This spring, in one stretch of my garden I wound up with a spot about four feet long, front of the bed, and I was done buying anymore perennials for the year. I planted a single Allium to the left, then three blue annual Salvia (that would grow to become one clump) next to it, then a single yellow spider mum to finish it off. This stretch of single-single-single even ended at a single, dwarf Rhododendron.


Looks fine. It's in a part of one of my gardens that has a friendly, wild, hodge-podge personality to it anyway, and the white-blue-yellow combination adds to the anarchy.

Buying and planting in threes is good general advice, because it keeps newer gardeners from planting too much of a hodge-podge, where nothing commands attention or has enough visual volume to get much of anything going. But the more I garden, the more I realize there are ample opportunities to ram that single guy in there, and have it look good.

Experiment. You'll know a successful single-placement (or even, egads, a double!) when you see it.
"If I water my trees and shrubs heavily starting this fall, it will help them survive winter, even though I've pretty much neglected them all summer long."
Ah, if only this were true.
Making up for season-long neglect by watering your trees and shrubs in the fall (because you've heard that they should enter the winter season well-watered) is akin to finding God in a foxhole. Results are not at all assured.
Yes, trees and shrubs (and by trees, I mean ornamentals, young trees, and trees planted this year or last) should go to bed wet, to protect them from winter burn and overall stress. But if they haven't been receiving regular moisture during the growing season, fall watering won't have much impact.
Oh, it'll be better than nothing, but try to figure out how to find the time to keep your investments well-watered all season long. That's what it takes to develop a lengthy, healthy root system in just a couple years, the type that will be able to seek and store adequate moisture for winter.
"Roundup, and its devil-spawn, Kleen-up, are hideous, monstrously toxic chemicals created in smoking vats by evil, monolithic corporate chemical companies who are reaping huge profits while poisoning our children."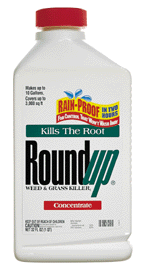 How can anyone have a problem with Roundup? It kills grass, for God's sake! Kills it! Dead, dead, dead!
I recall sitting in Master Gardener Core Course when our professor for Plant Pathology mentioned matter-of-factly that such-and-such could be handled by spraying it with a little Roundup. One person in the class rose up and darn near walked out when he/she couldn't get the professor to denounce Roundup as something that a Master Gardener should never recommend for use.
The professor patiently tried to explain the facts. Roundup is a chemical, by name Glyphosate, or isopropylamine salt. Spray it on a plant and it essentially salts it to death, killing the plant by preventing it from making its own food. That's what goes on when you spray Roundup. Chemists found a chemical that starves plants to death.
That makes it toxic. Anything that kills anything is considered toxic. Very little on the planet is not toxic. Eat enough butter at one time, or asparagus, and you will die. Butter and asparagus are toxic, in that regard. So is beer.
Of course, some people don't let a little chemistry get in the way of their logic. If it kills plants, it must hurt the environment.
No, it doesn't. Give industry some credit. About 25 years ago the chemical companies were under severe scrutiny, the EPA was passing tougher laws, and look how industry responded-things changed for the better. Roundup (and Kleen-up, same deal) were the chemists' answer to one of our concerns. You want something that's not going to affect soil and ground water, OK, we've come up with this.
Roundup is systemic, meaning it is absorbed into the plant, all the way to the roots. The plant starves, dies, then the Glyphosate breaks down in the soil at a very quick rate. It needs the plant to hold together, but the plant is gone. Nothing is left to leech into ground water, nothing remains to "poison" anything.
You can seed an area sprayed with Roundup a week after the application. One of the top native restoration experts in the county was speaking in Minnesota recently, and how do you think his firm starts a native restoration project? They spray the bejeesus out of the area with Roundup.
Children and pets can walk on grass treated with Roundup as soon as it has dried—after about two hours, on a sunny day.
Of course we need to be careful with any chemical. Of course we need the EPA, and other industry watchdogs. But give credit where credit is due. Roundup is the absolute least of your worries.
"Hostas are a shade plant, and don't tolerate sun."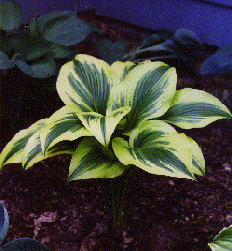 Not quite correct. Some hostas need some direct sunlight in order to look their best.
In deep shade, just about any hosta will grow smaller leaves, develop more slowly, and lack zip. Most like a little direct sunlight during the day to look their best.
This is especially true of those with yellow or gold leaves, which need, and easily tolerate, upwards to three hours of direct sun to develop rich color. I have one, Oreo Margarita 'William Shatner," that didn't look at all attractive until I moved it a spot offering two hours of morning sun. (OK, so I remember the real name of this one, the magnificent H. montana 'Aureomarginata.')
True, the blues don't like direct sun, and will bleach out. The all-green varieties like it dappled, but those with variegated leaves incorporating yellow, gold, cream or white need some direct sun or you'll be disappointed.
Remember, you can't kill a hosta. Experiment with the amount of direct sunlight, from one to three hours, and find the condition that best suits the ones you grow.
"It's a good idea to add a little lime to your soil at the start of each gardening season, particularly spread on the lawn."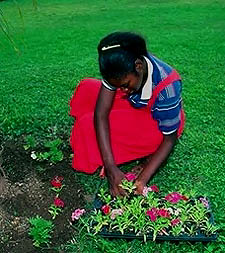 No, it isn't. Lime is not some super-additive, or magic nutrient that helps plants grow. Lime is not a fertilizer or soil conditioner or a form of organic matter that every soil needs. Lime is merely lime, and depending on its form it is simply several of a variety of compounds of calcium. It is found in deposits all over the world, and can be created in laboratories.
The quality possessed by lime that makes it potentially attractive to gardeners is that it "sweetens" the soil, i.e. it raises soil pH. Now, pH is a hugely complicated science that even the Renegade Gardener barely understands, and I've read books on the topic. I even recall being awake when pH was covered in soil science class at the University, and still have a hard time grasping it when explained to me in shampoo commercials. But suffice it to say that soil pH affects when, how and how much the nutrients in the soil (either inherent or in fertilizer) are taken up by the plant.
If you wish to grow blueberries in the north, you need acidic soil, because the blueberry plant needs the micro- and macronutrients released at a certain pH level. All plants are minutely different. Grow flowers in soil that is too acidic, and it's like the nutrient spigot is shut off. Grow them in soil too alkaline, and the same thing happens.
The number 7.0 is considered neutral, ground zero, neither acidic nor alkaline. Don't ask me why they chose 7.0. Some scientist was tired of using 5 or 10 as medians, I would guess. These scientists were obviously not card-counting blackjack players either, because the simplest thing in the world would have been to make neutral zero, then go -1, -2, etc., for acidic and +1, +2, etc., for alkaline, a sort of gardener's Hi-Lo, which would have been much easier. It would also make it so that you double-down an eleven versus the dealer's ace only if the blueberry plants were dead, and stand on 16 versus dealer's 10 any year the azaleas bloomed, but enough of this. Here I am at midnight writing humor for the .05 percent of my visitors who are card counters. Of course, if you are a card counter, that was very funny stuff. I am going downstairs for a cup of tea.
Back. Lime raises your soil's pH. Period. Which pretty much renders it worthless to the Renegade Gardener, and Minnesotans in general. Take a soil pH test anywhere in this state and I'll bet you dollars to donuts that the soil comes up between 6.5 and 7.5. Around the Twin Cities you'll find a pH of 6.5 pretty much across the board.
Which is great news. A large majority of everything you want to grow in Minnesota, vegetable, annual, perennial, deciduous or coniferous, is going to do just fine in soil with a pH between 6.5 to 7.0—slightly acidic to neutral. A few things are going to ask that we lower—not raise—the pH, plants such as azaleas and rhodies and blueberries and some conifers.
Meaning there aren't five lawns or gardens between here and Hudson that need lime added to the soil. Yet last spring, there was one of my neighbors, out mid-morning, gleefully flinging lime all over his yard. I asked him what for. "Lime is good for the soil!" he informed me. It's a tough job, being the neighborhood plant geek. I didn't say anything and let him have his way. A little lime wasn't going to hurt his garden too much. At least I know where to go to borrow a cup of the stuff, next time I need to bury a cat.
"Boughs cut from your Christmas tree work beautifully as a winter mulch on the garden."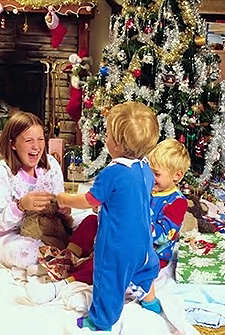 There goes Martha again. I will pay $100,000 for every time Martha has gone out in her tan, goose-down jacket—the one with the fur-trimmed hood—and personally placed branches cut from her Christmas tree on her frozen garden beds. (Although I don't want to come down too hard on Martha. I've actually watched a few of her shows recently. Martha kind of grows on you.)
But still, I never get through an article on preparing the garden for winter without the writer repeating the absolutely inane advice (that he/she stumbled upon while researching the article) about using Christmas tree branches for winter protection.
Raise your hand if you've ever purchased a Christmas tree taller than eight feet. Of course you haven't. OK, one spruce or pine branch lying on the ground has zero insulating properties, meaning the branches would have to be overlapped at least three high, maybe four, to do any good. So how many square feet of garden bed will you be able to cover from the branches comprising a seven- or eight-foot Christmas tree? Thirty? Forty? That's right, it would be an area about six-by-six. Wow.
What happens after evergreen branches die? They lose their needles. They've already left half their needles on your family room floor by New Year's.
So it's a good idea to mulch with layers of sticks? Sticks make good winter mulch? How come no one's written that? And what are we supposed to do with this brush pile in the spring? The branches are too big to compost. Plus we've missed our chance at getting rid of them during the curbside Christmas tree pick-up, that was in February, back when they were supposed to be attached to a tree. At least the garbage man took the naked trunk.
It's an utterly ridiculous exercise that no one has ever done, dreamed up by some unknown writer on this planet who needed one more ecologically uplifting recycling tip to round out some forgotten gardening article published in the early '70s. Let it drop.
"Perennials should be divided in the spring."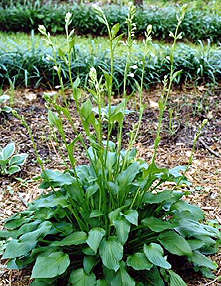 Not an erroneous statement, just misleading so far as it implies that perennials should not, or cannot, be divided in the fall, particularly in the north. Fact is, they can.
Why divide in the fall? Sometimes I like to dig up, divide, and move something in the fall to get a jump on next year. Let's say that red phlox I planted too close to the front of one bed has been bugging me all summer, and during the course of padding about my little half-acre during the growing season I realize that it would look great if I moved it to fill that space in a different bed over there. But it needs division. So I dig it up at the end of the season, divide it, and replant it, before I forget my brilliant design move.
Hostas are another great example. Start growing a lot of hostas and one spring you'll wake up to discover every hosta in the joint needs division, and you've somehow acquired thirty of them. (I probably have forty or more hostas kicking around my yard, and I'm not a very big hosta guy. Big hosta guys and gals usually have a hundred or more, each of them identified with a plant tag, plus a back-up log on their computer recording the name of each hosta, and where and when it was planted. I typically forget the names of the hostas I plant within a few years, and call every one of them Oreo Margarita 'William Shatner.')
Dividing all your hostas in the spring can be a week-long ordeal, at a time when there are much more enjoyable tasks before you. Instead, start dividing them the previous fall, when your gardening schedule isn't so frantic. You can't kill a hosta.
We typically divide most perennials in the spring because that's when they are most vigorous and hugely intent on sending out new roots for the upcoming season. Divide in the spring, and each division gets replanted while in this rooting mode.
But the longer I garden, the more I realize you have to do a lot of things wrong, in the right order, to kill a perennial. Plants are tough. I've never lost anything I can think of by dividing in the fall.
In Zone 4, this means dividing anywhere from late August through September. In Zone 3, I'd move this up two to three weeks, and in Zone 2 I wouldn't divide anything after the first week of September.
Divide in the fall as you would in the spring, water the new division thoroughly when planted, do not fertilize, and do not cut down the plant for winter.
There are some perennials you don't want to divide in the fall. Anything that fades out to nothingness by the end of summer, such as columbine, is probably best left alone. I don't think I'd risk it with mums, either. But most of your "divide in spring" plants should handle late summer/fall division just fine.
Of course, there are some perennials that prefer fall division, such as irises, and Oriental poppies (poppies are best divided mid-August in Zones 3 & 4).
"Lawn mower manufacturers create five height settings on lawn mowers so that I can opt for the lowest setting and ignore the other four the entire rest of my life."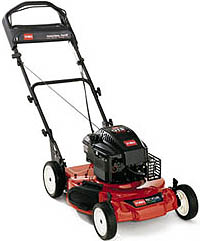 Seriously, that's what must be going through the heads of homeowners who commit the number-one mistake in lawn care: mowing one's lawn too short. I have a guy down the road from me with an enormous lawn that he cuts with a rider set so low the grass blade is cut to around half an inch. I theorize he was conceived during an amorous moment years ago on some country club's 18th green. I'm surprised he hasn't taken the tires off his tractor and tried running it on the hubs to get an even closer shave.
Starting now, mow your lawn using the middle setting—"C" on my Toro. Cut, your grass should be around 2.5 to 3 inches long. "A" cuts it to just under an inch. When repeatedly cut that short, grass doesn't develop a deep, healthy root system, so you need to water it more. The grass blades also don't shade the ground; the sun beats down and evaporates the moisture and fries the roots. Now you need to water even more and fertilize three or four times to keep it green. Your lawn becomes more susceptible to pests and fungal diseases, and is the first in the neighborhood to brown out and go dormant in mid-summer, unless you irrigate every two days.
Grow your grass longer and the roots will grow deeper. Plus blades shade the ground and keep the roots cool and happy. When July rolls around in Minnesota, temperatures climb into the 90s and even the 100s. These periods are what the higher settings on your mower are for. I move up to the "D' setting so I'm growing taller, fully developed plugs during the most stressful periods of heat and drought.
Another benefit? Consider that you should only remove 1/3 of the grass blade when you mow. Cut any more and it stresses the plant. Well, if my neighbor is cutting his lawn to one inch, he has to cut it when it grows to an inch and a half, if he hopes to maintain his status as Lawn God Of Western Deephaven. His lawn will grow that half an inch in just more than two days during times grass is most active. So he gets to mow his lawn two and even three times a week.
Me, I consider mowing the lawn the gardening equivalent of cleaning the toilet. I let my lawn grow to 4 or 5 inches and cut it to just over three. I mow less than once a week.
In the fall, after the grass is finished growing, that's when the low, "A" setting comes into play. The last few times you mow in the fall, mow your lawn as short as possible so there's less rot and disease problems caused by snow cover and spring thaw. Removing the tires from your mower, however, is unnecessary.
"The Stella de Oro daylily blooms all season long."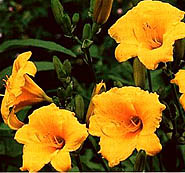 Not in the north it doesn't. In fact, I don't believe it blooms all season long anywhere in the country. I sat on an airplane one time next to nice guy from Texas who was an avid gardener, and the two of us became best mates the second we agreed that Stella was one of the greatest boondoggles of all time.
Stella was the first daylily (Hemerocallis) created by the nursery industry that repeated its bloom. Prior to Stella, daylilies would bloom anywhere from June to August, some for as long as a month. But when they were done, they were done. Stella blooms in mid to late June in Minnesota, an entirely unconvincing "pffffft" of small, unspectacular yellow flowers, and then, if you keep it fertilized, grow it in plenty of sun, and deadhead it religiously, in August it will give you a second, even less impressive "pffffft."
If you completely ignore the plant and don't deadhead, it will spray out a couple of minor stems with blooms the second time around.
That's all the nursery industry needed. "Blooms all season long!" proclaimed the press releases and magazine ads. About its second year on the market, the single most-purchased plant in America was the Stella de Oro daylily. The public went nuts, not over the plant, but over the promise that this daylily bloomed from June to September. Landscapers bought them, and still buy them, by the semi-load. Any daylily you see in any commercial landscape is a Stella.
Two weeks ago, I am not making this up, I was walking down the sidewalk of a little strip mall/office complex in Deephaven, and a landscaper was busy planting a triangle area with daylilies. I said, "Stella de Oro!," bent down, picked one up, looked at the plant tag, and of course, was correct. "Wow, you're good!," said the landscaper. No, I'm not, your industry is inane.
When it isn't blooming, Stella gives you extremely unattractive, reedy, narrow leaves that look like Siberian iris without the iris. It's essentially a worthless perennial. Thank god it doesn't bloom all season long. You can do better. There are at least 30 gold/yellow daylilies out there that are more attractive. The lesson here is never be afraid to question industry hype. Just wait until I have time to write about the Flower Carpet Rose.
"Thatch increases in lawns where the grass clippings are allowed to remain on the lawn."
False. Using a mulching mower without a bagger (or the bag attachment closed off) and letting the clippings remain on your lawn is actually very healthy for the lawn. Leaving the grass clippings on your lawn each time you mow returns nutrients to the soil to such an extent that you can skip one fertilization application during the growing season.
Thatch is caused by over fertilization, over watering, and a couple of other things I didn't pay attention to during the abysmal Lawn Care portion of my Master Gardener training.
I know this is a rather tired and perfunctory MOTW this time around, but I've got three magazine articles due between May 15th and May 23rd. The Renegade Gardener needs sleep. Fresh fruit and sleep.
Next update I promise I'll bring you something spicier and far more esoteric. If you are a new visitor to the site, you're welcome to check the MOTW archives at the bottom, so you don't go away thinking this is a dumb feature.
"When planting a new tree, DO NOT AMEND THE SOIL you shovel back into the hole around the tree."
Well gee, um, OK, I won't, even though it goes against every shred of instinct I've developed over my years and years of gardening. But if you say so …
WHO says so? Why, just about every member of this year's new crop of TV gardening experts, tired old garden writers and gullible radio gardening experts, that's who. They have forwarded this myth along to the point it's now considered the "in" fact to know about tree planting-except it's wrong. Here's the whole story:
Researchers at the University of Minnesota discovered that the best way to plant a tree was to plant it in as big a hole as possible. Instead of digging a hole twice the diameter of the pot or root ball, you should dig and rototill and break up the soil around the new tree as wide as possible. Otherwise, the roots of the tree start circling in the hole, where the soil is loose, instead of breaking through and heading out to establish a broad, long root structure.
The U also found that if the soil was amended in a too-small hole, this encouraged the tree's roots to circle, and never leave the safe confines of amended soil. In these situations, the trees suffer and are prone to disease and drought problems because their roots never get very far from home.
They did not say to never amend the soil, and two months ago the top tree expert at the U's School of Horticulture confirmed this to me in person.
If you dig a hole for a tree and the soil is junk, just crappy, inert, lifeless junk, the stuff you often find in a yard underneath the ribbon of black topsoil, it's ridiculous to miss this opportunity to add some organic matter to the soil that you use to fill in the hole after planting. The tree needs organic microbes and fungi in the soil to survive. But don't dig a small hole-dig as wide a hole as possible.
If you dig a hole for a tree-again, as wide as possible-and the soil is decent, loam soil, then you don't need to amend it.
The last time I planted a tree, it had a root ball that was about twenty inches across and twenty-four inches tall. I dug a hole two feet deep and four feet across. Then I got the rototiller out and loosened the soil around that hole until the area I had busted up was a circle ten feet across. The soil wasn't too bad, but it was pretty coarse and gravelly halfway down, so I amended the soil with compost and peat moss.
So what the U said was don't amend the soil if you dig what was once considered the correct size hole-it's going to encourage root girdling. Dig as wide a hole as possible, and if the soil is dead, amend it.
Your instincts were correct all along.
"Organic fertilizers are better for the environment, and safer to use than chemical fertilizers, particularly on vegetables."
I barely know where to start. High school chemistry remains a distant, vague blur to me, as does all of high school, for that matter, but for some reason I do remember Mr. Karls, my chemistry teacher, pleading with us to get it through our thick skulls that "nitrogen is nitrogen is nitrogen."
And so it is. Organic fertilizers ("organic" meaning they are derived from materials produced or occurring in nature) contain, separately or in combination, the three macronutrients vital to plant growth: nitrogen (N), phosphorus (P) and potassium (K). And these three are everywhere; N, P, and K were all over the planet way before man arrived, and still exist in every nook, cranny and cow pasture.
Scientists have also learned how to manufacture these elements, and many more. The choice is yours. However, I occasionally encounter gardeners who claim purity of product due to their sole use of organic fertilizers, such as cow manure (which provides faint wisps of nitrogen), sea kelp, fish emulsion, barber shop sweepings or anything else not manufactured by evil white men in corporate chemical factories.
Fact of the matter is, your roses, your tomatoes and your beans don't know and most important, don't care if the fertilizer you feed them was manufactured from fish certified to have died exclusively from old age, or made from the tailings of a Russian nuclear reactor; plants cannot detect any difference. And where the nutrient came from doesn't do anything different to the plant. Nitrogen is nitrogen is nitrogen, phosphorus is phosphorus is ... well, you get the idea.
The disadvantage to organic fertilizers is that they are weak compared to the man-made stuff; much, much more of an organic fertilizer must be used, particularly if a soil test shows a major deficiency of one of the three main nutrients. Man-made, chemical fertilizers, either granular or water-soluble, are more potent, and will fix soil deficiencies quicker.
There are some great advantages to using organic fertilizers, don't misread me. They usually improve soil structure much more so than chemical fertilizers, can include useful micronutrients the big chemical companies don't worry about, are often the bi-product of a worthy recycling process, and in a few cases have provided dazzling economic success to burned-out old hippies who might otherwise have had a hard go of it in the cold, cruel world. These are definite pluses.
"Organically Grown," meaning no chemicals are used for disease and pest control, now that's a different matter, and cause, I believe, for this confusion. Not using chemical pesticides, herbicides or fungicides on plants, particularly food crops, is hugely noble - but unrelated.
"An easy way to increase air circulation to the bottom of the compost pile is by first laying a foot-high, loose structure of stout brush on the ground, then adding the layers of compost materials on top if it."
I wish more garden writers would actually garden, and in particular make compost for a few decades. This layer of sticks theory for starting a compost pile gets tossed along from article to article, with no one ever stopping to think about what a mess it is to have a brush pile buried at the bottom of the ol' compost heap.
Early on, like an idiot, I first laid a loose structure of brush on the ground, then built my compost pile on top of it, only to find that after the pile had settled and cooled off completely (well before the process was half finished) I couldn't turn the pile without snagging my pitchfork on — surprise — these long, stiff sticks at the bottom. Then I lost a few bushels of my richest compost by having it sift down into the brush, from which it is inextricable. I finally pulled all the brush out and threw it in the woods, but still had twigs and chunks and scraps of wood throughout the compost that I had to pick out by hand the entire season I used that batch in my garden.
Don't build a brush pile on the floor of your compost bin. Yes, air circulation in the pile speeds the process along, so if you're younger than 45, build two bins side-by-side, then once a month toss the entire pile from one bin to the other. Takes about twenty minutes, it's a great workout, and if you do it early in the morning you feel like a farmer, which is a wonderful, wonderful feeling.
Age 45 and older, buy a compost aerator, a simple metal rod with a T-handle at one end and a sharp point with two collapsible wings at the other. Once a month, plunge the rod into the pile, twist the handle, rip it out, and plunge it in again, working the pile in an eight-inch grid. Takes about ten minutes. Every now and then, after twisting, the wings on the pointy end actually open as they are supposed to, and the pile really loosens up.