RENEGADE GARDENER™
The lone voice of horticultural reason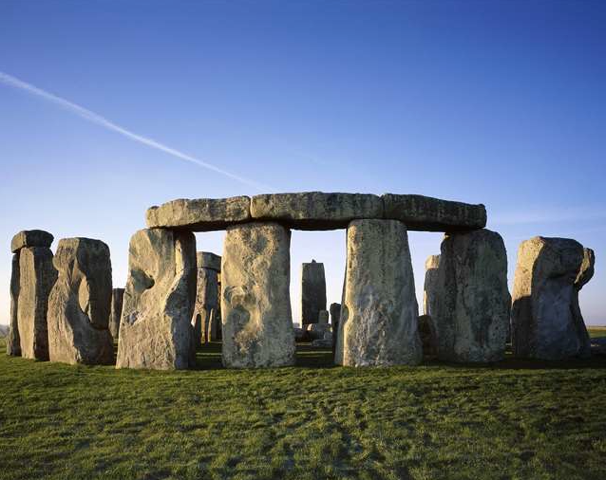 Travel to many of the world's more beautiful locations, or view the most famous, historic and cherished structures on the planet, and quite often you will find yourself marveling at natural stone. Whether left untouched or shaped by the hand of man, stone has a power and permanence unequaled by other materials found on the planet.
Introducing this power and aesthetic grandeur into your landscape should be a goal of every gardener. No two pieces of stone are alike, be they boulders, wallstone or flagstone pieces. Stone need not be intrusive; even the subtlest stone accents can elevate that portion of a landscape to a new level of beauty.
I've pulled a large number of photographs of stone features that I as well as others have created through the years, and written a few words about each. Take a look, be inspired, find something you like, and let stone stamp its unique and indelible mark on your property.
Stone Accents
Sometimes, less is more. I'm always "thinking stone, looking stone," so when I see a little area that will come alive with a stone accent, I'm on it.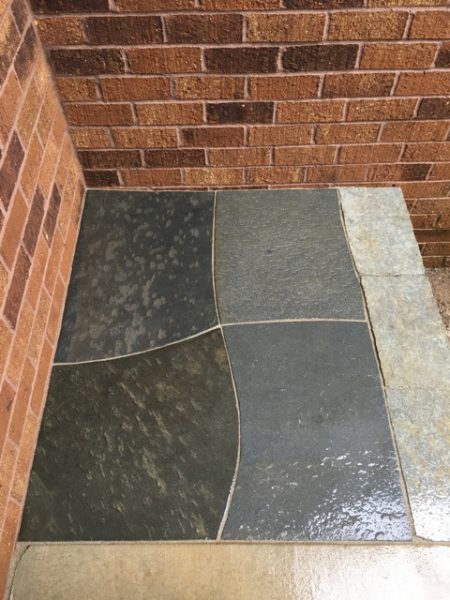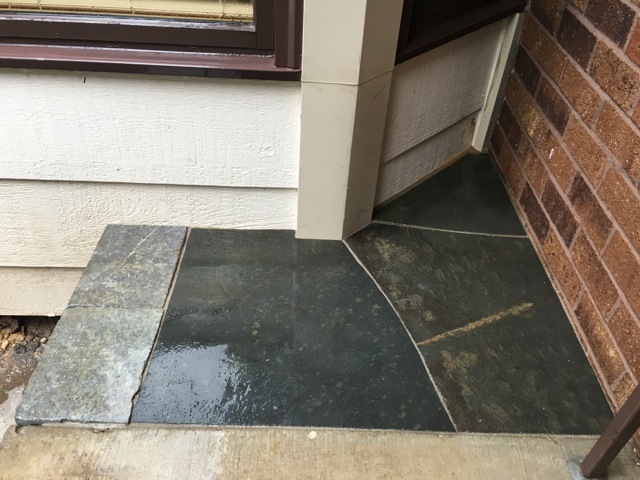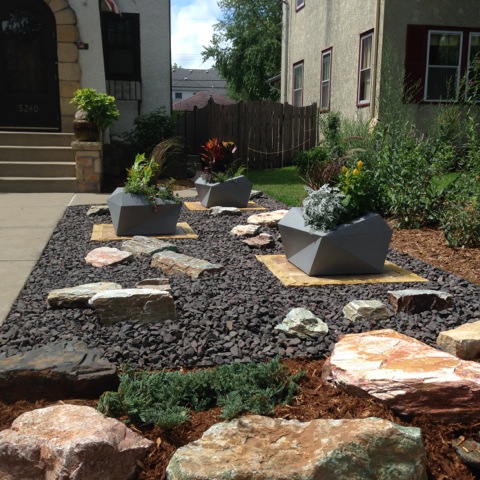 Boulder Outcroppings
Outcroppings can serve a utilitarian purpose—keeping a hill in place—or be used simply to give more weight, color, form and texture to the scene. Once you start bouncing foliage color and form off boulder outcroppings, you'll just keep adding boulders. I try not to do stacked, boulder walls if I can help it. If the degree of slope is seventy degrees or less, you can hold the slope in place with random boulder outcroppings to give the area a more natural look.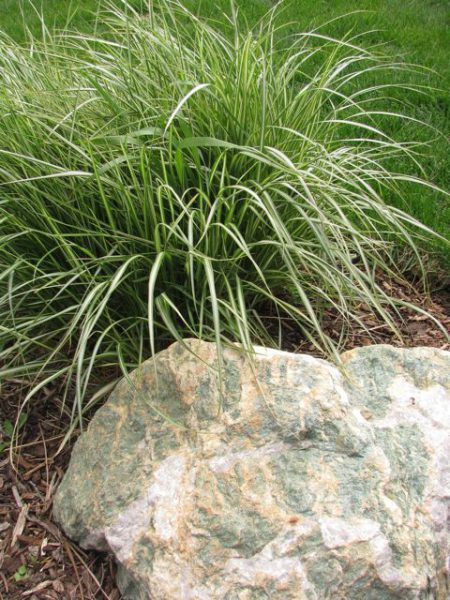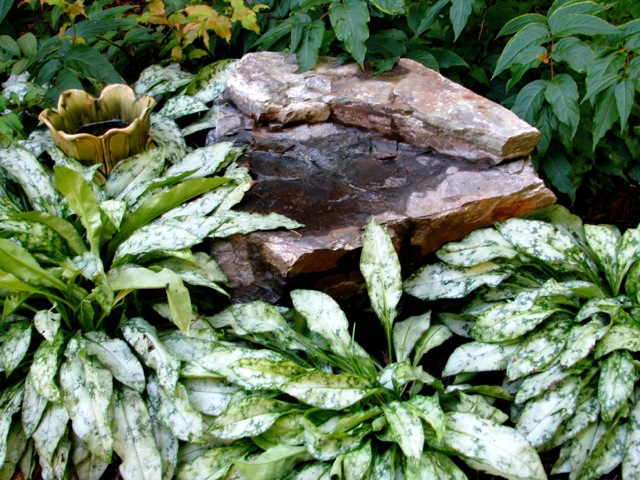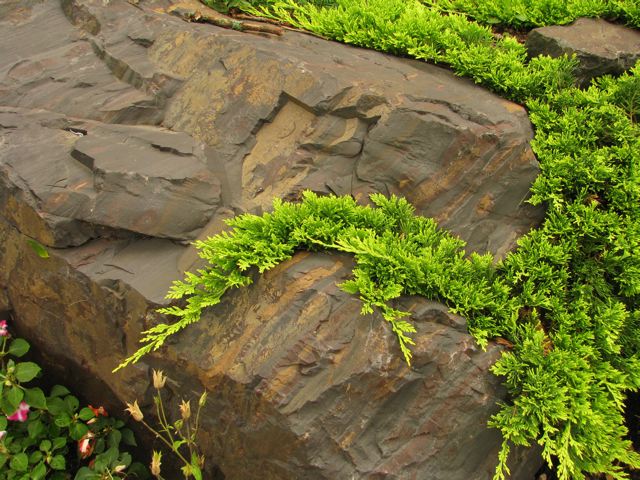 Stepping Stone Pathways
The simplest do-it-yourself project for homeowners is installing a stone pathway. You needn't base them with gravel, just excavate the soil underneath, tamp it with a hand tamper, then use coarse sand to stabilize each stone.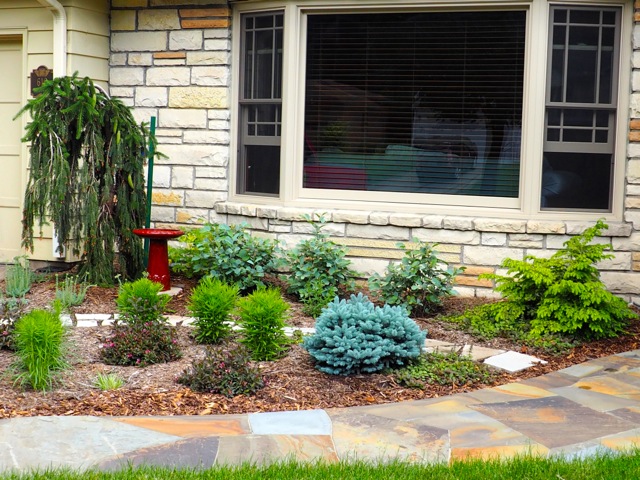 Flagstone Entryways
Builders are going to pour a concrete sidewalk to the front door of a house ten times out of ten. One of the simplest ways to give your front yard a new look is to replace it with a flagstone entryway.
Stone Walls
Quarried wallstone is the term for the material used anywhere you want a wall, either to retain soil or to divide the property into separate spaces.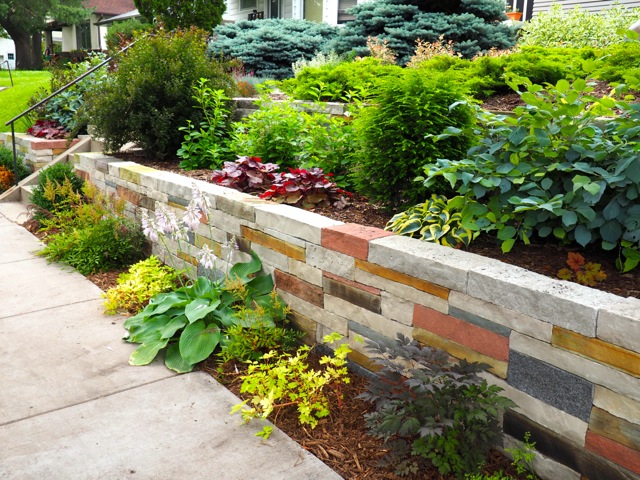 Patios
Concrete pavers are certainly going to be less expensive per square foot, and if you study on the Internet, buy some special tools, rent the other necessary equipment and ask a lot of questions, homeowners can install a paver patio nearly as well as a professional landscaper specializing in paver patios. By your third one, you'll be better at it than at least a third of the professional landscapers specializing in paver patios, but who needs three patios?
Flagstone patios are just as tricky, not to mention that instead of placing little one-pound pavers, you'll be dealing with placing and leveling forty-pound to two-hundred-pound pieces of flagstone. I have witnessed numerous flagstone patios installed by homeowners that were very good-looking and properly engineered. They tended to be made of smaller stone pieces, and done in a loose, rustic style that I call Country Casual. If that look fits your home, have at it.
Most of the time, however, you'll want to hire a contractor. Check a lot of photos of their work, and get at least three references. These things can be expensive, and you want to be sure that the contracted landscape company knows what they're doing.
Stone Steps
There are a lot of ways to create stone steps. Small boulders in the twelve- to eighteen-inch range will very often have a flat or fairly flat side, and homeowners looking for a natural staircase up a slope should consider them. Small pieces of flagstone, called steppers, can also be dug into a slope and leveled on sand to make a staircase.
Quarried stone steps are available at stone supply yards ranging from three- to four-feet wide.
Stone and Boulder Fountains
These are one of my favorite stone features, as they combine sculpture with the visual and sound of babbling water.
And I think that will do it for me for now. Enjoy the rest of the site, there will be new updates under Plant Spotlight, Top Pick, Don't DO That and Myth of the Week. Also be sure to click on my updated 2017 Speaking Calendar, hopefully we will meet in a few weeks when I hit the road!
Don Engebretson
The Renegade Gardener