RENEGADE GARDENER™
The lone voice of horticultural reason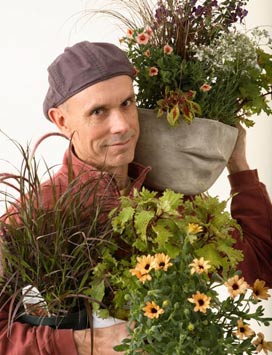 Welcome, comrades.
Day after tomorrow, the world!
RENEGADE GARDENER is the Web's best site for gardeners seeking truth, hope, and one lousy sign that someone unfettered by industry prejudice is helping you become a better gardener.
Originally designed to help gardeners banished to the forgotten USDA Zones 2-4, bold content has made it one of the Web's most-linked gardening sites. Gardening is gardening, design is design, dumb is dumb, and truth conquers all!
Here it is, comrades… my attempt at a single feature article that discusses pretty much EVERYTHING you should think about if attempting to landscape your yard. Plenty of pictures, sidebars – even tips on hiring and working with a landscaper if D-I-Y is N-F-Y (not for you). I'll leave this one up for a good month, and see you with the next update on February 9.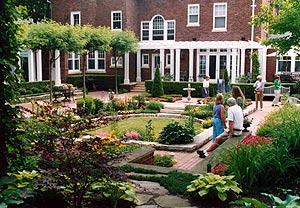 A pleasing residential landscape is more than a collection of trees, shrubs, flowers and lawn. "Form ever follows function," American architect Louis Henry Sullivan (1856-1924) reminds us, and he could well have been speaking about landscape design.
Most homeowners – and an unsettling number of landscape architects – allow the plants to get in the way of good landscape design. When planning the landscaping that will surround your home, the first step is to develop a clear, separate sense of each of the four factors that impact landscape design, and to dwell on them in this order: function, maintenance, cost, and finally, visual impact.
Let's stroll through these four design factors under the assumption that you will be doing all the work, from planning to planting. Toward the end I'll point out some of the important considerations to keep in mind if you'd rather hire a professional landscaping firm. But please don't skip ahead if you know already that you'd rather a trained expert slice your cable TV wire with a power tiller, rather than slicing it yourself. A solid understanding of basic landscape design principles on the part of the homeowner is important regardless of who does the work.
Current Column will be updated from the Archives on October 1.
Annuals for Minnesota and Wisconsin
Tree and Shrub Gardening for Minnesota and Wisconsin
Perennials for Minnesota and Wisconsin
Best Garden Plants for Minnesota and Wisconsin
Gardening Month by Month in Minnesota and Wisconsin
The Renegade Gardener is Don Engebretson, an award-winning Minnesota garden writer and designer.
The 10 Tenets of Renegade Gardening
Full version is required reading: CLICK HERE.
Gardening should be challenging, relaxing, and fun.
Renegade Gardeners are cautious and wise when perusing the plethora of products and plants sold by the commercial gardening industry.
Gardening involves commitment.
Renegade Gardeners learn the Latin names of the plants they grow.
Gardening is not always easy.
Renegade Gardeners come to realize that lawns are essentially a dumb idea.
Gardening and rock music do not mix.
Renegade Gardeners buy first from local growers.
There is nothing wrong with cutting down a tree on your property.
Irreverence is essential.