RENEGADE GARDENER™
The lone voice of horticultural reason
Interested in a residential landscape that far exceeds the ordinary?
I specialize in foundation planting renovations for existing homes. Let's take that tight little ring of shrubs a previous owner left you and transform it into a foundation planting that sweeps and curves and flows effortlessly around your home. I also design and install unique foundation plantings for new homes.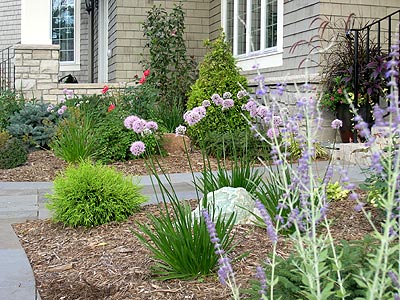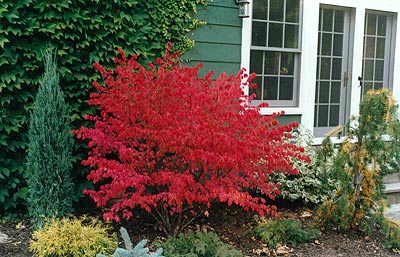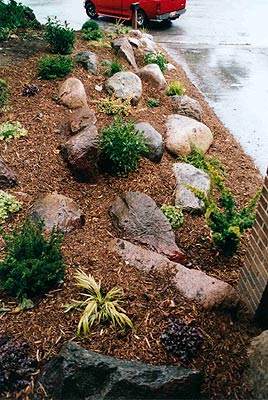 Whether your property is sunny or shady, let me design and install a beautiful swath of plantings that will nestle your home, look great year-round, and increase its value. We can create a landscape that is a one-of-a-kind mosaic of color and texture, using the newest, supremely hardy shrubs, small trees, and, if you'd like, blooming annuals and perennials.
Is low-maintenance a priority? I can install a landscape for you that will exactly match the amount of time you'd like to spend keeping it beautiful.
Stone Features
Introducing the natural beauty and permanence of stone into your landscape is another one of my specialties. Considering a retaining wall? Let's see if stone outcroppings won't perform the same function, but allow room for plantings of colorful and distinctive shrubs, perennials, and annuals. This is the perfect solution for those shady, "grass won't grow there" slopes and hills. I also can spot great places to distinguish your landscape with the addition of raised stone planter boxes, freestanding dry-stack walls, and stone steps.
Stone Sidewalks and Patios
If you are currently building a home, tell the builder to hold off on pouring that perfunctory concrete sidewalk (the one that runs straight out from the front door, then takes a left straight to the driveway) and let me build an artful entryway of stone. Mine will last longer.
So let's talk before you settle on a landscape design from some cookie-cutter firm that features 5 Techny arborvitae, 7 Ivory Halo dogwoods, 9 Gold Mound spirea, a poured concrete sidewalk and concrete retaining block foundation beds.
All work designed and installed by Don Engebretson , The Renegade Gardener. Twin Cities metro area only.
• Member , Minnesota Nursery & Landscape Association
• Licensed Nursery Dealer, Minnesota Department of Agriculture
Contact me to set up an appointment.