RENEGADE GARDENER™
The lone voice of horticultural reason
Chicago Area Garden Highlights
9-3-03 – Plenty to conquer with this update, including timely and portentous announcements of award-winning new plants of interest to northern gardeners, fall gardening tips, and a report on the recent Garden Writers Association (GWA) annual symposium in Chicago. This last item comes complete with a photo tour of some magnificent private gardens, the majestic Morton Arboretum, and the sublime Chicago Botanical Garden (pictured here). From the sublime, then, to the ridiculous:
PHS Gold Medal Award Announcement
Occasionally I break down and tear open a few of the dozen envelopes I receive in the mail each week from nurseries, garden product manufacturers, plant associations, and the like, all touting plants and products and procedures they can't wait to unleash on the gardening public. They think I will publish their marketing efforts as a service to my readers, unaware that the real service I render my readers is blatantly shielding all of you from the utter nonsense that comprises ninety percent of these mailings.
A case in point: I just received the press release and packet of information from the Pennsylvania Horticultural Society (PHS) announcing the plants chosen to receive the 2004 PHS Gold Medal, "awarded to three exceptional plants for 2004."
Further from the press release: "Plants are submitted … by home gardeners, garden designers, horticulturists, landscape architects, and nursery owners. They are then evaluated over a number of years by a select group of nursery and horticultural professionals for proven performance and hardiness." The award's objective is to provide American home gardeners with "reliable information for selecting premium, underutilized plants."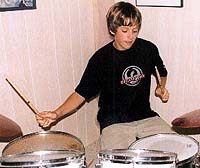 Renegade offspring Elliot E.
And the 2004 PHS Gold Medal winners are (Elliot, a drum roll, please):
Magnolia 'Daybreak'
Osmanthus heterophylus 'Goshiki' (False Holly)
Sarcococca hookeriana var. hulmilis (Sweetbox)
Why did I state that these winning plants are of interest to northern gardeners? Because not one of them will grow in USDA Zones 2 through 4, an area comprising almost one-quarter of the country across all or parts of 16 of our 50 states. And they had three shots at it! Even the Perennial Plant Association, which only names one "Plant of the Year," gives the nod to some poor Zone 4 mutt every other year. You Zone 2 and 3 Eskimos, forget it.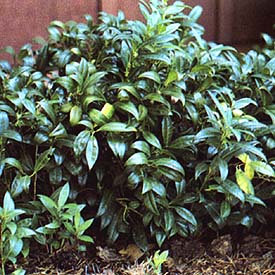 Don, this is a Sweetbox – Webmaster
The magnolia and Sweetbox, whatever the hell that is, are only hardy to Zone 5, and 'Goshiki' goes bye-bye a minute north of Zone 6. I guess if the objective of the PHS is to name underutilized plants, they've scored, because we'll certainly underutilize these botanical marvels up here.
Remember, these organizations exist to sell plants, to pick one or a few that are going to receive an extra marketing push, so American nurseries aren't left guessing which plants they should stockpile for spring.
Sure, they often pick some decent, worthy new plant (if I remember correctly, the 2003 PPA "Plant of the Year" is that marvelous, black and orange hosta, Oreo margarita 'William Shatner') but just as often their painstaking choices revert back to ditch weed status within two growing seasons.
Makes me mad, was the point of this bit.
Fall Gardening Tip
Water your damn shrubs! That's pretty much this week's tip in a nutshell. My Minneapolis western suburban yard hasn't received a spittle of rain in 30 days, and soil that isn't being watered is bone dry. Everyone remember how devastating were the effects of last winter? Three year-old apple trees died. 4′, BB yews I planted last fall in a lady's yard were little more than expensive wire sculptures this June. And many of us lost groundcovers and other perennials, Ajuga and Stachys (lamb's ears) taking it particularly hard.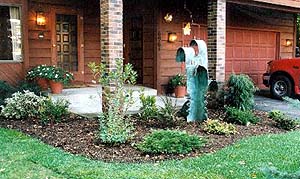 New plantings? Keep them watered!
Two bad things happened: a very dry fall, and zero snow cover until about March. Soil temperatures at University of Minnesota test stations around the state last winter recorded the lowest soil temperatures since records began. At a depth of 4″, soil temperatures dropped below zero, (the norm is around 25° F). Soil temperatures at 20″ deep were in the single digits, when they are usually just above freezing.
Lack of snow cover allowed bitter January and February temperatures to plunge cold and frost into our soils much deeper than normal. Dry soil in winter chills deeper than moist soil – moisture actually keeps frost from penetrating. Who knows what we'll get this winter, but the only good thing you can do for sure is to keep watering your shrubs (and trees), especially those planted in the last three years, once a week up until ground freeze.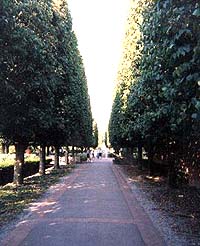 GWA members try to wrap their heads around the many wonders of The Chicago Botanic Garden.
9-3-03 – The annual Garden Writers Association (GWA) symposium was held in Chicago August 14 – 19, and after last year's event in Seattle, I was a little concerned that the horticultural facets of the Windy City would be a bit of a letdown. I needn't have worried. Chicago was a blast, great people, great food, a great nearby casino with a six-deck shoe game giving a whopping 88 percent penetration, and best of all, great gardens.
Chicago is distinguishing itself as a city that, horticulturally speaking, gets it. The city hired the planet's hottest garden designer, Dutchman Piet Oudolf, founder of the New Wave Planting school of design, to design and install the hundreds of large planters and hanging baskets that brighten downtown. (Oudolf is a hoot, his design style inspired by nature but exhibiting an aggressive artistic bent that can, at times, be quite attractive. His cool Web site, www.oudolf.com, is in Dutch, but the photos are in English.)
Private Gardens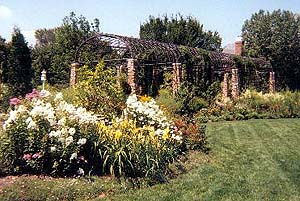 The group toured the gardens of a half-dozen private residences in the Chicago area, two of which I include here.
First stop was a gracefully sloping, seven-acre spread, home to a terrifically down-to-earth, gracious bloke who made his fortune in gravel, of all things. His landscape was a delightful mish-mosh of Midwestern, English, Italian, and even Spanish garden design influences, lavish, certainly, but not overly pretentious.
I loved the fifty-foot-long, stone-and-iron arbor flanked by gussied-up prairie plantings, leading to a series of three stone staircases that dropped one down to the formal stream below.
| | |
| --- | --- |
| | A more formal, French/Italian style staircase cut through lawn as an alternative route to the good stuff. A great deal of thought had gone toward placement of trees to keep the acreage and its features in scale, and the beautiful contrast in texture and color created by the trees was second only to the myriad textures and colors spewing from the containers that appeared in great abundance throughout |
| | |
| Beds of white impatiens and two white benches flank this shady side entrance to the home. | |
Later that day we visited a smaller garden, where our vivacious and hilarious host was having way too much fun combining antiques, sculpture, bird houses, favorite perennials, and tropicals into a lavish and wonderful celebration of American garden design.
| | |
| --- | --- |
| | |
| | It doesn't take a very wide foundation bed to make a house nestle. |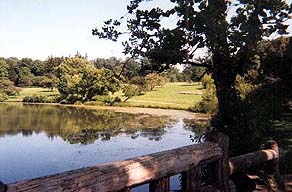 The Morton Arboretum
One day the 400 or so of us in attendance – garden writers, photographers, illustrators, editors, and book publishers from across the US and Canada – hopped on buses and visited the famed Morton Arboretum, established in 1922 by Mr. Joy Morton, of the Morton Salt dynasty. The Morton is recognized around the world for its major collection of plants, and for its role in plant research and education. Of course, when you are dealing with over 3,300 types of plants spread across 1,700 acres, a four-hour stay doesn't do it justice.

Spring at the Morton Arboretum.
By the same token, many of the coolest parts of the Arboretum were out-of-bounds due to major remodeling of facilities and grounds, which unfortunately included most of their display gardens, so perhaps it was just as well. What's at the core of the Morton is trees, and those we saw in abundance. If you're a huge tree-lover (like me), I'd recommend a visit, but frankly it's more of a tree purist's delight than a hobby-gardener's Mecca. I had a lovely, long walk with a garden writer from Texas and an illustrator from Wisconsin, we got a little lost, then arrived back barely in time to the catch the buses back to the hotel. More info: www.mortonarb.org .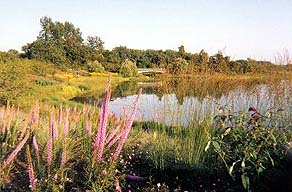 The Chicago Botanic Garden
The best was saved for last. Our final tour of the symposium occurred on Sunday, when we spent the afternoon and evening at The Chicago Botanic Garden. I'd heard it was good, but had no idea.
Any time you are within, oh, 500 miles of this amazing public garden, stop in. Plan to spend the day, or two days. It is quite simply one of the most astonishingly beautiful, majestic, inspiring plots of land you'll find anywhere in America.
Here's what you're dealing with:
23 gardens spread over 385 acres
9 islands and 6 miles of shoreline
2,000,000 plants including 10,000 trees, 820,000 bulbs, 925,000 perennials, and 165,000 aquatic plants, all of it planted by design, every inch as clean and neat as a pin.
My favorite areas were the stunning dwarf conifer glade, Japanese waterfall and garden, Evening Island, the English Walled Garden, and the Gardens of the Great Basin. I'll shut up and let you view some pictures. My meager attempts at photography do not do the joint justice. Visit it personally.

Leaving Evening Island



Inside the English Walled Garden

RIGHT: Famed Swedish botanist Carolus Linnaeus erupts in bronze in background, to snatch – what else? – a flower.

BELOW: Entrance to dwarf conifer glade.
For visitor info visit www.chicagobotanic.org.
That's enough for this go-round. I need a couple of days to beat back some ornery book editors, then I'll get the new Plant Spotlight, Myth of the Week, etc., over to my Web guru, and up on the site, probably by September 6. Then I'll have a whole new update in three weeks, so check back for the rest of the current updates on the 7th, then let's get back together, oh, September 24th or so.
Don Engebretson
The Renegade Gardener