RENEGADE GARDENER™
The lone voice of horticultural reason
Five Secrets to a Beautiful Landscape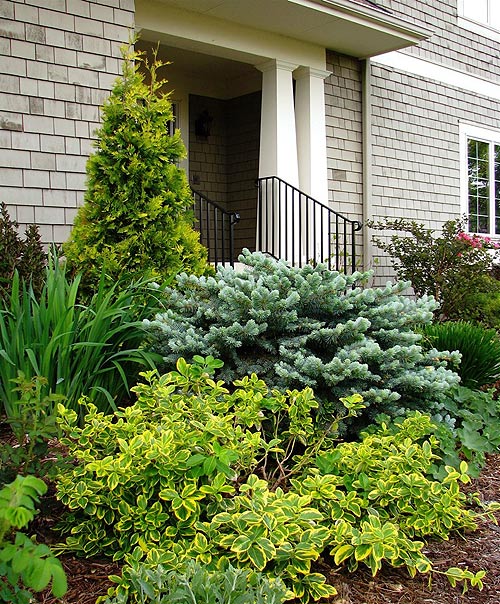 2-1-15 –Hello my fellow Renegade Gardeners, it's a full update this time around, so be sure to click on the Myth of the Week, Top Pick, Plant Spotlight and Don't DO That buttons over there on the left to unveil the new articles (and a video) that lie beneath. Now on to these design secrets:
2015 marks my thirtieth year as a gardener – I began when I was, uh, twelve – and thinking back over the decades there was one period when I made a quantum leap in my understanding of what makes a residential landscape beautiful.
It was the eight years (1991-1999) I spent as a garden scout for Better Homes and Gardens magazine. My job was to find ten to twelve homeowner's landscapes around the Twin Cities that I thought were exceptional, and worthy of a professional photo shoot and story. The pressure was always on; if one of the gardens I had scouted landed in the magazine, there was a nice paycheck. If none were chosen for publication, I was paid nothing.
My editor would fly in and we would spend the day buzzing around from garden to garden. Sometimes we would pull up to a residence, he would ask if the back yard was much more terrific than the front, and if I replied, "Well, maybe a little?" he would instruct me to drive off to the next home.  Sometimes we would pull up, he'd leap out and we would spend forty-five minutes on a property, shooting scouting photos, chatting with the homeowner, the whole time my editor raving about this or that element of the landscape, or the beauty of it all.
I began to ask myself, what was he seeing? Why did the back yard garden with stream, patio and perennial garden we were at an hour ago that I thought was splendid merit little of his time, while two stops later, I had to drag him away from the property so that we could continue our journey?
Over the ensuing years, what he was seeing has been distilled in my mind into five elements, things, principles, components, something, that are always present in a truly beautiful landscape. I guess "secrets" is the best word, and here they are:
The Property is a Unified Whole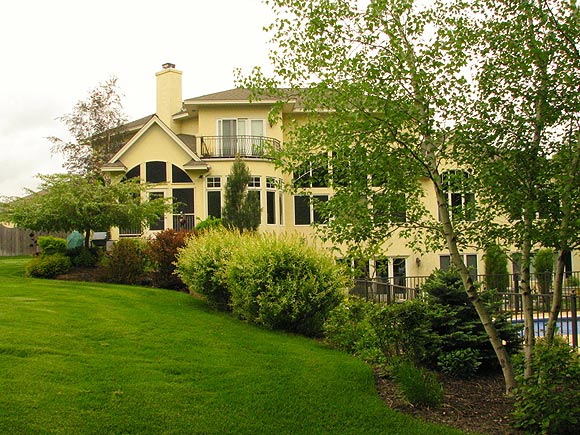 Regardless of size – a small city lot, which was the first landscape I had published, or a two-acre suburban lot, which was the last – an exemplary landscape always flows from front to back, from corner to corner, as a unified whole. Trees and shrubs define the perimeter, unless given a break to expose a stretch of attractive fencing, stonewall, or view into adjacent woods.
The house is nestled in nature. The foundation beds are wide, and curving (with the exception of an equally resplendent formal design) allowing for the placement of trees and shrubs that frame the house in proper scale. If lawn is present, it too flows naturally, curving as water, from one area to the next. As one walks from the front of the property to back, from sun to shade, the landscape remains with you, the plants and other physical features changing with the view.
There Are Ample Small Trees and Shrubs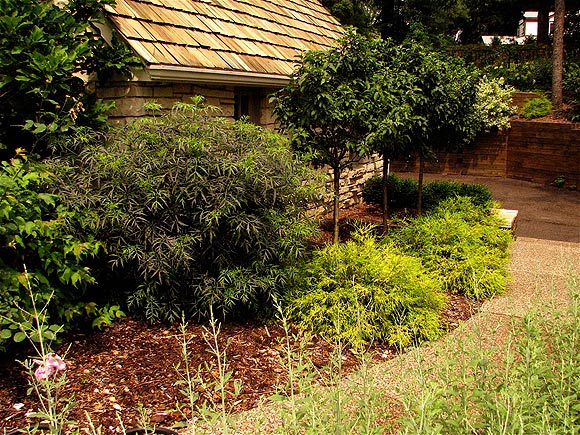 Small trees (twenty-five feet tall or less) and shrubs are always present to the view, for these are the plants that exist to bring tall, mature deciduous trees and towering evergreens perhaps present on the property (or looming over from the neighbor's yard) down to the lawn or low groundcover level with proper scale.
Perennials fill the bill from ground level to three or four feet in height; mature trees can be fifty feet tall, or more. What plants are necessary to bridge the gap? The plants that grow four, six, nine, thirteen, twenty-two feet tall. This is the category of small trees and shrubs. Their varying heights and broad range of form serve not only as the bones of a landscape but often as focal point, as anyone who has marveled at a Pagoda dogwood, weeping spruce, or blooming crabapple can attest.
Natural Materials Are Used Exclusively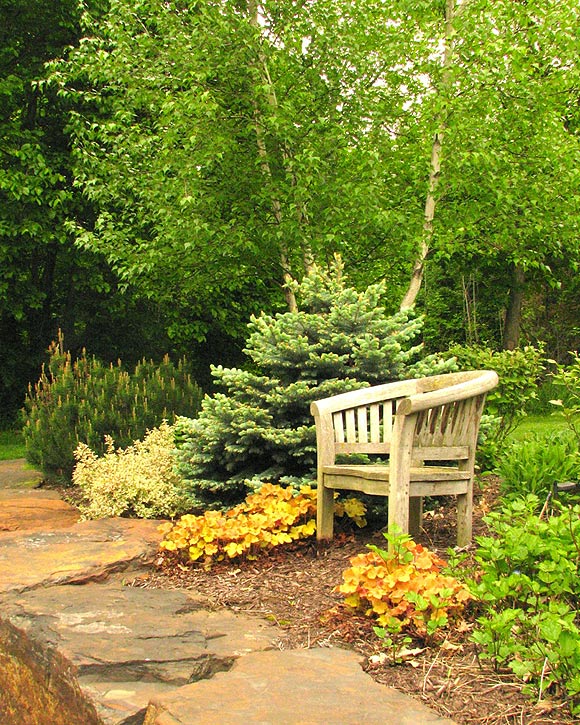 One of the reasons some properties that I thought were splendid never made me a dime was that there was too much plastic or concrete products present in the landscape. I won't sugarcoat it; the more natural the materials used in walls, patios, pathways, fences, fountains and other hardscape areas and items, the more beautiful the landscape.
Most gardeners adore the wilderness, the natural beauty of a vista in which everything we see is created without help from human hand. Well, if it's a truly breathtaking landscape that has been coaxed along by a homeowner, the hardscape materials used were rendered from natural materials. Think in terms of plants, earth, wood, stone, iron, brick , water and fire. An organic "oomph" emanates from beautiful landscapes.
The Landscape is Well Accessorized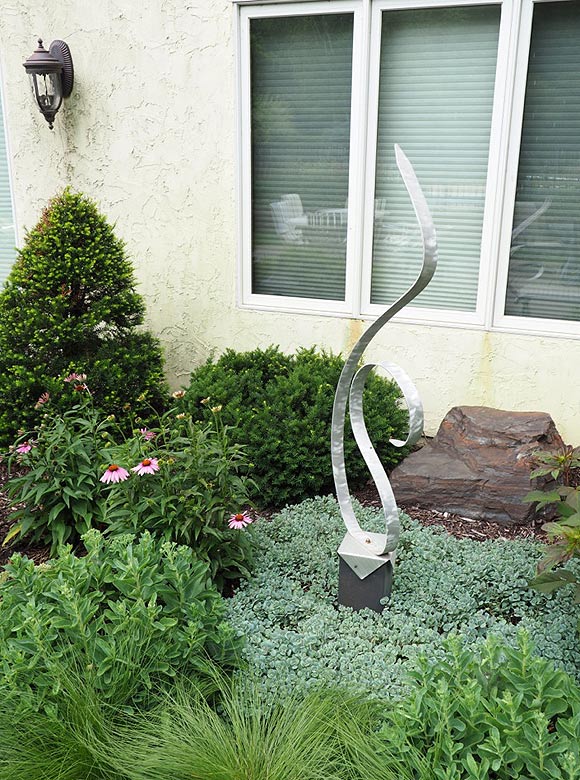 Containers, benches, birdbaths, fountains, gazebos, arbors, trellises, statuary and other forms of art are nearly always present in a glorious landscape. It is artfully placed accessories that add delight. In addition to acting as focal points, the variety and placement of accessories serve to stamp each landscape as unique.
True, if one's intent is to create a true wilderness area as part of or as the entire property, this landscape will not be accessorized. But remember, there is a house there, somewhere. A colorful container on each step to the front door wouldn't hurt. A rustic wood birdhouse somewhere in the scene won't either.
Plants Are Placed to Create Contrast in Foliage and Form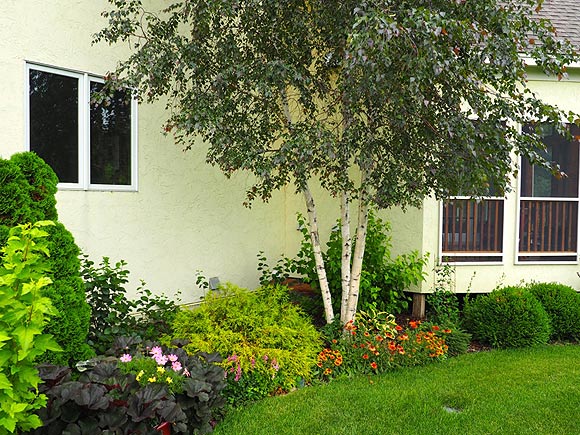 You have never looked at photos in a national magazine of someone's gorgeous garden and overall landscape without this principle being first and foremost. I'll keep hammering this point until I go to the great garden in the sky: Bloom color is a secondary concern (even in a flower garden).
It is the contrast in foliage color, texture, shape and size, in addition to the contrast between the overall form of the plants used in the landscape that makes the view exceptional. Learning how to place plants so that the eye scans greedily from plant to plant, view to view, the magic never dropped, that is the final, essential secret to creating a beautiful landscape.
Don Engebretson
The Renegade Gardener