RENEGADE GARDENER™
The lone voice of horticultural reason
06-03-12 – A few weeks ago I was in a friends' yard while she bemoaned the fact that the lavender plants she had purchased and planted last year had not survived winter. That's because they're Zone 5 perennials, I explained. Where in the world did you even find lavender for sale in the Twin Cities?
The plants caught her eye at Home Depot, of course. So I gave her my standard line: There are five people in your life who are of utmost importance to your overall wellbeing – your doctor, your dentist, your broker, for many your minister/priest/rabbi, and your nurseryman. And not necessarily in that order.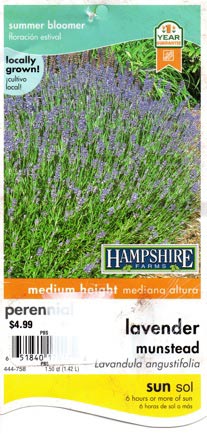 New gardeners, what you need to locate is the perennial nursery in your market where the owner knows a whole lot more about perennials than you do, hangs out there all day, and only sells plants that he/she knows will perform beautifully in your area. Buying perennials at Home Depot comes ten years later, when you know all about perennials and spot something you recognize and have had success with, sitting there looking good in a pot, and the price is right.
My gardener friend pulled one of the plant tags from the soil in the vicinity of the now completely composted swath of lavender. "Locally grown!" (¡cultivo local!) reads the print in the corner. "That's why I thought it would grow," said my friend. Locally grown, my asparagus. No nursery in Zone 4 produces a wholesale crop of lavender. The one-year warranty is nice, I guess, for the two percent of purchasers who go back and ask for it to be honored.
Buyer beware! Find a good perennial nursery, get to know the owner, learn from him or her, then give that nursery your business year after year.
Don Engebretson
The Renegade Gardener