RENEGADE GARDENER™
The lone voice of horticultural reason
7-25-2001 — We're in the middle of a schizophrenic summer, a mystifying atmospheric mess defined by sudden temperature tantrums and violent meteorological mood swings. It's making my thoughts a bit scattered as well, so this is a good week to dispense with an assortment of diverse gardening topics currently cluttering my meager mind.
Grub Greed
I'm a little disappointed with the Scotts Company, which has resumed its bombardment of local radio airwaves with covertly aggressive ads for their various chemical products. Most offensive is their ad for GrubEx, a lawn pesticide that kills grubs. The company spokesperson in the ad tells us that, "Right now, thousands of grubs could be hatching below the surface of your lawn," and encourages listeners to buy and apply GrubEx as soon as possible.
Well, wait a minute. I've never had a problem with grubs in my lawn, and bet that most of you haven't either. A grub infestation requiring chemical combatants is a fairly rare occurrence this far north. Yet Twin Cities gardeners are being encouraged to apply a large dose of a chemical pesticide (halosenozide) as a preventative measure for a problem that probably doesn't exist. The ad promotes the mindset in homeowners that lawn chemicals should be used annually and wantonly, the old "just in case" scenario, lest some unseen, dire catastrophe besmirch their precious lawns.
That's ridiculous. You shouldn't apply GrubEx or any pesticide to kill grubs until after you've verified a grub infestation. A grub infestation appears as an irregular pattern of thinning and browning turf. Turf can even curl up like carpet. You'll most often note it in late summer or fall; if noted in the spring, it's the result of grub damage from the previous summer. Various fungi can produce browning and thinning of turf, so homeowners need to dig around in the lawn to find out if grubs are the culprits.
Scotts does a better job in a sister ad for their fertilizer plus pesticide product, also currently in radio rotation. The spokesperson notes that, "Moths flying up from your lawn when you mow can be a sign of insect problems." That's fine, truthful, and helpful. So why don't they offer an inkling of what the symptoms are for grubs? Or at least have the ad read, "At the first sign of grub problems, use GrubEx."
I'm surprised at Scotts. They're a decent, benevolent corporate citizen, and support a large number of national horticultural causes (granted, smart synthetic chemical producers usually do). But I guess a bottom line is a bottom line, and getting as many people as possible to buy GrubEx, regardless of need, makes good corporate sense.
Reconsidering Cocoa
I must admit that for the first time, I'm weighing the benefits versus the drawbacks of cocoa bean husk mulch.
I've been using the stuff since it first came out in our area, around eight or nine years. Spread around annuals and perennials at a depth of two inches, it does a great job of snuffing out weeds and keeping water from evaporating out of garden beds. After just a few waterings it locks down into a thick, porous crust that stays in place. It lasts a season, and the next spring adds a healthy layer of organic matter to the soil. Plus, it turns dark brown, the color of good, rich earth.
Sure, it can develop a little mold during wet and humid periods, and that drives some people nuts, but I've found that if you water the moldy portions, it looks fine again, for reasons I cannot explain. As far as attracting squirrels, I've written these words in a hundred articles: "The squirrels in your neighborhood may give (cocoa bean mulch) a little extra attention at first, but lose interest after a few days."
Well, either I've never noticed the full extent to which squirrels (and chipmunks, deer, rabbits, raccoons, opossums, and, from the looks of my garden, elk) are in love with the stuff, or I've been using it so long half the wildlife in Minnesota has become addicted. Because this season they're not losing interest after a few days, they're setting up housekeeping.
One poor patch of impatiens has been dug up so many times I said to hell with it and filled the area with some castoff hosta and leftover daylily divisions. I'd plant the impatiens and the next morning they'd be jerked out and laid down like laundry on a bed. I'd plant them again only to find them trashed out within a few days.
This was in an area where I had applied cocoa bean mulch. Areas where I hadn't saw little if any varmint activity. Same with containers. Some big containers, I apply cocoa mulch across the top to keep them from drying out so fast. This seemed to signal "soup's on" to all my yard critters. Containers without the mulch were left alone.
I hear tell that the peanut farmers down south are marketing peanut husks as mulch. Get it up here to us Yankees as soon as you can, boys. I'll try anything, as long as it doesn't smell like chocolate.
Parade of Ponds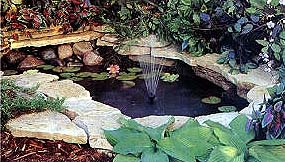 Here's a cool tour coming to the Twin Cities, offering a great chance to steal bucket loads of ideas if you're interested in creating a new water garden. The 1st annual Parade of Ponds will be held on Saturday, August 4 from 9 a.m. to 5 p.m. and Sunday, August 5 from 10 a.m. to 5 p.m.
It's a self-guided tour that will allow you to visit 65 private residential water gardens created by Twin Cities homeowners. Tickets are just $15 each, less than the cost of your typical water garden how-to book that almost always gives you lousy advice when it comes to estimating pump size. $25 gets you a ticket good for couples (I'm buying one, and bringing my dog), and kids under 12 are free.
You can buy tickets at all Bachman's Garden Centers, all Hedberg Aggregate Showrooms, or by phoning, faxing or e-mailing Hedberg Aggregates' Plymouth location, which is, in case you've never been there, the biggest and hippest landscape supply yard in Minnesota. Hedberg phone: (763) 545-4400; Fax (763) 545-7121; e-mail: pam@hedbergaggregates.com.
The ticket/brochure will contain pond descriptions, locations, directions, valuable sponsor coupons plus guidelines for a fairly substantial amateur photo contest ($1,500 in cash prizes).
What's also great is that the Parade of Ponds is a fundraiser, with all proceeds going to benefit the Children's Cancer Research Fund and the Minnesota Landscape Arboretum. Sponsored by Hedberg Aggregates, Bachman's, Aquascape Designs, Inc. Minnesota Nursery & Landscape Association (MNLA), and AlphaGraphics, Inc.
See you on the tour, I'll be wearing a hat, and my dog is a pug.
Fertilizer Forgetfulness
Here's some advice I've been meaning to pass along. When you fertilize perennials with granular fertilizer, don't stop for the day until you've fertilized the entire bed. Now I can't remember which plants have been fertilized and which haven't. Same for using those fertilizer spikes in containers. I placed them in containers this spring, until I ran out, telling myself I'd remember which containers I can water for a month with plain water (they have the spikes), and which should be hit with a water-soluble fertilizer solution every two weeks.
I don't remember. Haven't a clue.
Compost Confession
The secret to great compost? Eurasian water milfoil, which I collect several times a season from the shores and floating perimeter lines of nearby Lake Minnetonka beaches. In ten minutes I can drag to shore enough to fill my wheelbarrow, which I run up a ramp into my pickup. That's enough for a wet and juicy, eight-inch layer of milfoil in my compost bin. Milfoil breaks down quickly, and is filled with organic nutrients. It works so well I recently made an offer on a lovely 1.35 million-dollar home on Carson's Bay, so I'd have an endless supply of the stuff, but the realtor representing the seller goofed the whole thing up by calling my bank.
Don Engebretson
The Renegade Gardener