RENEGADE GARDENER™
The lone voice of horticultural reason
Observations on America, and Gardening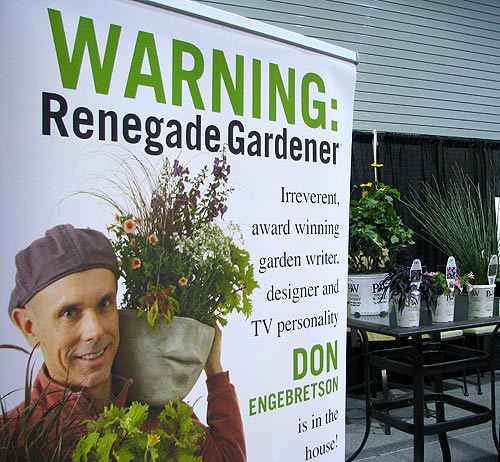 3-9-2013 — February and March are my busy travel months, when I fly around the country speaking at home and garden shows. This means I spend time nearly every week walking through strange, crowded airports, an experience from which I have developed a new admonition to all travelers under the age of 30: Please don't text and walk.
Young people, I realize that you have ventured out from your Ikea caves with your electronic security cloaks surrounding you like impenetrable force fields, but big news, you and the person with whom you are communicating are not the only two people on the planet. In an airport, you are walking through crowded corridors containing other human life forms, many of them slower moving, ancient relics of a bygone era – an unfortunate, distasteful circumstance for you, I realize.
Nonetheless, in crowds, you are advised to keep your heads up. At the very least, say, "excuse me" when you cause someone to attempt a running back's spin-move to keep you from bowling them over. The odd times you notice.
I'll get around to discussing some gardening topics and tips in a minute.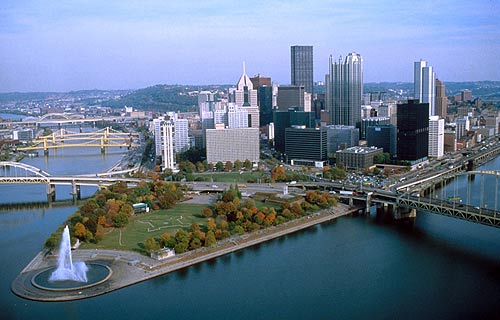 Currently I am ensconced safely in Pittsburgh, a city that should do more advertising. It's beautiful. Surrounded by tall limestone bluffs, Pittsburgh's sprawling, eclectic downtown is a well-orchestrated mélange of glass skyscrapers and large, four- to eight-story old stone and brick buildings, some dating back to the 1800s. Three grand rivers, the Ohio, the Allegheny, and the other one, are constant in one's perception, as are the numerous, ornate steel bridges that spin off downtown proper like spokes of a wagon wheel. A fellow by the name of Carnegie had more than a little to do with the steel.
What brings me to town is the Pittsburgh Home and Garden Show, at which I am a featured speaker. Each day I deliver two different presentations, "Really Cool Plants for Pittsburgh Gardens" and "Design Secrets to a Beautiful Garden." It's always interesting to get outside of Minnesota and see the American gardening scene from a different perspective.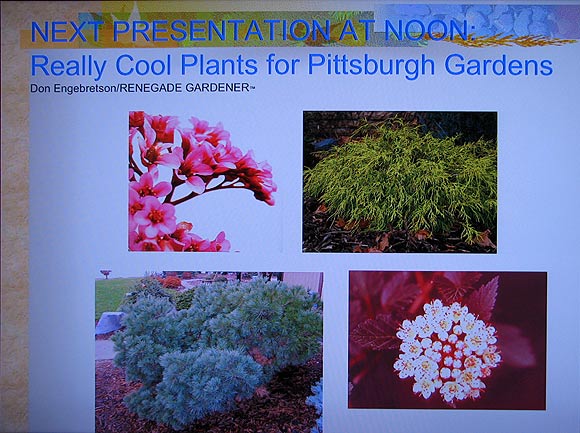 I'm staying – eleven nights, it's a double-weekend show – in a Courtyard by Marriot in downtown Pittsburgh. I like the hotel chain. Good, lush down pillows. Why some mid-priced hotel chains give you a bed with four pillows each containing chunks of stiff, lumpy, foam packing peanuts is beyond me. Nothing in a hotel room is as important as the pillow. My hotel is only a block from the convention center, which is nice, as I can walk back to my hotel room between presentations.
I watch quite a bit more TV on the road than I do at home. Since arriving I have been jarred prematurely to my senses by commercials featuring Scott, the fiery, red-haired spokesperson for a large lawn seed and fertilizer company that shall remain nameless, already saturating the Pittsburgh television airwaves. I'm in USDA Zone 5/6, you see, so portions of the viewers in Pennsylvania TV land are only a month away from getting a too-early jump on their lawn and garden duties.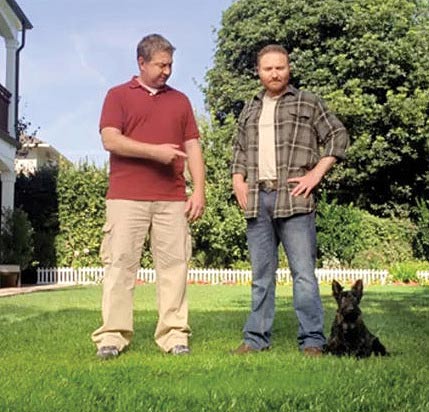 At home I wouldn't see Scott, the fiery, red-haired spokesperson for a large lawn fertilizer and seed company that shall remain nameless, for another month. But he's alive and shrieking in Pittsburgh. "Feed it!" he implores me while I lie on the bed, eating fruit in my hotel room. (The key to staying healthy when every meal you eat for a week or more is at restaurants: eat fruit.) Scott's advice is absurd, of course. Although the advice he gave me via his TV commercials late last fall (Feed it!) was sound enough, the late fall application of lawn fertilizer being the most important application of the year.
Much of that fall fertilizer is drawn up by the grass plugs and stored in their roots over winter. Some remains in the soil. Both are present in spring, meaning that the late fall lawn fertilizer application IS the early spring application. Your lawn doesn't need both. In fact, assuming a late fall application was made, the early spring application introduces too much nitrogen to the grass plant's roots, which are just coming out of dormancy. This causes lawns to attempt to grow lush leaves (blades) without adequate root structure, leaving lawns more prone to insect and fungal diseases, thatch growth, and the potential for root burn.
Another problem noted by university studies with this 4-Step onslaught of lawn fertilizer is the deleterious affect on soil microbe populations. Synthetic fertilizers kill off more of these essential microbes than do organic fertilizers. Microbes – tiny little critters that live in soil – are essential to healthy root growth. Every time you fertilize, you knock this population for a loop.
No lawn in America requires four fertilizer applications per season. Three is plenty. One in late spring, after your lawn has greened up and been cut a few times, a second a few weeks before the onslaught of intense, mid-summer heat, and a third in fall as the lawn is ceasing active growth. The non-profit Lawn Institute has a good article on overall lawn care; in it they are polite enough (or beholden enough of Scott's nameless company) not to recommend any exact number of lawn fertilizer applications per season, but read between the lines, and it's pretty clear they are saying two in the northern zones, and three for everyone else. You can read the article here.
This is interesting: A full-page Walmart ad in the Sunday, March 3 Pittsburgh Post-Gazette compares the cost of groceries at Walmart versus Giant Eagle, which must be a grocery chain in the Pittsburgh market. The ad features the shopping list of a woman named Leslie, attractively pictured, with the cost of each item if purchased at Walmart versus Giant Eagle.
Total cost for her lengthy shopping list was $237.11 at Giant Eagle, and $173.92 – a savings of 26% – at Walmart, but that's beside the point.
What is fascinating is that in studying the complete shopping list, at neither store did Leslie purchase any real food. There are forty items on her list, beginning with Betty Crocker Sugar Cookie Mix, then running the epicurean gauntlet through P.F. Chang's Home Menus General Chang's Chicken, Bertolli Complete Skillet Meal for Two, Breyer's Vanilla Ice Cream, Bob Evans Everyday Classics Original Pork Sausage, Stouffer's Family Size Lasagna With Meat Sauce, 2 Liter Pepsi, DiGornio Traditional Crust Pepperoni Pizza, and the usual, essential pantry mainstays such as peanut butter, mayonnaise, olive oil, and PAM no-stick cooking spray.
Every one of the 40 items on the list are sold packaged either in a cardboard box, plastic freezer bag, or plastic, tin, or glass jar, including the Flintstones Complete Children's Multivitamin Chewable Tablets (well, yeah). In other words, 40 items of processed food.
Leslie, it appears you are married and have children; buy a bundle of broccoli once in awhile. Three big green things, bound by a rubber band. Slice and steam one, a dash of salt and pepper, top it with a little grated Parmesan or cheddar cheese. By the third time you tell your kids they have to eat it, they do, and a few weeks later will discover they like it.
Kids will eat fresh green beans brushed with a little olive oil (you have an unopened bottle in your pantry) and placed under the broiler for four minutes, without being asked. And they'll gladly eat carrots raw. Buy some grapes, you may not be aware that they've evolved seedless varieties, eat a salad once in a while. Throw a pork loin in the oven, or some chicken breasts on the grill; it's not that tough.
Some politicians are currently very excited about passing legislation and spending taxpayer money to "fix" unhealthy eating habits among America's youth, their soda consumption, obesity, and a widening circle of mysterious bodily ailments that perhaps may be related to diet. They will accomplish nothing of any real and lasting good, of course, just as they never succeed with any campaign to legislate behavior. I rather think the solution comes down to parenting.
Well, that made me hungry. One thing I miss greatly when I'm on the road is my morning smoothie, particularly the recipe I have perfected over the years and share with you now:
World's Greatest Tasting Healthy Smoothie
Pour two parts V-8 Fusion Strawberry & Banana juice and one part orange juice, to fill halfway up the blender
Add four tablespoons cold-milled Flax Seed
Add one large scoop vanilla whey protein powder
Add one banana
Add 6-7 whole washed medium size baby carrots
Add half-cup raw broccoli, flowers, stems and stalk
Add half-cup strawberry/pineapple/mango blend of frozen smoothie fruit
Add half-cup frozen blueberries.
Blend at high speed for three to four minutes until very smooth and aerated. The secret is the blueberries and the high blending time. Add enough blueberries, and mortar mix will taste like blueberries. Blending it for three or four minutes removes any slivers or chunks and aerates the mix so it releases a very fruity smell and taste. Kids will drink it like it's a milkshake.
My recipe makes a very full blender. I drink 12 oz. in the morning then store it in the fridge where I hit on it during the day. In summer, when I'm out working all day, I drink some in morning, some in evening, then finish it the next morning and evening. It will keep for four days in the fridge, just refresh it each time with a spin on the blender.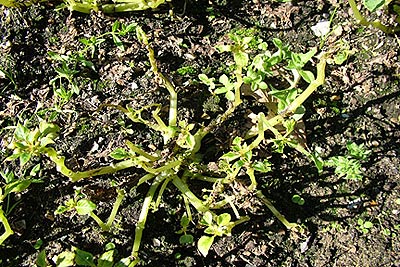 It took only two days at the show for someone to ask me about Impatiens Downy Mildew, the latest scourge of gardeners along the eastern US and west coast. It has made its way to Pittsburgh, and if you are someplace in the country unaffected, you won't be for long. I was prepared for the question, but just barely, having only read of the problem earlier this winter.
Impatiens Downy Mildew is an airborne fungal disease that loves to grow on Impatiens. Infected plants exhibit sickly leaves that begin dropping by midsummer, and eventually reduces plants to nothing but sickly stems. A white powder substance will be noted on the undersides of leaves and on the stems. It was first noted in commercial greenhouses in 2004. The assumption is that the fungus made its way to North America from Europe, where it has pretty much wiped out the commercial growing and selling of impatiens.
Sadly, there is nothing one can do. Fungicides are not effective. If the fungus finds Impatiens in your yard (and it will), remove the plants and either bury them in the south 40, or place them in
plastic bags and dispose of in the garbage. Pittsburgh gardeners are being advised not to plant Impatiens this summer, which is good advice. The fungus will eventually find every nook and cranny of North America, so you may want to lay off planting impatiens for the next several years, until the fungus has run its course.
Suitable alternative annuals for shady spaces and containers where you have been planting Impatiens include New Guinea Impatiens, which are not susceptible, wax begonias, Torenia, Coleus, Oxalis (shade varieties, such as the spectacular 'Charmed Wine'), Balsam and Perilla.
Some years down the road, you will hear the "all clear" whistle, and you will once again be able to plant and grow Impatiens.
Don Engebretson
The Renegade Gardener