RENEGADE GARDENER™
The lone voice of horticultural reason
Don't think you're saving money by landscaping with concrete products instead of natural stone.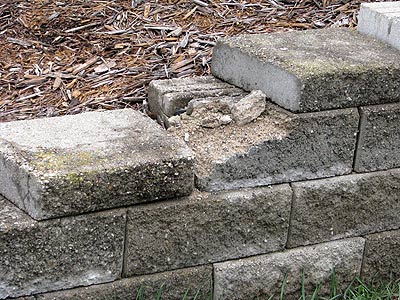 Because you're not. Similar to the Great Wood Landscape Timber Scare of the 1970s, the concrete retaining wall blocks and pavers that have been installed by the billions of tons across America are eventually going to wear out, break down, and crumble away. It's already happening.
Concrete doesn't last a lifetime, or even close. I suppose if you are only in your house for another ten to fifteen years and a new concrete paver driveway or block retaining wall need only last and look good until you sell the house, go for it. Most concrete products, installed, are around half to two-thirds the cost of stone.
But realize that a new paver patio or concrete retaining wall is going to break down and start looking smutty after a few decades. In areas with freezing winter temperatures, concrete is going to show cracking and settling and start to crumble in about twenty years. In zones 7-10, it lasts longer, but not a lot—an extra decade, perhaps.
Properly installed stone walls, patios, sidewalks and steps should be good for a couple of centuries or more, all the while looking grander with age. Stone features also add greater resale value. If you plan to be in your current home for a decent spell, landscaping with stone is the better investment.
Don Engebretson
The Renegade Gardener