RENEGADE GARDENER™
The lone voice of horticultural reason
"Always buy and plant perennials in threes."
This age-old piece of advice is not completely wrong, but it certainly is a myth that perennials can't be planted as a single specimen plant. Japanese garden design influences, picked up by west coast designers and now filtering into the Midwest, are a good example.
The myth can keep beginners out of design trouble, sure, but before long you'll realize the limits this rule places on the development of your personal style. Besides, the rule is so arbitrary — I recall buying mums from a top mum grower years ago, toddled up to the sales desk with three of the same variety, and he looked at me funny.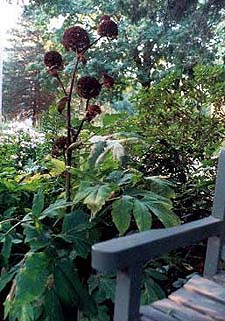 I grow a single Angelica gigas next to my front-garden bench every year, because I like the way it turns into a sculpture, adding interest to the bench all season. We don't place sculptures in threes. I leave the plant up all winter; after a snowfall, it looks like a bronze or copper abstract, accented by pure white on any horizontal portion. Dazzling.Sometimes, the "what's left over" approach leads one to break the rule. This spring, in one stretch of my garden I wound up with a spot about four feet long, front of the bed, and I was done buying anymore perennials for the year. I planted a single Allium to the left, then three blue annualSalvia (that would grow to become one clump) next to it, then a single yellow spider mum to finish it off. This stretch of single-single-single even ended at a single, dwarf Rhododendron.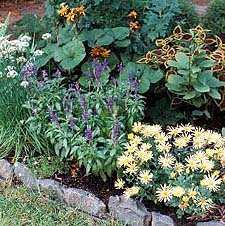 Looks fine. It's in a part of one of my gardens that has a friendly, wild, hodge-podge personality to it anyway, and the white-blue-yellow combination adds to the anarchy.
Buying and planting in threes is good general advice, because it keeps newer gardeners from planting too much of a hodge-podge, where nothing commands attention or has enough visual volume to get much of anything going. But the more I garden, the more I realize there are ample opportunities to ram that single guy in there, and have it look good.
Experiment. You'll know a successful single-placement (or even, egads, a double!) when you see it.
Don Engebretson
The Renegade Gardener