RENEGADE GARDENER™
The lone voice of horticultural reason
"Boughs cut from your Christmas tree work beautifully as a winter mulch on the garden."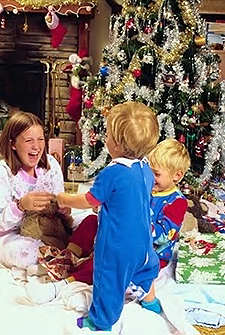 There goes Martha again. I will pay $100,000 for every time Martha has gone out in her tan, goose-down jacket—the one with the fur-trimmed hood—and personally placed branches cut from her Christmas tree on her frozen garden beds. (Although I don't want to come down too hard on Martha. I've actually watched a few of her shows recently. Martha kind of grows on you.)
But still, I never get through an article on preparing the garden for winter without the writer repeating the absolutely inane advice (that he/she stumbled upon while researching the article) about using Christmas tree branches for winter protection.
Raise your hand if you've ever purchased a Christmas tree taller than eight feet. Of course you haven't. OK, one spruce or pine branch lying on the ground has zero insulating properties, meaning the branches would have to be overlapped at least three high, maybe four, to do any good. So how many square feet of garden bed will you be able to cover from the branches comprising a seven- or eight-foot Christmas tree? Thirty? Forty? That's right, it would be an area about six-by-six. Wow.
What happens after evergreen branches die? They lose their needles. They've already left half their needles on your family room floor by New Year's.
So it's a good idea to mulch with layers of sticks? Sticks make good winter mulch? How come no one's written that? And what are we supposed to do with this brush pile in the spring? The branches are too big to compost. Plus we've missed our chance at getting rid of them during the curbside Christmas tree pick-up, that was in February, back when they were supposed to be attached to a tree. At least the garbage man took the naked trunk.
It's an utterly ridiculous exercise that no one has ever done, dreamed up by some unknown writer on this planet who needed one more ecologically uplifting recycling tip to round out some forgotten gardening article published in the early '70s. Let it drop.
Don Engebretson
The Renegade Gardener