RENEGADE GARDENER™
The lone voice of horticultural reason
(Ay-SOO-lus)


Common Name: Horsechestnut, Buckeye
Features: late-spring or summer flowers, foliage, spiny fruit
Habit: rounded or spreading, deciduous tree or shrub
Height: 8–75′
Spread: 8–50′
Planting: B & B, container; spring or fall
Zones: 3–9
Few trees available to northern gardeners will stop viewers in their tracks as quickly and assuredly as A. x carnea 'Briotii,' in bloom, unless perhaps your taste toward spectacular blooming trees is more attuned to the sublime A. hippocastanum (Common horsechestnut). Aesculus is a diverse group of extremely attractive trees and shrubs featuring unusual, often rugose foliage, billowing forms and wide options in size, habit, and bloom color. As is always recommended, note the proper botanical name (Aesculus) in your research and shopping; both common names "Buckeye" and "Horsechestnut" are bandied about in the trade.
Growing
Horsechestnuts and buckeyes grow well in full sun or partial shade. The soil should be fertile, moist and well drained. These trees dislike excessive drought.
Little pruning is required. Remove wayward branches in winter or early spring.
Tips
The tree-sized Aesculus species and hybrids are best suited to large gardens as specimen and shade trees. Their roots can break up sidewalks and patios if planted too close. These trees give heavy shade, excellent for cooling buildings but difficult to grow grass beneath. Use a shade-loving groundcover instead of grass under these trees.
The smaller, shrubbier buckeyes are useful in a space-restricted setting, where they can be used as specimens, in shrub or mixed borders or in mass plantings to fill unused corners or to cover hard-to-mow banks.
All parts of Aesculus plants, especially the seeds, are toxic. People have been poisoned when they confused the nuts of these trees with edible sweet chestnuts (Castanea species).
Recommended
A. x arnoldiana 'Autumn Splendor' is a tree with an oval to rounded crown. It grows 30–40′ tall, with an equal spread. The foliage is scorch resistant and remains dark green all summer, turning brilliant purple-red in fall. This hybrid blooms in spring, producing erect clusters of yellow flowers with orange and red markings. The fruit is round, spiked and yellow-brown. (Zones 4–8)
A. x carnea (red horsechestnut) is a dense, rounded to spreading tree that grows 30–40′ tall, with equal spread. It is smaller than common horsechestnut but needs more regular water in summer. Spikes of dark pink flowers are borne in late spring and early summer. 'Briotii' has large, lobed leaves and stunning red flowers in spring. It grows 25–40′ tall, with an equal spread. This cultivar is hardy in Zones 5–9. 'O'Neill' grows slowly to 35′ in height and 25′ in spread. It bears bright red flowers. (Zones 4–8)
A. glabra (Ohio buckeye) is a rounded tree with a dense canopy. It grows 20–40′ tall, with an equal spread. The flowers are not very showy and the fruit is not as spiny as that of other buckeyes. This species is susceptible to scorch and will look best when grown in damp, naturalized conditions, such as next to a stream or pond. This species is native to Illinois . (Zones 3–7)
A. hippocastanum (common horsechestnut) is a large, rounded tree that branches right to the ground if grown in an open setting. It grows 50–80′ tall and spreads 40–70′. The flowers, borne in spikes up to 12″ long, appear in late spring; they are white with yellow or pink marks. 'Baumannii' bears spikes of white double flowers and produces no fruit. (Zones 3–7)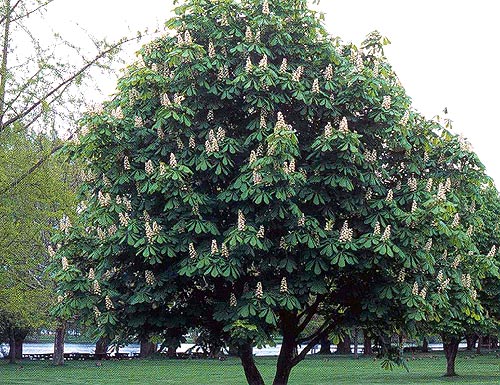 A. hippocastanum
Don Engebretson
The Renegade Gardener