RENEGADE GARDENER™
The lone voice of horticultural reason
(al-keh-MILL-uh moll-iss)
Common Name: Lady's mantle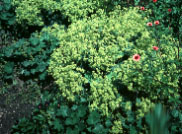 Color, shape, texture, form — these are the buzzwords that gardeners slowly come to understand as the important components to pleasing garden design. Plants with uncommon shape and color to the flower, uncommon texture to the leaves and different overall form from most other Zone 3 & 4 perennials can't miss in the garden. Welcome to the genus of plants named Alchemilla.
Chartreuse(!) flowers emerge in early to midsummer, barely hovering over soft, lobed, tufted, light green leaves. The plant by itself provides pleasing contrast of color. Mounds to a height of 12 in. to 15 in., with a spread to 24 in. It does well in my shady yard, where three of them are planted in an "L" at the entrance to a narrow stone path. Receiving only three hours of direct sunlight per day, light shade for the rest, they bloom readily. Individual flowers are tiny, star-like, dancing in clusters above the highly attractive foliage. Nothing else in your garden looks like Lady's mantle.
Use and Culture: plant at the front of the border in partial shade to sun. Space 18 in. apart and be prepared to separate them further the second or third year. Leaves can scorch in full sun conditions (eight hours or more). Not terribly picky about soil, but won't grow in overly-moist, boggy conditions. Requires removal of withered/brown leaves from time to time during the season. Responds fairly well to deadheading as blooms fade. Shear in mid-August to expose the new, lush basil growth you will find underneath. Do not cut down in the fall. Self-seeds. Very soft and cuddly in appearance, the plant contrasts well with boldly vertical, tough-looking perennials such as Iris or Liatris spicata. Zones 3-8.
Don Engebretson
The Renegade Gardener