RENEGADE GARDENER™
The lone voice of horticultural reason
Hydrangea macrophylla 'Miss Saori'
(Hi-DRAN-gee-uh  macro-FILL-uh)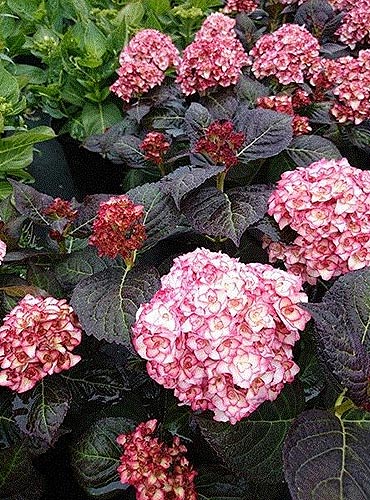 How many years ago was it that I was dissing hydrangeas? If this dumb, antiquated site had a search engine, I could tell you. Green leaves, giant gangly mops of white flowers, absolutely zero fall interest—in my early gardening years, I wasn't a fan. Childhood memories of great, gangly swaths of 'Annabelle' will turn anyone off.
Then fifteen years ago or so came great new varieties of Hydrangea paniculata such as 'Quick Fire,' 'Vanilla Strawberry' and 'Limelight,' plants of interest (and often smaller, kinder stature) that a person could plant without turning the yard into gramma's house.
New Hydrangea macrophylla varieties also came onto market, with sizzling bi-color veined leaves, red-purple stems and arresting pink, white, salmon and blue flowers, such as 'Bloomstruck' and 'Twist-n-Shout,' which also touts red-burgundy fall color.
Well, it's getting better all the time. Available in limited quantities next year, look for 'Miss Saori,' a Japanese hybrid that won the 2014 Chelsea Flower Show Plant of the Year Award.
It's a dwarf—Yes!—that grows around 3' tall by equal width. Blooming on new and old wood, it blooms in June with peak blooming in mid-summer. Flowers are double, white with rich pink edges. What is most noteworthy is the dark green foliage that matures to burgundy by midsummer. This ain't your gramma's hydrangea.
Care and Use 
Hydrangeas prefer good gardening soil, that is, some organic content and drainage. 'Miss Saori' will grow in full sun to part shade. Fertilize plants once in spring with an all-purpose granular shrub fertilizer. Useful in the front of shrub borders, as a backdrop to perennials or basically anywhere you wish this dazzler to be seen. Try it in large containers. Flowers are also very useful in cutting arrangements, as well as dried arrangements.
Don Engebretson
The Renegade Gardener