RENEGADE GARDENER™
The lone voice of horticultural reason
 (Hi-PEST-ease)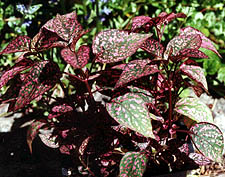 Annuals that don't look like annuals rank high in my book. Did I tell you that 2000 is the Year of the Zinnia? Of course I didn't. Yet it is—says so right here in a fancy press release I received from a very self-serving national nursery group of annual growers. I think I was supposed to pass this important news along to you in January. They sent me all sorts of color pictures; tall zinnias, short zinnias, red zinnias, orange zinnias, bi-colored zinnias.
Problem is, I hate zinnias. I tried them once, in a big way, and realized halfway through the season that they look goofy in a perennial bed, a loud gang of Mexican cowboys crashing the prom.
A minor, little-known annual such as Hypoestes won't be touted by this group for as long as we're alive, because the nursery industry doesn't think gardeners will show much interest in an annual with wonderful form and knock-out variegation. I use this breathtaking marvel at the front of the bed, anywhere I need a sexy pink come-on to break up the border and provide relief from flower blooms. The plants in the photo had just come home from Lynde Greenhouses in Maple Plain, one of the better annual growers in the Twin Cities, and one of the few places I've seen Hypoestes. With pinching, they'll grow lush and full of leaves; I keep them at around 18 inches.
Care and Use
Plant in full sun to part sun (mine get 4 hours and do fine) at the front of the bed in good garden soil. Use at least five plants, spaced 8 inches apart in the north. Fertilize two to three times during the season. Combines well with anything and everything. You will have a difficult time planting these and not have them look great.
Don Engebretson
The Renegade Gardener