RENEGADE GARDENER™
The lone voice of horticultural reason
Polemonium reptans 'Stairway to Heaven'
(po-luh-MOAN-ee-um rep-tans)
Common Name: Creeping Jacob's Ladder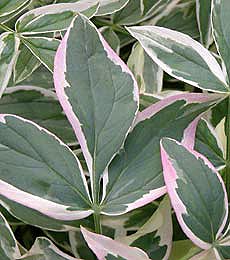 Mike Heger over at Ambergate Gardens in Victoria (MN) calls this his favorite new perennial in the past five years, and I agree it is a true must-have.
'Stairway' is one of most visually commanding smaller perennials you can grow in the woodland garden. The plant forms a low (12") mound of medium-green, long oval leaves, each leaflet strongly edged in creamy white, flushed with pink in spring. In higher light intensities, one can grow 'Stairway' so that the pink remains all during the season.
Care and Use
Though Jacob's Ladder is usually considered a part-shade/shade plant, 'Stairway' also does well in full sun provided the soil around the plant is mulched and you don't let plants dry out. Plants do best in well-drained soil with decent natural fertility and organic material content, or soils in which organic matter (peat moss, compost, etc.) has been added. Small, light blue pendant flowers appear in May and often throughout the summer, but are overall insignificant.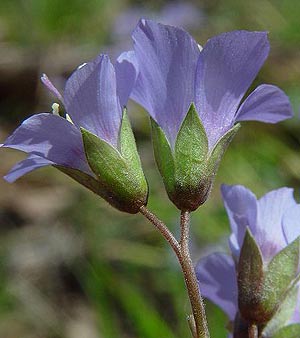 The plant was developed and introduced by the New England Wildflower Society, and since they developed it from strains of the native New England (species: reptans) it has proven extremely hardy to USDA Zone 4.
Buy one, or five, and goof around planting them as singles, or in a trailing wave. You grow this plant so you can bounce that killer foliage off the foliage of something else that grows behind, in front, or next to it. And for the last time, no, I don't include plant-combination suggestions when I do these Plant Spotlights. That's for you to decide, experiment with, figure out, and learn from. Your combination could be way better than mine. That's gardening.
Don Engebretson
The Renegade Gardener