RENEGADE GARDENER™
The lone voice of horticultural reason
 (tan-uh-SEE-tum)
Common Name: Feverfew
Height: 8″–4′
Spread: 8–36″
Flower color: white, pink, purple, yellow, red
Blooms: summer
Zones: 3–8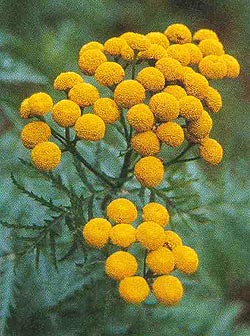 Tanacetum vulgare
No doubt there are some fine gardeners who will defend growing T.coccineum (Painted Daisy) as a worthwhile horticultural experience, but the fact is that painted daisies usually transform quickly into floppy wrecks of the high maintenance (staking, hooping, shearing) variety. Luckily, the plant is often short-lived. Both T.parthenium (Feverfew) and T.vulgare (Tansy, Golden Buttons) are much finer specimens for the northern garden, and are further exonerated by performing reasonably well in part sun conditions.
Growing
Feverfew grows best in full sun. Any well-drained soil is suitable. Very fertile soil may encourage invasive growth. Plants bloom from mid-summer to fall. Deadheading will prolong the blooming period—one can expect bloom well into September. Divide in spring as needed to control spread and maintain plant vigor.
TipsUse feverfew in borders, rock gardens, wildflower gardens, cottage gardens and meadow gardens. Most of these species are quite civilized, but T.vulgare can become invasive. To control invasiveness, grow the non-invasive 'Crispum' or grow the species in planters—they're a dandy container perennial.
Recommended
T. coccineum (Painted Daisy, Pyrethrum) is an erect, bushy plant, growing 18–36″ tall and spreading 12–18″. The main flush of white, pink, purple or red, yellow-centered flowers occurs in early summer, but some flowering will continue until fall. 'Brenda' has red or magenta flowers. 'JamesKelway' bears scarlet red flowers. (Zones 3–8.)
T. parthenium (Feverfew) is a bushy plant with fern-like, aromatic foliage. It grows 12–36″ tall, spreads 12–24″ and bears clusters of small daisy-like flowers. 'GoldBall' forms a compact mound 9″ tall and wide and bears yellow double flowers. 'Snowball' bears white double flowers. (Zones 3–8.)
T. vulgare (Tansy, Golden Buttons) forms a large, erect, wide-spreading mound. It grows 24″–4′ tall, spreads 18–36″ and bears clusters of bright yellow, button-like flowers from mid-summer to fall. 'Crispum' (Curly Tansy) is a compact plant with crinkled, lacy foliage. It is less invasive than the species. (Zones 3–8.)
Problems & Pests
These plants are generally pest free, but keep an eye open for aphids.
Don Engebretson
The Renegade Gardener