RENEGADE GARDENER™
The lone voice of horticultural reason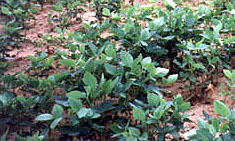 Talk about university research making an impact on the world — in 1993, scientists at the University of Minnesota developed CM6, a robot that could pull weeds and open a beer bottle. No, CM6 was actually an agent (whatever that is) to help seeds better germinate in cold soil.
They started testing it on soybeans, and test results show that CM6 increased yields by five to ten percent. That might not seem like a lot, but think for a minute how many extra soybeans you get when you increase billions by five percent.
What they found was the seedlings from CM6-treated seeds developed a larger rooting system, which helps plants tolerate more stress, say from late spring frosts or overall cool temperatures after planting.
Next they moved on to corn, and plan to have a go at vegetables grown in northern climates.
Plants grown from CM6 seeds retain an increased hardiness tolerance. I'm hoping they'll eventually get around to shrubs and perennials, where CM6-treated plants could be developed enabling gardeners to grow Zone 5 stuff in Zone 4, Zone 4 in Zone 3, and so on.
Taken to the extreme, it means that some day, we northerners might have more than a couple choices for growing a proper deciduous hedge!
The project time frame extends through 2001, and is headed by Paul Li of the Horticultural Science department at the University of Minnesota.
Don Engebretson
The Renegade Gardener