RENEGADE GARDENER™
The lone voice of horticultural reason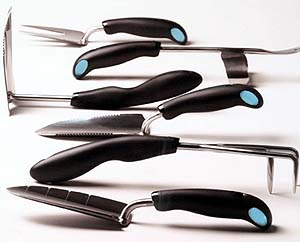 Bumped into these at the trade show portion of the recent Garden Writers of America convention in Seattle. The second I picked up the Oxo three-prong hand cultivator I knew I had to give the salespeople my special, Better Homes and Gardens business card (that's the one that gets you free stuff – my Renegade Gardener business card only gets me literature and a polite "thanks for stopping"). After that it was just a matter of hang time, making small talk and telling them how great the tools are, until they gave me one.
And in the garden it's the best cultivator I've used. Long, hefty, perfectly balanced, comfortable, and cleverly designed (the two outer prongs are longer than the center prong, so you can cultivate and whap fertilizer in close to plants), the entire line of Oxo tools will become the hallmark of experienced, astute gardeners.
You probably know Oxo – they're the "Good Grips" people, who make those great can openers, carrot/potato peelers, cooking spoons and spatulas. I won't bore you with details, but their research and design department took an exhaustive look at the human hand, wrist, arm, and body positions employed by gardeners, then designed garden tools within the best principles of universal design.
Oxo garden tools debut next spring. The line includes all the standard digging and cultivating tools, plus snips, pruners and loppers. About the only mistake the company made is that they're not charging enough – most of the trowels and cultivors are going to retail at around nine bucks, and their big whoppin' lopper will come in at less than thirty.
For the truly curious, visit their Web site at www.oxo.com.
Don Engebretson
The Renegade Gardener