RENEGADE GARDENER™
The lone voice of horticultural reason
Timely Revision and Update of a Great Perennial Plant Book
Growing Perennials in Cold Climates
By Mike Heger, Debbie Lonnee, and John Whitman ($39.95, University of Minnesota Press)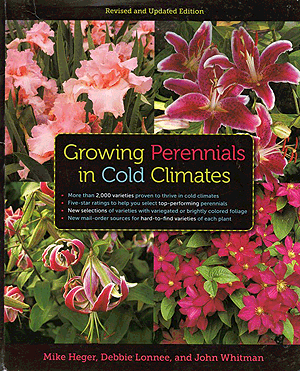 Readers in Zones 5-10, Honolulu, and Brownsville, Texas, can skip this one, it's aimed only at the true gardeners of the northern and high altitude regions, Zones 2-4. Which, incidentally, include over a third of all American gardeners!
I had to jump into the Archives page of this site's "Top Pick" to remember when I first reviewed—and championed— this essential book, and there it was: Top Pick 2000, the second TP ever named on this site.
Mike Heger, the primary expert for the book, is the owner of the wonderful Ambergate Gardens and eleven years ago he and John Whitman wrote the book, published in hardcover by Contemporary Books. It cost fifty bucks, fifty-five to sixty in today's dollars, and was worth every penny.
This new revised edition, in addition to offering a soft cover and softer price, is a complete update of nearly 70 of the best perennial genera for northern gardens. A lot has changed in eleven years, with the introduction of myriad new varieties. The book details more than 2,000 perennial varieties in all, plus they've added a solid list of mail-order sources for hard-to-find-varieties of each plant.
Fabulous photography, complete care and maintenance information, plus a five-star rating system to help you choose top-performing perennials, if you don't have the original (and even if you have), this book is a must for northern-tier American and Canadian gardeners from coast to coast (as well as the nice renegade gardeners in Moscow who shoot me an e-mail from time to time).
Don Engebretson
The Renegade Gardener