RENEGADE GARDENER™
The lone voice of horticultural reason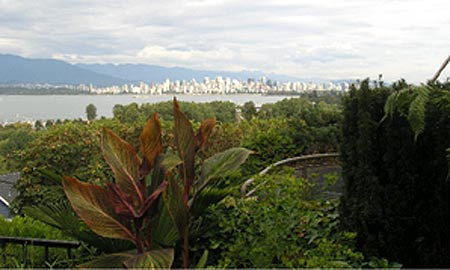 10-1-05 – Vancouver, British Columbia … the hills … the islands … the West End … Chinatown … Gastown … Robson Street … Stanley Park … and its great flaw, not a single freeway within thirty miles to help you get from one end of this sprawling, international seaport city to the other.
Ah well. The five hundred-plus members of Garden Writers Association who converged on Canada's coolest city this past September weren't complaining. From the headquarters of our 57th Annual GWA Symposium high atop the Hyatt Regency, in what I guess was downtown Vancouver (or is downtown that big hunk across that bridge over there?), we trekked from Vancouver Island to Frazier Valley, trampling through scads of great public and private gardens, wolfing down fabulous food, reveling in the wonderful warmth and charm of western Canadians, and soaking up much more sun than we were led to hope for.
Keep in mind, this is USDA Zone 7/8 territory; after only a few days, one fellow GWA member loudly (and jealously) dubbed it "conifer porn." And of course the lucky gardeners up here never miss a chance to ram another one of those Japanese maples in your face every time you turn around. You get used to it. But it all does make for some lovely pictures …
University of British Columbia Botanical Garden
The only bummer of the entire trip: memory card malfunctions with my fancy-schmancy, relatively new digital camera. It wasn't until much later in the day, at the Van Dusen Botanical Gardens, that a photo review revealed that my camera was dumping photos, without any warning. Consequently all but two of my photos from this first stop are lost to the Tech Gods.
My fault, I guess, and our loss. Showcasing more than 10,000 different plants on display, brilliantly laid out over 110 acres, the UBC Botanical Gardens features one of North America's largest alpine gardens, a lovely Asian garden, winter garden, food garden, mixed and herbaceous borders, physic garden, BC native garden, and marvelous pathways dipping and diving through woods, streams, and meadows.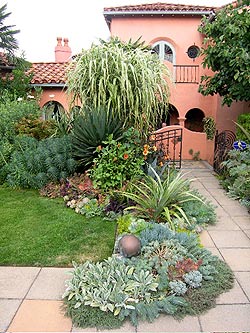 Thomas Hobbs residence, Vancouver, BC
Highly recommended. Close to downtown. OK little garden shop, no dining. Give yourself three-plus hours, and be sure to walk through the Chinese Moon Gate and Tunnel to access the large alpine glade across the highway. It was well past rhododendron bloom season, of course, but there's no question that a visit in May, during peak rhodie bloom, would be a major, mood-altering experience.www.ubcbotanicalgarden.org
Thomas Hobbs Residence
Here's a good example of why you pay your GWA dues and attend these deals. We were warmly welcomed onto the property of this exclusive and private residence by Mr. Hobbs himself, as charming, down-to-earth, and good-natured a gardening and landscaping genius as you'd ever care to meet.
Mr. Hobbs–Thomas, to his new GWA friends–is owner of the Southlands Garden Store, known throughout western Canada as one of the most elegant and sophisticated garden centers in the region. His landscaping style could be described as, oh I don't know … perfect!
By the way, the view of downtown Vancouver across English Bay at the start of this article was shot from his back yard. Here's a link to a nice article on Mr. Hobbs—I mean Thomas: http://www.philly.com/mld/philly/living/columnists/denise_cowie/12839936.htm
Van Dusen Botanical Gardens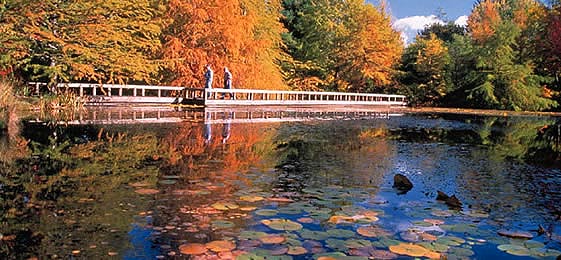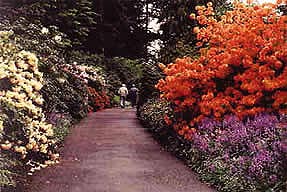 Bear with me, comrades—this is where my photo memory card malfunctions kicked back in, to the point of not allowing me to bring home a single decent photo of this very fine botanical garden. Oh, we'll steal a few from their website to whet your appetites, and I'll give you a brief rundown, but still, my apologies. This is the last place my camera (or the owner/operator) let me down.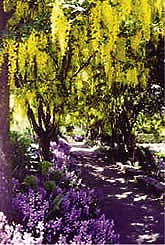 The Van Dusen site was owned originally by the Canadian Pacific Railway, logged, then housed a golf course until 1964. Vancouver citizen W. J. Van Dusen, working in conjunction with the Vancouver Foundation, the Government of British Columbia, and the City of Vancouver, purchased the land and formed the Van Dusen Botanical Garden Association, opening the Garden to the public in 1975.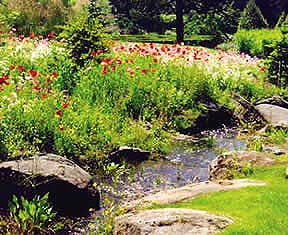 The 55-acre garden features 7,500 different plants from around the world. There's plenty of water on the property, and a terrific range of walking paths, from broad thoroughfares to almost-hidden, woodland pathways. Excellent tree and shrub collection, formal rose garden, small but good rock garden, nice perennials throughout, lovely waterfall, very good dwarf conifer display, bonsai house plus the requisite Asian-influenced landscapes, Canadian Heritage Garden, and a killer maze (took me a good twenty-five minutes to crawl back out, and I never DID achieve the goal of getting to the center).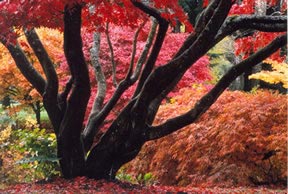 Highly recommended. Close to downtown. Good one to include on the same day you visit the UBC Botanical Gardens. Give yourself two to three hours. If you're bad at mazes, better make it five. Full garden shop and restaurant. www.vandusengarden.org
Fraser Valley
Turns out there are freeways in the general Vancouver vicinity—you just need to breeze through about 250 stoplights to gain access. Luckily, one of these freeways runs east, toward the Rocky Mountains, up through a very pretty, increasingly populated portion of British Columbia called Fraser Valley. This Highway is Canada 1, incidentally, also known as the Trans-Canada Highway, so you will want to exit on occasion, or six days later you'll be in Nova Scotia. Here's a grand daytrip from Vancouver: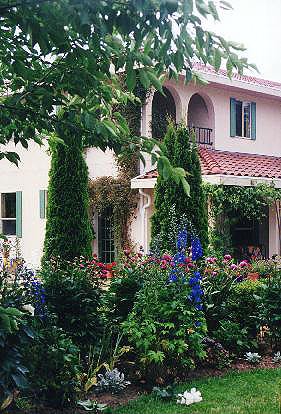 Tuscan Farms
This 80-acre family estate in the heart of Fraser Valley is a bed-and-breakfast and working farm, where the lavender and Echinacea fields yield plants that are manufactured into a wide array of organic lotions, soaps, teas, candles, scrubs and throat sprays under the Tuscan Farms label.
The beauty of the grounds was somewhat diminished by the season; the Echinacea was well past bloom, a pity since one could tell the great swaths and stands of the stuff would be eye-popping in mid-summer. The following photos were all shot during my visit, however, and the grounds were still quite lovely; a spring or mid-summer visit would certainly include quite a bit more color.

Photo, right, courtesy Tuscan Farms website
We didn't have enough time here, and I'd like to return in summer. There is a lovely Secret Garden, nice, meandering woodland path to water gardens, a wildflower meadow and beaver pond (the beaver who actually owns the joint is quite a story). Located 40 miles east of Vancouver. Good café. Very nice gift shop containing all the lavender and Echinacea products. Splendid, cordial, charming, and attractive staff. The B&B rooms are gorgeous. Very romantic place to spend the evening, I should think. www.tuscanfarmgardens.com
Nordic Nursery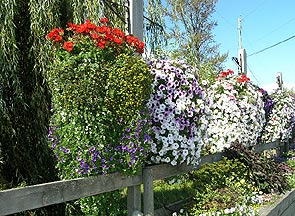 It might sound like these GWA shindigs are all play and no work, but that's simply not true. Our next stop was at Nordic Nursery, a large, lavish nursery known for carrying new plants from around the world. It's also one of the larger propagator and growers of the Proven Winners series of plants. There—before we were allowed to even nibble a single hors d'oeuvres or try a swallow of the excellent champagne the proprietor, Mr. Glen Anderson, had so cordially provided—we needed to spend countless minutes voting for our favorite new plants in the Proven Winners test gardens.
| | |
| --- | --- |
| | |
| | |
| We were given five yellow flags and one orange one, to select our five favorite new varieties, plus (orange flag) our top pick . | The Renegade Gardener's orange-flag,top pick, out of 200 annuals and 63 perennials, was easy: Heuchera 'Dolce Crème Brulee' |
Minter Gardens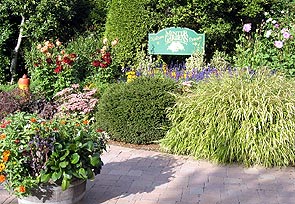 The very, very best was saved for last.
Welcome to Minter Gardens, quite simply the most gorgeous public garden I have ever had the pleasure to view. Set against a magnificent mountain backdrop, the 32 acres at Minter are masterpieces of color, form, scent, contrast, and design.
Minter is a private enterprise; Brian and Faye Minter stumbled upon the property on Christmas Day, 1977, and decided, heck, let's create one of the most beautiful public gardens in the world. Three years later, in May, 1980, it was opened to the public, and immediately became one of the planet's premier gardens. Now, 25 years later, it is astounding.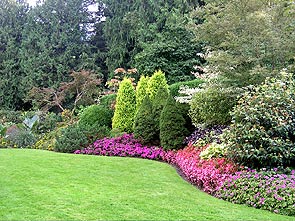 You'll find 11 themed gardens that run up—and over—the foothills of the Rockies. Full dining, large gift shop, and oh, what views. About 90 minutes east of Vancouver. When I return, I think I'll drive in the morning to Minter, spend a lot of the day, then hit Tuscan Farms later afternoon, and stay the night.
Remember, I shot these photos in September. It was lovely—this damn Zone 7 we're dealing with keeps the place lovely in February, I'm sure—but I'm certain I can't imagine how spectacular this jewel must be in spring and summer. It's known for its spring bulb show–nearly 100,000 tulips alone. And with 1,000 rhododendrons, and hundreds of thousands of annuals, perennials, trees and shrubs, you will not be disappointed at what you see any angle you cock your head. Enjoy!
Other Recommended Vancouver Gardens
Butchart Gardens – I opted out of this day-tour this time around, having visited Butchart a few years ago. Butchart is fabulous, world-class, and worth a visit. Click HERE to link to my Butchart trip report from 2003.
Stanley Park – Stanley Park is a great testament to the founders of Vancouver, and during an extended stay in the city is worth visiting. Tremendous amounts of its acreage have been left unspoiled, and appear as they did centuries ago. Great rose and perennial gardens, awesome trees and commanding views of the ocean. Good place to jog or ride a bike. Plus, it's just north of downtown—a mere fifty stoplights or vancouver.ca/parks-recreation-culture/stanley-park.aspx
Dr. Sun Yat Sen Chinese Classical Garden – I opted out of this one too, though visited during another trip to Vancouver. I slept through my alarm the morning the GWA buses headed for it, though my inability to find a casino that would let a man win MORE THAN TWO LOUSY HANDS OF BLACKJACK IN A ROW may have had something to do with that. A must-see if you like Chinese gardens, although personally, I find Chinese gardens to be the opposite of Chinese food: I see one, and I'm full for a long, long time. Downtown Vancouver. www.vancouverchinesegarden.com
Don Engebretson
The Renegade Gardener