RENEGADE GARDENER™
The lone voice of horticultural reason
Don't plant short plants in tall containers.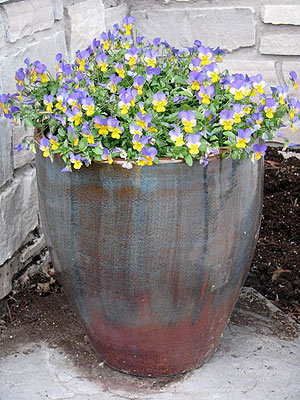 You'll notice this blunder quite often, especially now that I'm making you aware of it. Not only do beginners make this mistake, you'll see it in professional designs, usually massive containers at the entrance to grand hotels. They'll be some great, four-foot-tall cast iron pot that's about three feet across, and it will be filled with, you know, impatiens or something.
In the picture at right, the plant-to-container ratio is wrong. Too much container visual weight, not enough plant visual weight. For this container, you are going to need something in there that shoots up nearly twice the height of the container. That lovely container is a good 20" tall, so we're talking a grass or a bold annual that hits at least 40" by mid-summer. You could go a bit shorter, if you added three trailers down the sides of the container, potato or vinca vine, etc., which add to the plant visual weight while diminishing the container visual weight.
For the whole skinny on these principles, read my article "Crafting Cool and Creative Containers."
Don Engebretson
The Renegade Gardener