RENEGADE GARDENER™
The lone voice of horticultural reason
The Story of the Renegade Gardener
Don Engebretson was born in a barn, a pole barn, an old pole barn built down by the sea.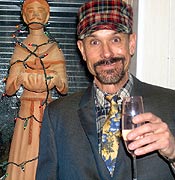 At least, that's what his parents, Anders and Uma Engebretson, always told him whenever young Don would ask what body of water it was that spread out below their log hut that clung precariously to the rocky shore. "That's the Bering Sea," his father would reply. "And this great land is the Chukchi Peninsula, the eastern-most tip of the vast Siberian territory to which your mother and I arrived, lo those many decades ago, tired, penniless, spent, and naked, having escaped the clutches of the mad Bolshevics, and their silly trained monkeys."
Years later Engebretson would discover that the approximately twenty-acre body of pea-green water was in fact Moose Lake, one of seven Moose Lakes dotting the Northern Minnesota wilderness in a line running from Beaver Crossing to Kettle Falls. Anders and Uma were kidders.
An only child, Don spent his boyhood summers fishing, hiking, felling trees, and helping his father unload the shiny glass bottles filled with brown liquid from the bottom of the canoe that would appear in misty early mornings along the banks of the nearby Rainy River. Don and his father would carry the bottles to the back of the family car, a 1956 Rambler Station wagon. When the canoe was empty, his father would hand money to the silent, stern paddler, then playfully slap the head of the jovial paddler in the bow. Don's father was gregarious, for a Norwegian; in an elevator, he looked at the other guy's shoes.
It was in his teens that Don began to develop his love for the outdoors and its magnificent flora. One autumn day, he became so distracted while sketching the intricate form of Swamp Smartweed (Polygonum coccineum) in flower that he lost all track of time. First evening descended upon him, then an early-season, three-week blizzard, during which time he survived by gnawing on wild ginger root (Asarum canadense) and drinking from a few of the shiny glass bottles he had hidden about the woods over the years.
As the storm abated, Don found himself so emaciated and disoriented as a result of this sustenance that he wandered about the woods aimlessly for three years, until one night when he glimpsed the glow from a great light in the distance. Six hours later, near daybreak, he breached the city limits of Thunder Bay, Ontario. He was nineteen years old.
Unshaven, penniless, and never having spent a day in school, Don felt fortunate when he was hired immediately as a blackjack dealer at the nearby Sabaskong Tribal Casino and Bingo Palace. He spent the next twenty-four years dealing blackjack, attempting to hold down food, looking in wonder behind televisions, and learning to walk in shoes.
By 1997, Don had saved enough money from "tokes" (blackjack vernacular for tips) that he was able to pay off his tent and buy a bus ticket back to the United States, for he knew that somewhere within his native shores lay his destiny. At the Thunder Bay bus station, he pulled from his pockets an odd assortment of American quarters, Canadian loonies, poker chips, bingo vouchers, pull-tabs, and slot tokens. "Give me a bus ticket to America, as far as this meager wampum will take me," he said at the counter. His stash totaled nearly sixty Canadian dollars.
Following the instructions neatly written on his arm by the station agent, Don boarded the Express Liner to St. Paul, Minnesota, transferred to the 61A to south Minneapolis, then the 52B to Bloomington, transferring finally to the 18E running west to the tiny hamlet of Deephaven, Minnesota. The bus wheezed to a stop. "Why are you stopping, kind sir?" asked Don. "End of the line, pal," intoned the driver.
Don turned to thank the driver for throwing him so smartly to the sidewalk, but the bus was already pulling away. Turning, he saw a small, hand-lettered sign adorning the door to the modest brick building before him. "Writer Wanted," it said.
Don entered the building and walked down the stairs to a door marked Lakeshore Weekly News. He knocked. "How many 'Ls' in 'parallel'," boomed a voice. "Uh … three," stammered Don, guessing. "You're hired," yelled the voice behind the door. "Get in here."
Don entered the office to find a young, red-faced, husky man sitting behind a desk wearing shorts, a Green Bay Packers jersey, eating popcorn and smoking two cigarettes. "We need a new gardening columnist. Pay is forty bucks a column, five hundred words, every two weeks. Don't write anything fancy I can't fix with spell-check, don't piss off anybody in Edina, and don't get us sued." "But I've never written about gardening," confessed Don. The editor eyed him suspiciously, then broke into a grin. "Good, a kidder. Well then, this is indeed your lucky day. We've entered a new age of journalism, my boy. Make it up."
At present, Don is a field editor, writer, and garden scout for Better Homes and Gardens magazine, writes the perennial column for Northern Gardener magazine, and is a contributor to Midwest Living, Garden Deck & Landscape, The Seattle Times, and numerous other publications. From 1999 to 2006 he was the garden editor and monthly columnist for Mpls.St.Paul Magazine, a gig he had to give up when his summer landscaping business morphed into a real business. Don appeared on HGTV for four seasons as the gardening expert on "TIPical MaryEllen," and has been the on-camera landscaping expert on PBS TV's HOMETIME program. He is a featured speaker at home and garden shows across the United States. Speaking Schedule.
In addition to a 1999 Minnesota Newspaper Publishers Award and a 2000 Minnesota Magazine Publishers Silver Award, Don is a six-time winner of the Garden Writers Association's national Garden Globe Award for excellence in garden writing. He has published four books on gardening and landscape design, and is a University of Minnesota Extension Service Master Gardener. In summer, he operates Renegade Gardener Landscaping in Minneapolis, Minnesota, specializing in residential landscape renovation and custom stonework.
Don lives, gardens and writes in Deephaven, keeping track of a teenage drummer/guitarist son, Elliot, and two cats, Anders and Uma. And though now published nationally, he still makes it all up.
Don Engebretson
The Renegade Gardener