RENEGADE GARDENER™
The lone voice of horticultural reason
The 2011 Renegade Gardener High Spot / Black Spot Awards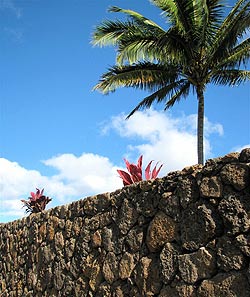 Kauai prepares to reveal the secrets of this year's High Spot/Black Spot Award winners.
1-1-12/Poipu, Kauai – Aloha one and all from Hawaii's garden isle, and welcome to the 12th annual Renegade Gardener High Spot/Black Spot Awards!
After more than a decade of freezing our bleepin' fannies off at award banquets crammed into various church basements, high school gymnasiums and VFWs scattered like empty beer cans across Minnesota's desolate winter tundra, I beseeched this year's 2011 Awards Planning Committee to consider any and all warm-weather, bloom-filled, tropical paradises in existence around the globe.
My only added stipulation was that the cops be free from corruption, the water safe for drinking, English be spoken by the locals, American dollars be legal tender, and the liquor stores be able to scrounge up a chilled case or two of Budweiser. Check each off the list and voilá: You're in Hawaii.
We're coming to you live from the Grand Hyatt Resort and Spa on the stunning south coast of Kauai, and for the judges, award nominees, and registered attendees who opted to come out a few days early to golf, swim, snorkel, dine, and stay up impossibly late, there is no finer resort in Hawaii.
| | |
| --- | --- |
| | |
| The Renegade Gardener waiting to welcome arrivals to this year's awards banquet. | The Renegade Gardener as he was found by Hyatt Beach Security earlier in the morning, following Saturday night's pre-awards hospitality suite. |
Of course, this major upgrade in location could not have been possible without a record-breaking infusion of cash from this year's fine sponsors: Monsanto Corporation, British Petroleum (BP), Anchor Block Company, The American Turfgrass Association, and Scotts/Ortho. Muchas gracias! The award program will begin as soon as your final sponsor banners are in place.
What's that? They are? We're ready to begin? Are the guests all seated? The musicians in place? The waiters ready to serve? Did you cut down the two palms I wanted removed to clean up the sightline of the third TV camera? You did?
Well then… let's give out some awards!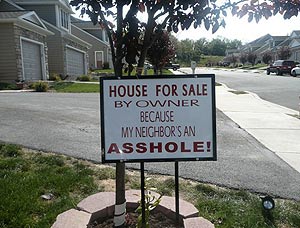 High Spot Award
Best Tree Circle
You know how I love a good tree circle. This one succeeds on so many planes. It effortlessly relieves the small tree of any duties relative to the landscape as a whole (not even the lighting seems interested), while reminding the world that selling one's house is not near as important as screwing with a bad neighbor. Extra credit for matching the letter color to the leaf color of the sand cherry (Prunus x cistena).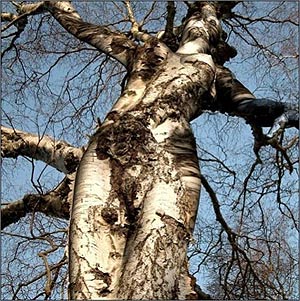 High Spot Award
Best Tree
A Connecticut homeowner was fertilizing the trees in his yard when he glanced up at this birch (Betula populifolia) and swore he saw a vision of a woman. Look close and perhaps you can see it also. (Hint: It ain't the Virgin Mary.)
I would be remiss were I not to include the following, by poet Joyce Kilmer:
I think that I shall never see
A poem lovely as a tree.
A tree whose hungry mouth is
pressed
Against the earth's sweet
flowing breast;
A tree that looks at God all day,
And lifts her leafy arms to pray;
A tree that may in summer wear
A nest of robins in her hair;
Upon whose bosom snow has lain;
Who intimately lives with rain.
Poems are made by fools like me,
But only God can make a tree.
You can say that again.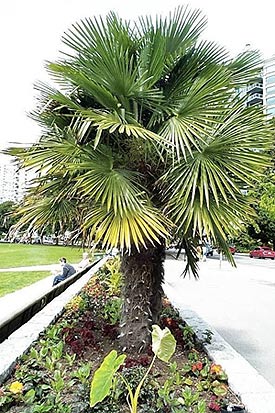 Windmill palm (Trachycarpus fortunei), Vancouver, British Columbia
Black Spot Award
Rise of Plant Theft in England and US
As reported in The Guardian (UK), the theft of plants from homeowner's gardens across England has reached near epidemic proportions. On a Sunday morning in April, Margaret Marsden of Sheffield awoke to discover thieves had scaled the fence to her private yard and cleared her garden and greenhouse of every potted plant she owned, including Japanese maples she was preparing to plant, and an assortment of rare orchids.
The thievery is not confined to easy-to-steal potted plants, however. Across England, police are responding to a growing number of calls from homeowners who report that horticultural hooligans have nicked trees and shrubs already in the ground, many for multiple years. Carl Greenhalgh, Derbyshire, was stunned to glance out his window to discover that two trees (of undisclosed variety) he had planted ten years earlier were no longer in view.
In celebration of completing a four-year homebuilding project and garden installation, Carole Pearce and husband, of Bristol, decided to splurge on an expensive, seven-foot Windmill palm tree as the garden's finishing touch. Its expression of tropical grace was short lived; one week later, all that remained was the large hole the couple had dug. Specialty plants such as Windmill palms, Japanese maples, tree ferns, Australian grass trees, evergreen topiaries and orchid collections top the thieves' hit list.
The prevalence of these plants in television makeover shows is credited as part of the cause, though the main reason for the increase in thefts is due simply to the continuing, passionate interest in gardening on the part of the English. Churchill Home Insurance reports that as many as one in seven households in England will fall prey to garden theft this year, with an average claim of £387.00 ($598.00). Plant thievery is on such a rampage that Mark Gains, a retired police officer from York, has founded a company with the sole purpose of combating garden crime.
Across the pond, Channel 7/ABC News in Washington, DC, reports that plant thievery around the nation's capital is on the rise, with instances of perennials and shrubs being dug up and removed from residential gardens in DC and surrounding states.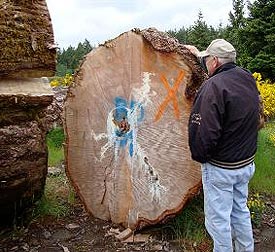 This Douglas fir was estimated to be more than 300 years old before it was felled illegally, according to the U.S. Attorney's office.
In major lumber-producing states such as Oregon and Washington, theft of mature cedar, fir and maple trees is nothing new, with police noting a fairly sophisticated black market in place for at least 50 years.
As reported in the December 28, 2011 Seattle Times, Reid Johnston, 40, of Brinnon, Jefferson County, was indicted in U.S. District Court in connection with the theft of maple, cedar and Douglas fir trees from the Olympic National Forest over a 27-month period. Cedar and fir are typically sold illegally to lumber yards, while illegal maple infiltrates a number of markets, including the manufacture of musical instruments such as cellos and guitars.
The largest surge in plant theft in America occurs in community gardens, where it is rare to find one in any US city that is not facing a growing problem with late-night, unauthorized harvesting of fruits and vegetables. Many community gardens in larger cities have resorted to volunteer security patrols during darkness. And in Rancho Cordova, California, a licensed grower of medicinal marijuana was shot in the hand while thwarting thieves who had cut through a tall, chain-link security fence to steal his back yard crop of marijuana plants.
So whereas plant theft in the US tends to fall into specialty niches, be on guard against theft of plants – particularly specialty trees and shrubs – from your private property. Americans may never attain a level of plant passion equal to our English cousins, but as our economy continues to struggle, plant theft is certain to rise. Most susceptible are newly planted trees offering easy access from driveway or street. If investing several thousand dollars or more, a call to your insurance agent may be prudent, as most insurance companies will write an inexpensive rider to cover landscape plants.
High Spot Award
Perennial of the Year: Heucherella 'Maple Falls'
Common Name: Trailing Foam Flower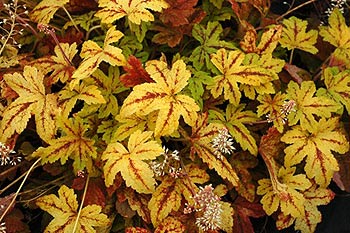 The judges usually let a perennial steep for a few years before even considering it for this, one of the most prestigious of all High Spot/Black Spot Awards, but 'Maple Falls' is such a delicious concoction of herbaceous bedazzlement we gave it the nod even though it's a 2011 introduction.
Credit and hats off once again to the esteemed plant breeder Dan Heims and his wily minions at Terra Nova Nurseries just outside Portland, Oregon, and yes, Dan, you owe me another lunch at that great little Tai restaurant next time I'm in town. Though 'Maple Falls' is a newbie, no worries about how the plant will prosper in the future; it's the newest introduction from Terra Nova's stellar Falls™ Series, splendid plants that have proven exceptionally hardy in USDA Zones 4-9.
'Maple Falls' is a vigorous, trailing Heucherella, making it a stunning addition to large containers and hanging baskets. Trailing stems holding the luscious leaves will grow to a length of two feet. The plant also serves as a nice groundcover, or keep it trimmed and proper for use in threesomes or in waves near the front of the garden bed.
Large (for a Heucherella), yellow, maple-shaped leaves feature red veins, with leaves taking on a dusty red tint for fall. White, tiny bottlebrush flowers erupt in spring and continue through summer and fall, particularly if you deadhead the plant on a semi-weekly basis.
Heucherellas need well-drained, humus-rich soil, and are happiest in acidic to mildly acidic soil (pH 5.6-6.8). In properly amended soil, regular weekly watering will do the trick, but for you Heuchera growers, be mindful that Heucherellas don't mind a bit more moisture.
'Maple Falls' grows in a wide range of light exposures, from full sun to shade. Full sun requires ample watering, and you'll note a slower growth rate. Half-day sun is ideal, but even in shade the plant will not disappoint.
Black Spot Award
Most Misleading Organic Claim: Fruitshare.com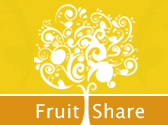 Regular attendees to the awards program are familiar with this now-annual award, chosen out of a hat from the hundred or so misleading, or at the very least, naïve claims made by various factions of the organic food industry. What placed Fruitshare.com – a mail-order purveyor of organic fruit – in the hat in the first place was this statement prominently situated on the site's home page:
Give and receive the most nutritious and delicious farm fresh fruit in season, all year long…from orchard to kitchen, farm to table, free of chemical pesticides, herbicides and fertilizers.
Just skip ahead to the next award if you know what's coming and I'm already boring you. (Or pick up the small fork outer left and start in on the next course just placed in front of you, the sashimi Mahi-mahi salad, noting that Mahi-mahi is a quaint Hawaiian term to throw you off the fact that you are about to eat dolphin (Coryphaena hippurus).
The first problem with the Fruitshare statement is their claim that the organic produce they procure is, "the most nutritious," meaning, one may assume, more nutritious than conventional produce. Fortunately or unfortunately, mounds of government and university studies prove otherwise.
The second problem with the Fruitshare statement is the part reading "free of chemical pesticides, herbicides and fertilizers." (No, it's not that it should properly read, "free from," but you get extra credit for that catch.) The problem with this statement is, all organic produce is utterly, entirely and completely grown using chemical pesticides, herbicides and fertilizers. You'd be hard put to grow a crop of anything if you didn't.
Repeat after me: It's not a question of growing plants with chemicals versus growing organically, it's a question of growing with synthetic chemicals versus growing with organic chemicals. Either way, you always use chemicals.
What the fine people at Fruitshare mean, is, they buy their fruit from organic growers, meaning the produce has been treated only with organic chemicals. Do you think the grapes and strawberries pictured on the site were fertilized? Of course they were, with good ol' nitrogen, phosphorus and potassium (NPK), from cow manure or sea kelp or fish emulsion, plus any number of organic forms of these nutrients. Is organic nitrogen from cow manure still a chemical? You better hope so, otherwise you got ripped off, and your crop will suffer.
I should mention, I mean no harm to fruitshare.com; their website is gorgeous, and if you want to order their fresh-picked organic produce, I'm sure it will delight. But too many organic-only types live in a dream world where aphids, Japanese beetles, sawflies, spider mites and locusts – not to mention a few thousand forms of fungal diseases – somehow magically avoid organic fields.
They don't. Pests and disease attack the fields of organic growers with the same voracity as conventional growers. Organic growers in America and around the world maintain a season-long regimen of chemical warfare, so that they have a crop to bring to market. They use organic chemicals, all of them, and some of these organic chemicals – particularly the pesticides – have higher Environmental Impact Quotient (EIQ) ratings than do the synthetic chemicals used by conventional growers.
How was the salad? Is there anything more yummy than fresh, raw dolphin?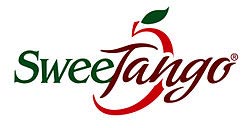 High Spot Award
Fruit of the Year: SweeTango Apple
The University of Minnesota's famed apple breeding program has developed what it believes will be the next great apple: SweeTango. Not a big deal, you say? It was big enough to merit a lengthy, fascinating article in the November 21, 2011 issue of The New Yorker (the annual food issue).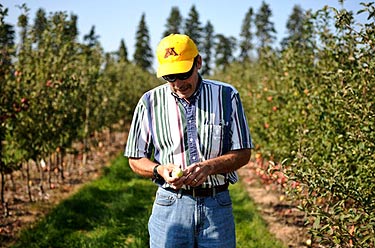 David Bedford, director of the apple breeding program at the University of Minnesota, taste-tests an apple while strolling through his research lab.
SweeTango was bred from experimental crosses between the U of MN's previously developed apple varieties Zestar and Honeycrisp – the humble Minnesota apple that found its way onto the national, then international, stage.
Bite into a SweeTango apple and your taste buds are pummeled by an astonishing combination of honey sweetness tempered with a citric, lemony finish unique to the apple world. The New Yorker article quotes an east coast grocer who has developed regular customers of Honeycrisp, and now, SweeTango, who previously didn't care much for apples.
Further from the New Yorker article, by John Seabrook:
Like Honeycrisp, SweeTango has larger cells than other apples, and when you bite into it the cells shatter, rather than cleaving along the cell walls, as is the case with most popular apples. The bursting of the cells fills your mouth with juice. Chunks of SweeTango snap off in your mouth with a loud cracking sound. Although a crisp texture is the single most prized quality in an apple – even more desirable than taste, according to one study – crispness is more a matter of acoustics than mouthfeel. Vibrations pass along the lower jaw and set the cochlea trembling. Biting into a really crisp apple, one feels, in the words of Edward Bunyard, the author of "The Anatomy of a Dessert," "a certain joy in crashing through living tissue, a memory of Neanderthal days."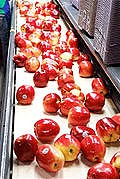 SweeTango apples on the production line.
So look for SweeTango apples next year at your food store, and buy a bag. Online you'll find some great salad recipes featuring this terrific new apple. And my apologies for being so obviously Minnesota proud on this one. Displaying pride is rare for a Minnesotan, and almost unknown to Minnesotans of Norwegian descent. Minnesotans are the closest thing there is to Canadians. We know we're worthy and good, but can't suppress the need to mention that someone else said so.
Black Spot Award
Minnesota Environmentalists Fail the Grasslands Test
As reported by the Minneapolis StarTribune, a number of conservation clubs and environmentally minded Minnesotans took offense at a state Department of Natural Resources one-million-dollar program that involved clearing trees from thousands of acres of the state's prairie grasslands, and adjoining wetlands. Some of the conservation clubs had planted many of the trees decades ago.
Problem is, the individuals and groups who were up in arms about the tree removal didn't have a clue about the environmental facts. What makes a prairie a prairie is the lack of trees, and the health of the delicate eco-system that exists in prairies and wetlands relies on this fact.
Minnesota is home to a huge array of prairie- and wetland-nesting birds, and when trees enter the picture, the bird populations see a steep decline. Trees offer perches for hunting eagles, falcons, and other native raptors that typically would leave prairie nests alone. Conservation groups that plant trees in or at the edges of prairies are not doing the ecosystem any favors. And as home developments have encroached upon prairie and wetland areas, wind born tree seeds soon begin to alter the native landscape.
Once the Minnesota DNR began a statewide education campaign explaining why they were clearing trees, complaints diminished – and a threatened lawsuit was dropped.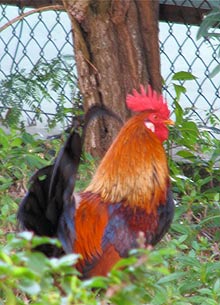 Hawaiian fenced chicken
High Spot Award
Raising Urban Chickens
I KNOW, I KNOW… it was only two years ago that judges awarded "Raising Urban Chickens" a 2009 Black Spot Award for most annoying fad. And I approved it. All I can say is, I erred, which, need I remind you, rhymes with "bird," and not "bared." It's the pronunciation of "error" that throws off the unwashed. But I digress.
I made a mistake about the great benefits to homeowners of chicken-raising. It took this trip to Hawaii to open my eyes. You see, in Hawaii, chickens are everywhere, to the extent it seems every homeowner on the island raises them. And so many do it without any perception of fencing or cages!
Just the other day, some area teenagers took me "chicken hooping," a local custom that involves a long, slender piece of bamboo with a small wire hoop affixed to the end. A cord from a loop at the end of the hoop runs down the length of the bamboo and is held in the hand. You drop the wire hoop over the chicken's neck, pull hard on the cord, and presto, bird in hand.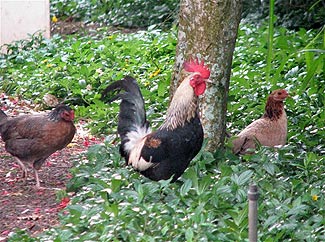 Hawaiian free-range chicken
We did it from the back of a pickup truck until we got bored, but what impressed me most was the little urchin who showed amazing skill at hooping chickens while pedaling his bicycle.
I now realize the thing that was throwing me about raising chickens in city and suburbs was the eggs. Eggs are cheap, and readily available at even the tiniest grocery store. Why screw with chickens? What I forgot to factor in was raising chickens for their meat. In Hawaii, chicken is a staple, and for good reason. Served sashimi-style, it's still warm.
Which brings us to the main course of tonight's awards dinner – Sashimi Hawaiian Hoop Chicken with Organic Pineapple Glaze. Enjoy!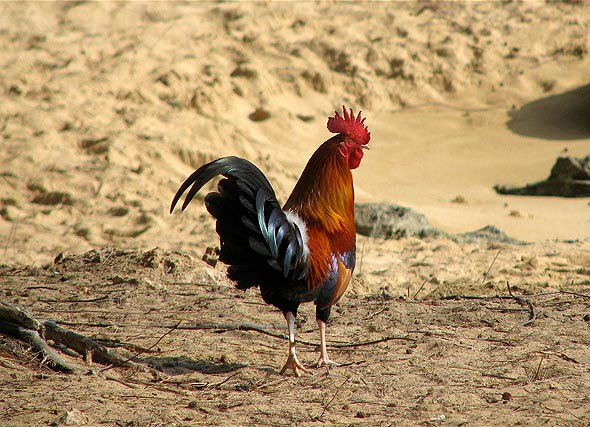 Hawaiian beach chicken, seconds before hooping.
High Spot Award
Best Gardening Book of the Year: Growing Shrubs and Small Trees in Cold Climates
Revised and Updated Edition
Debbie Lonnee, Nancy Rose, Don Selinger and John Whitman
(University of Minnesota Press, 2011)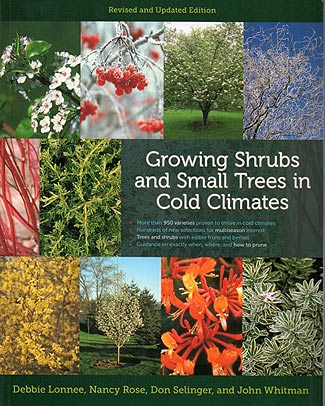 With a snide nod to the Perennial Plant Association, which sometimes awards "Perennial of the Year" honors to a plant not hardy to northern zones, judges have given this coveted prize to a splendid book aimed specifically at these same, forgotten zones.
USDA Zone 2-5 gardeners will find this an indispensable addition to their libraries. Originally published in hardcover in 2001, the authors and publisher have done a magnificent job of updating species and varieties to create a new, soft cover edition that is both more comprehensive and less expensive than the original.
As I have stressed many times on this site over the years, you cannot advance in your pursuit of fabulous gardens and landscapes until you fall in love with small trees and shrubs. These are the most important pieces in the landscape, and if you'd get your nose out of the perennial catalogues during winter and stop impulse buying every frilly, silly little annual you pass at the nursery in spring, you'd finally get somewhere. Clear your head and start looking at the mind-boggling world of bloom, foliage color and form found only in small trees and shrubs. Falling in love is the easy part. Choosing a preliminary handful of small trees and shrubs with which to finally start gardening is much tougher.
The book does not portend to be an encyclopedia. It contains information (and splendid photos) on fifty genera out of hundreds, the authors choosing what they feel are the small trees and shrubs most useful to gardeners in the northern zones. The chosen fifty are open to debate, of course – I would have included Chamaecyparis at the expense of say, Macrobiota – but the plants included are a stellar starting point, the book encompassing over 950 varieties of trees and shrubs in all.
What has always distinguished the "Cold Climate" series is the bountiful yet precise planting, growing and maintenance sections related to each genus and varieties therein. Purchase and begin growing any small tree or shrub in this book, and you do so as an expert.
Black Spot Award
Criminal Use of Soy
Inmates incarcerated in the Illinois Department of Corrections system have hired a law firm and launched a suit complaining of cruel and unusual punishment relative to their high soy protein-based diets. Before you scoff and move on, listen up – this gets good, with an ending Alfred Hitchcock himself would approve.
When Rod Blagojevich was elected governor of Illinois in 2002, he made an immediate change in prison diets. Beginning in 2003, inmates began receiving a diet based largely on processed soy protein, with very little meat. In most prison meals, small amounts of meat and meat by-products were mixed with sixty- to seventy-percent soy protein; fake soy cheese replaced real cheese, and soy flour was added to most baked goods.
The illustrious governor's justification for the high doses of soy was financial – to lower the enormous cost of running the Department of Corrections. However, the likely reason was payback for campaign contributions from Archer Daniels Midland, the main supplier of soy products to Illinois prisons.
In 2007, inmates contacted the Weston A. Price Foundation, Washington, DC, a non-profit, nutrition education foundation formed in 1999. The prisoners were suffering from a wide range of serious health problems they believed were caused by the high levels of soy protein in their diet. Inmates complained of debilitating diarrhea, vomiting after eating, sharp pains in the digestive tract, passing out, heart palpitations, rashes, acne, insomnia, panic attacks, depression, hypothyroidism, brain fog, weight gain, frequent infections and enlarged thyroid glands.
As the illnesses spread and intensified – some inmates needed to have sections of their digestive tracts removed – their requests to be placed on non-soy diets were ignored. A lawsuit was brought by the inmates against the Illinois Department of Corrections in early 2009.
On December 25 of 2011, Judge Harold Baker of the United States District Court for the central district of Illinois ruled that litigation challenging the use of soy foods in Illinois prisons will go forward. Among the findings included in the plaintiff's suit:
High levels of phytic acid in soy reduces assimilation of calcium, magnesium, copper, iron and zync. High phytate diets have caused growth problems in children and laboratory rats.
Trypsin inhibitors in soy interfere with protein digestion and may cause pancreatic disorders.
Soy phytoestrogens are potent antithyroid agents proven to cause hypothyroidism and may cause thyroid cancer. In infants, consumption of soy formula has been linked to autoimmune thyroid disease.
Vitamin B12 analogs in soy are not absorbed and actually increase the body's requirement for B12.
Soy foods increase the body's requirement for vitamin D. (Always wash that soy burger down with a glass of whole milk.)
Processing of soy protein – the powder form sold at nutrition and health stores – results in the formation of toxic lysinoalanine and highly carcinogenic nitrosamines.
Soy foods contain high levels of aluminum which is toxic to the nervous system and kidneys.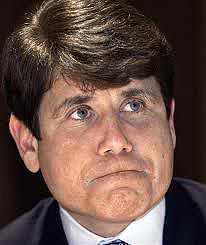 Former governor Rod Blagojevich
Of course, the proof will come out in the soy pudding. And the lawsuit may not wend its way to conclusion for at least two more years.
Meaning the honorable ex-Governor Rod Blagojevich, sentenced in December, 2011, to fourteen years incarceration in the Illinois prison system for corruption, including fraud, attempted extortion, and conspiracy to solicit bribes surrounding his attempts to sell President Barack Obama's vacated US Senate Seat, should have ample time to chow down on his now self-imposed diet of soy, soy, and more soy.
I can't think of anything more delicious than that.
High Spot Award
Best Gardening App: iPhone Leafsnap
I find most garden-related apps worthless. App after app is some form of plant organizer, or garden scheduler. Come on. You need that on your phone? You just know. Then there are myriad apps involving picture databases of plants that are exhaustive to use, if you can figure out why you want to use them.
Among the few research books I ever take off the shelf anymore are plant identification books, because the plants will be categorized by leaf type. Find the leaf, you find the plant. It's the number-one question I get when visiting someone's yard: What is this? Usually I know. Once in awhile, I don't. That's when a book comes in handy, because if it's a shrub, I'll usually tell the earnest homeowner it's a native dogwood. If it's a large deciduous tree, I inform them with utter certainty that it's an ironwood, since they'll never know. (To my credit, if it's an evergreen, I'll know it, usually down to the species and variety.)
Now, for deciduous trees, I use this app. All you do is snap a phone photo of a leaf of the tree in question, then Leafsnap instantly searches a growing library of leaf images amassed by the Smithsonian Institution. The initial database covered only trees found in New York's Central Park and Washington's Rock Creek Park, but is ever expanding and soon will cover trees across most of North America.
It's a free iPhone/iPad upload created by Columbia University, the University of Maryland and the Smithsonian. And whereas the Renegade Gardener famously does not do Facebook – I tire of people quickly – and does not Tweet – I tire of myself even more quickly – I do have an iPhone. And one app.
And it taught me that I was right on the ironwood nearly forty percent of the time.
Black Spot Award
Worst Gardening Product: Stackable Massive Concrete Faux-Stone Blocks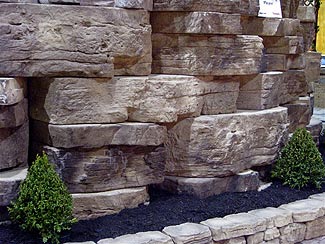 I swear to Obsidian I predicted this, somewhere on the site I mentioned years ago that the concrete industry will not cease until they've attempted to replicate and ruin every conceivable project that can be accomplished using natural stone.
Well, the end is here. Not content with gruesome concrete retaining wall block ranging in color from used-chewing-gum-gray to calico-cat-orange-and-black, the newest concrete product introduction is faux slab stone for use in permanently and irrevocably reducing your landscape to a barren patch of hell on an unnamed planet from the earliest episodes of Star Trek. Except by its second season, Star Trek had more natural looking sets.
Close-up of the product, with telltale concrete pinholes.
Could you envision a mountain of this cartoonish crap in your yard? The hilarious thing is, you'd have to have it installed – no homeowner could handle this stuff as part of a do-it-yourself project. It has to be installed by a Bobcat or clam truck, meaning the finished product will show scrape marks. Scrape marks on stone boulders and slabs disappear in a season or two. With concrete, scratches in the outer color stand out forever.
Actually, not that long. Depending on your climate, in ten to twenty years the concrete will begin to show signs of disintegration, starting with the surface. Meaning your landscape will lurch backward in time from the days of Star Trek to the 1959 B-movie bombshell, Plan Nine from Outer Space.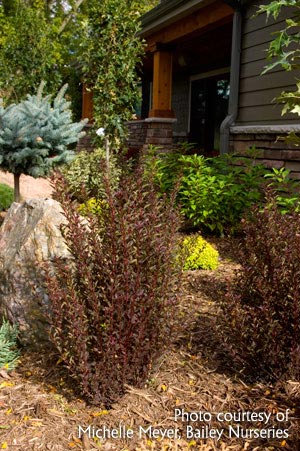 High Spot Award
Shrub of the Year: Physocarpus opulifolius
'Donna May'
Trade Name: Little Devil™ Ninebark
Staying awfully close to home with this one, but I can hardly be accused of horticultural gerrymandering, as this spectacular shrub has already garnered rave reviews and a boatload of awards from trade associations and publications around the country, including the American Nursery and Landscape Association's (ANLA) "Garden Idol" prize at last year's ANLA trade show.
I planted Little Devils by the dozens last year. Talk about versatile – you get a handsome, upright thrust of dark burgundy foliage that unlike its daddy plant, Diablo™, matures to only 4' in height and 3-4' in width. This makes the plant perfect for smaller landscapes and spaces where the great, lumbering Diablo doesn't fit.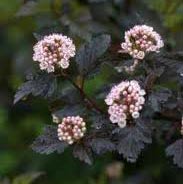 Little Devil is a cross between Diablo and some willing dwarf ninebark bred by Dr. David Zlesak, professor of horticulture at the University of Wisconsin-River Falls (Go Badgers! Go Packers!). It's grown and distributed by Bailey Nurseries, St. Paul, Minnesota, and marketed under Bailey's First Editions®brand of plants.
Attractive white flowers tinged pink appear throughout June. Plants are extremely low-maintenance. Grown in full sun (six hours of more) in average soil, plants should remain virtually pest and disease-free. Hit them with a little granular organic fertilizer once in spring, water once a week, and starting the third year prune at the base to control width, if desired.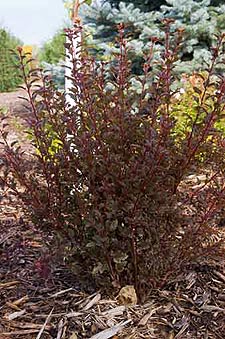 Design possibilities are endless. The foliage color contrasts splendidly with all the greens, yellows and blues at your disposal, particularly green/blue/gold evergreens. Plants can be sheared into a semi-formal hedge. Due to its shorter stature, Little Devil is great backdrop for perennials, and can even be used as a single focal specimen within larger perennial beds. Hardy to USDA Zone 3, growing range for the plant is zones 3-7.
So there you have it, America (and particularly you cheaters out in the Pacific Northwest): A little something from your pals up here in the great North Central.
The strumming of Hawaiian flat top guitars you hear announces the end of the 2011 Renegade Gardener High Spot/Black Spot Awards. Join me now beech side for coffee and desert. For those of you who are staying on a few additional days, I imagine I'll be spending tomorrow like this: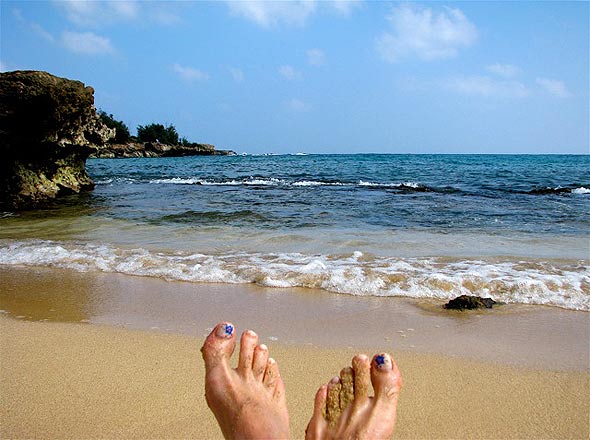 Aloha,
Don Engebretson
The Renegade Gardener
p.s. The entire piece under "High Spot Award – Raising Urban Chickens" is a schtick. None of it really happened. It's a joke, aimed at a certain segment of my readership. OK?
Don Engebretson
The Renegade Gardener