RENEGADE GARDENER™
The lone voice of horticultural reason
2018 Renegade Gardener High Spot/Black Spot Awards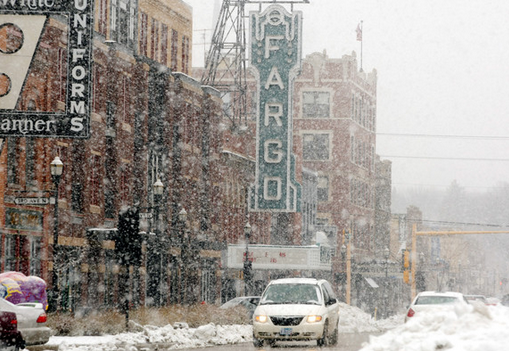 01-01-19 — Well, finally! Who would have thought that it would take the Awards Planning Committee 19 years to secure a New Years Day booking at the historic Fargo Theater? What is it with prestigious venues and their incessant demands for advance deposits! I mean come on – do you want us or not?
Why choose Fargo, North Dakota to host this year's festivities, you ask? Some of you may be unaware that tonight's awards presentation concludes a three-day symposium attended by passionate plant experts from around the globe. Over the past 72 hours we've indulged in a countless cavalcade of eye-blurring PowerPoint presentations detailing the latest advancements in plant breeding, genetic engineering, greenhouse technologies and garden industry marketing.
Mostly PowerPoints, I should add. One of the presenters, Bataar Chagan, the globe trotting, high-altitude lichen expert from Mongolia, used slides, as did Viktor Ivanenko, the esteemed arctic orchid expert from the University of Moscow. Ever try to rent a slide projector, at the last minute, in this day and age? Luckily, we were in Fargo.
To the point, the ridiculously frigid temperatures combined with stern and steady arctic winds roaring like ice crystal sandblasters across the North Dakota prairie this time of year combine to keep many high profile USDA Zone 7/8 plant breeders, collectors and erstwhile "gardeners" from presenting, much less attending. Good riddance. All those cheaters from the Pacific Northwest ever add to the proceedings is PowerPoint after PowerPoint where they ram photos of their precious Japanese Maples, exotic Euphorbias and those pansy gene, dwarf Cryptomeria and Chamaecyparis in our faces. Who needs it?
On the bright side, the best thing about the past three days is that many of the nursery growers and plant breeders in attendance bring samples of the newest plants they're developing. That so many of the presentations this year were on cannabis growing might explain why I found so many of the PowerPoint presentations eye-blurring, and for the life of me do not recall a single detail surrounding last night. Happy New Year, I guess.
Hey, I hear the rumblings of the Fargo Theater's famed 1927 Mighty Wurlitzer organ, meaning this year's awards presentation is about to begin. I have to get on stage, if I can find it, and start giving out some awards!
High Spot Award
Best Plant Lover's Book:
Lab Girl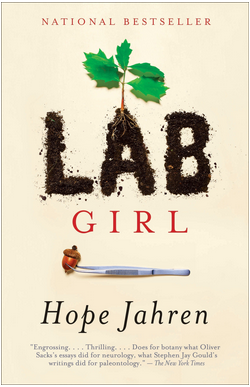 It's extremely difficult to categorize Hope Jahren's brilliant, award winning book about her life (so far) as a plant and soil nerd. To say that this spellbinding account of her experiences as a university associate professor is about plants and soil is like saying that DaVinci's "The Last Supper" is about banquet tables and place settings.
Interjecting recollections of her childhood as the daughter of a physics and earth sciences professor at a community college in Austin, Minnesota, readers join Ms. Jahren on scientific journeys across the United States, including Hawaii, and all the way up to the North Pole.
No, I'm still not getting it right. Replace "scientific journeys" with "life journeys" or perhaps "journeys of the spirit and soul." Ms. Jahren is an astonishingly gifted writer. How else do you write a book based on your relationship with botany and deliver a certifiable page-turner?
In fact, this book is so good, so funny, so moving, so imaginative, informative and compelling that I'm incapable of doing it justice in a review. I know my readers, and you know me.
So trust me: Read this book.
High Spot Award
Tree of the Year:
Dakota Pinnacle® Birch (Betula platyphylla 'Fargo')
Now before any of you snide coots accuse The Renegade Gardener of selling out – this tree was developed by North Dakota State University, Fargo, and yes, it was a professor friend of mine at the school who ponied up the American Express card for the deposit to secure the Fargo Theater for this year's awards ceremony – let me explain something:
This tree would have won the coveted Tree of the Year award regardless of where the awards landed this year or any additional circumstances.
NDSU is one of the premier agricultural universities in the United States, and their plant breeding programs hit as many home runs as any. What they developed this time around is a form of Asian white birch that has two big things going for it: resistance to birch borer and a form that is both striking and utilitarian.
Dakota Pinnacle is columnar, and I mean columnar. Maturing to 30' tall, the tree maintains a tight, vertical branching habit resulting in a mature width of only 8', making it extremely useful in smaller yards, foundation beds or as a commanding vertical accent in landscapes of any size.
Attractive gray-orange bark matures slowly to an exfoliating yellow-white. Yes, it's going to produce catkins and nutlet fruit but I wouldn't call it a messy tree. If grown in lawn, there's not that much to rake up and if grown in the landscape bed, leave what drops alone. Free mulch.
It's a matter of taste, but what I like to do with birch is leave them alone for the first three years, then start pruning the lowest branches in winter. Unlike pruning the base limbs from evergreen trees – which I trust all of you understand is a sin – pruning base limbs from deciduous trees, particularly birch, improves their look. With birch, this means showing off some of that beautiful exfoliating bark. Dakota Pinnacle looks stellar when the trunks are pruned up to around 3'. Again, wait three years – never prune a limb from a tree prior.
Grow this tree in full sun, although it does well in strong, direct half-day sun. Hardy to zone 3.
Black Spot Award
Worst New Plant Introduction:
Colored Echevaria by Amigo Nursery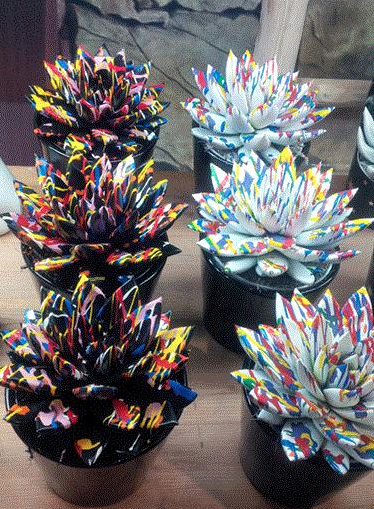 Those darned Dutch are at it again, this time releasing a line of colored echevaria plants under the Amigo Plant brand. You may recall it was nurseries in the Netherlands that first besmirched botany by coloring poinsettias with spray paint and sprinkling them with tiny chits of plastic sparkle. I don't know what the hell they're drinking over there but they just refuse to stop.
Painting and in some cases dyeing plants (orchids, for instance) with artificial colors is wrong on so many levels that if I have to explain it you, you won't understand.
I'll try anyway:
There is no free lunch. You can neither put earrings on a pig, nor can one make a silk purse out of a sow's ear. You cannot have your cake and eat it too. The Hans Christian Anderson children's story, "The Emperor's New Clothes" is about the gruesome pitfalls of mob behavior and tribalism. One falsehood spoils a thousand truths (African proverb). A rose is a rose is a rose. Moral nihilism argues that moral facts cannot exist. Truth is so obscure in these times, and falsehood so established, that, unless we love the truth, we cannot know it (Blaise Pascal). If you love something, let it go. Time passes, and little by little everything that we have spoken in falsehood becomes true (Marcel Proust). To love nature one first must honor nature (Don Engebretson). You know what you look like to me, with your good bag and your cheap shoes? You look like a rube (Dr. Hannibal Lecter, "The Silence of the Lambs").
Now do you understand?
High Spot Award
Shrub of the Year:
Winecraft Black® Smokebush (Cotinus coggria)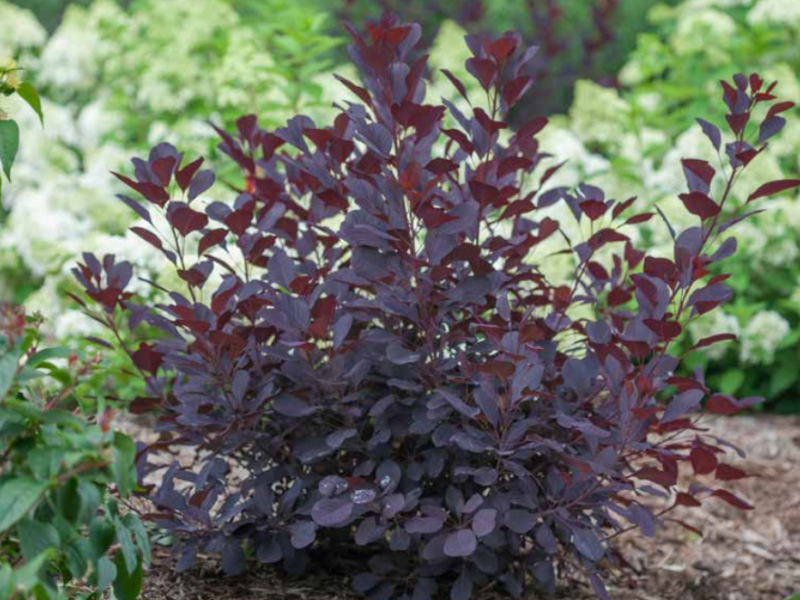 This semi-dwarf smokebush has rich, purple-black foliage that darkens as the season progresses. Very showy, red, smoke-like blooms emerge midsummer. It's relatively petite size – 4-6' tall by 4-6' wide – opens up a ton of uses in landscapes of any size.
Cotinus is an extremely easy genus to prune. Prune when dormant in winter. In northern zones 4-5 you can cut it back to 6-8" if you want a repeat of the fresh stems and leaves year after year.
Brand new from Bailey Nursery, Winecraft Black was immediately snatched up by Proven Winners and was available only in limited supply in fall of 2018. Look for its proper coming out party in spring 2019. Deer and rabbit resistant. Full sun, growing zones 4-8.
Black Spot Award
Dumbest Gardening Design Trend:
Growing Only One Type of Plant in Containers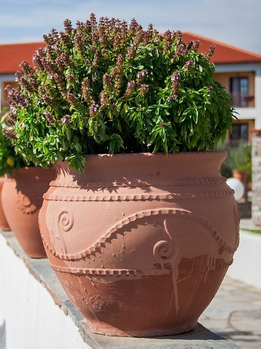 This just in, from a summer, 2018 issue of the Wall Street Journal:
"Pots with choreographed combinations of tall, medium and trailing plants can be found at every shopping center and municipal corner. 'The thrill, fill, spill approach to planting containers is a tired trope,' said writer and floral designer Amy Merrick. Having recently completed an internship at England's famous Great Dixter garden, she noted that the experts there 'never, ever mix varieties in a pot.' "
Ah, leave it to the dour Brits. Never mixing a variety of plants in a single container might currently spin their rims, but I find this new twist on container gardening more than a bit too precious. A single plant in a small container, well of course, but if you want boring (and mindless), go ahead and follow this alleged new trend for all your containers of various sizes. Never mind that a large container featuring multiple plant varieties sporting boldly contrasting foliage sizes, textures and colors, with carefully chosen accents of bloom color, is far more attractive.
High Spot Award
Best Social Media Photo Post:
Amazing Vegetable Shapes, Hart Nursery, Capetown, South Africa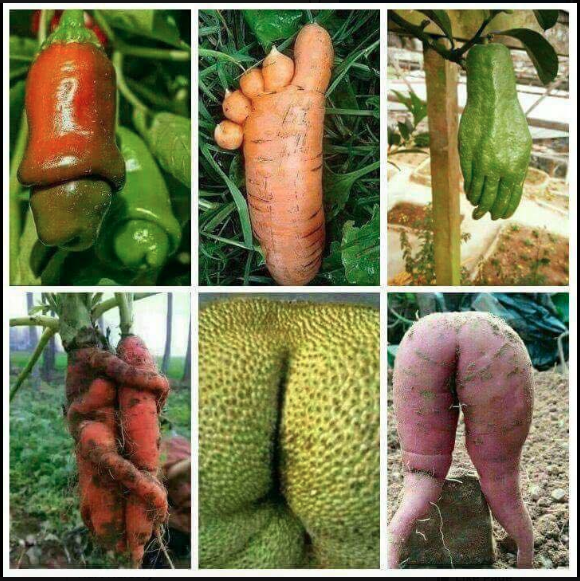 In my mind, this photo collage courtesy Hart Nursery is why Facebook and the rest of social media were invented.
High Spot Award
Perennial of the Year:
Baptisia australis (False Indigo)
Any of you see the smash 1986 independent film, Crocodile Dundee? If you did, you certainly remember the famous scene where our hero tells his would-be assailant, "That ain't a knife. Now there, there's a knife."
Well, if you've been growing perennials as part of your passion for gardening but haven't yet grown any varieties of Baptisia, those aren't perennials. Now here, here's a perennial.
From a size standpoint, Baptisia matures into more of a perennial shrub than a typical perennial, many varieties maturing to massive plants 3-4' wide and 3-5' tall. Native to much of central and eastern North America, hybrids over the last twenty years have greatly expanded the flower colors to include various hues of red and yellow, in addition to the native blue.
It's important to plant Baptisia in the right spot the first time. After four years or so, plants develop a whopper of a taproot that makes moving them nearly impossible. This is not a perennial that you dig up and divide every three years or so. Find a spot in full sun where the plant can expand, then leave it alone for a couple of decades.
Baptisia do not perform well in acidic soils, a lesson I learned 30 years ago when I planted my first specimen. Didn't do much. Well, my soil had a natural pH of around 6.4. The third year I began chopping in lime around the base of the plant and it took off. Plants bloom for around six weeks in late spring to early summer. Deadhead after blooming and the foliage remains attractive through fall.
Foliage ranges from various shades of green to bluish gray depending on variety. Plant as singles, or stagger three or five randomly even apart from each other where the eye picks them up one at a time as one gazes across the landscape.
Black Spot Award
Worst Gardening News:
The Renegade Gardener Retires from Garden Writing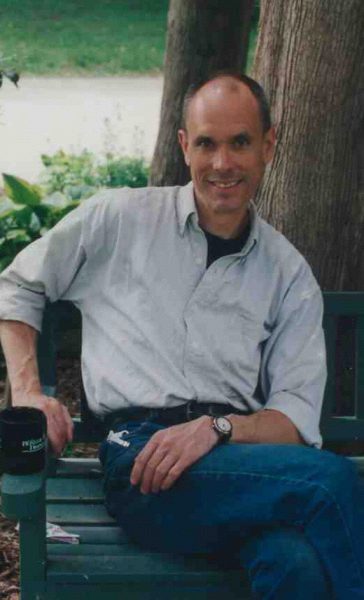 I used to be an excellent garden writer. Not just good, excellent. I'm not bragging, it's what a lot of people – readers, editors, other garden writers – have stated. 30 years ago I started writing a 500-word column in a Twin Cities weekly newspaper for fifty bucks a column. Five years later I was writing 1,000-word articles for Better Homes and Gardens for a buck a word.
Six times I entered one of my newspaper or magazine articles in the annual Garden Writers Association national awards competition that typically attracts a hundred or more submissions each year. Six times I won. I have a box of awards sitting in my basement to prove it.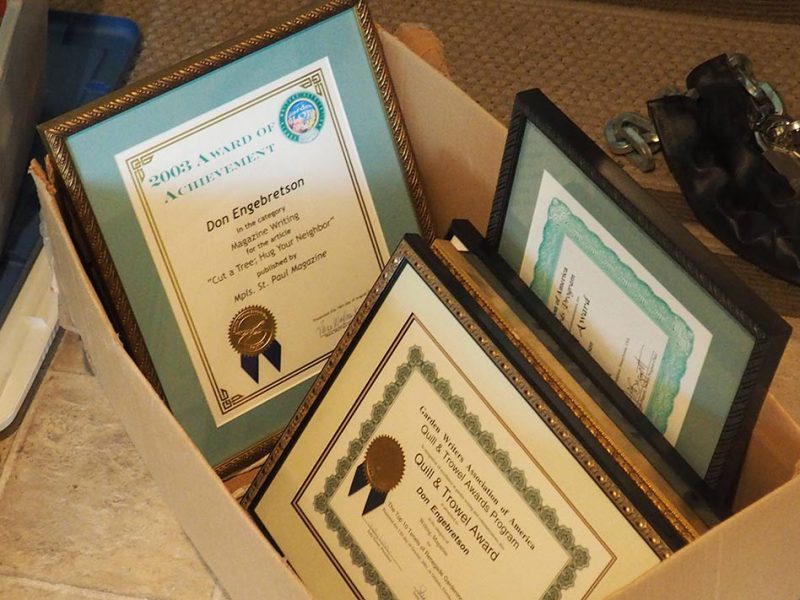 Please understand, it's not as if I'm claiming I was an excellent scientist, or business entrepreneur, or philanthropist, roles that give something of real importance back to society. I was an excellent garden writer. I helped some people become better gardeners. I made a few readers laugh along the way.
Unlike gardening, writing, you see, is hard. Writing well is particularly difficult. Delivering your best stuff, writing that you know is good, takes time. For instance, this awards column you're reading right now has taken me almost nine hours to get to this sentence (the second time around, as I proof and edit). Many of you who read my awards program each year – this is the nineteenth annual, by the way – will recognize that this one is fairly brief. It's also not even in the top ten in terms of good, rollicking reads.
The really good High Spot/Black Spot Awards articles, including last year's, can take upwards to 24 hours for me to produce. If this is your first time reading one of these, click on the DESIGN button on the home page when you're done here and read some of the award program articles from the past. There's a lot of good writing and clever stuff in there.
That's a good thing, because I've burned out as a garden writer. I've easily written over a million words on gardening. There's tons of articles I've written that aren't on this site. I still enjoy it, mostly, but the thrill is definitely gone. It's time for something new.
I retired this spring, closed up my landscaping business, sold a second little company I owned and am finally at the point where I can devote my full time to writing fiction. Ah yes, fiction, the great literary siren that calls to all who dare think of themselves as writers. Writing fiction is even harder than nonfiction, by the way. Nonfiction, you merely have to get the facts straight. Fiction, you have to get the truth straight.
So what happens to this amazing, ancient website, one of the oldest and most widely linked gardening websites on the Internet? It's going to stay right here. It will be updated on the first of each month with an article from the archives that I think shows off my best writing. We're not going to send out alerts anymore when the site is updated. If you want to keep in mind that every month there's a different article on the home page and check it out, thanks.
Unfortunately (fortunately?) I won't be doing any more award programs to kick off each year. That requires staying on top of the gardening scene, and if you couldn't tell, my treasure trove of material for this year's awards was quite a bit sparser than usual.
Presently I'm writing a novel. I started it in late October and so far have written 20 chapters totaling almost 40,000 words. The sweet spot for novel length today is 90,000 words, so I'm nearly halfway done with the first draft.
Of course, after finishing it, I need to find out if it's good enough to attract an agent and then good enough for the agent to attract a publisher. Maybe it isn't. None of that changes the fact that the first thing you have to do is write the damn novel.
If I get the thing published, we will send out alerts. Everyone needs to buy not one, but two copies, one for you and one as a gift. Hardcover copies, not the eBook version that will be available. And you have to buy it from an independent bookstore, not from Amazon. That is, if I get the thing published.
In closing I would like to once more thank all of you wonderful readers who have made this website and my garden writing a tiny part of your lives over the past 20 years. I have found every minute of time I've spent writing about gardening to be extremely gratifying.
Right now the novel is titled Kamini. It's about greed, selfishness, lust, loss of soul and the arduous road to graceful deliverance. Here's Chapter 1. It's brief. I hope you enjoy it.
Kamini
Chapter 1
Evening in the bush is defined by scent and sound. Dense stands of spruce, fir, pine and poplar erupting from mere inches of damp, ancient soil mingled with outcroppings of moss-covered granite emit a primordial bouquet, sweet yet earthy, so robust it permanently perfumes the souls of those who enter, and stay. On still nights, when the seemingly endless miles of deep, cool water flowing in spider web fashion around and through the vast wilderness forests turns to glass, scattered splashes of various volume from feeding fish—bass, walleye, northern pike and musky—ripple the glass and echo across it for a mile. On nights when the wind persists, the rhythmic lapping of waves along jagged stone shorelines adds a soothing, seductive cadence.
This spring night, under a slender crescent moon, the surface of the great, sprawling river lay still. The two figures tied the front line of their canoe to a small shoreline boulder and crept silently into the bush. Walking fully upright for more than a few steps at a time was no option; crouching and sometimes crawling on their hands and knees where the thinning tree branches closest to the ground offered their only passage, they moved steadily upward through the rising, erratic forest floor toward their destination.
Two hundred yards from shore they reached the crest of the slope. Here finally the trees thinned, as a wide, narrow peak of rounded granite emerged from the ground beneath them, covered sporadically by spreading juniper, blueberry bushes and low, arching grasses growing only where crevices and depressions in the granite harbored thin deposits of soil. Rising up on their elbows from their stomachs and peering over the low shrubs gave them a clear view of the activity taking place in the well-lighted clearing below.
Two battered halogen lights rose on stands, illuminating the area from a long narrow dock to the late-model Chevy pickup truck backed up to a large wooden table at the start of the dock ramp. The low, dull strumming of a gasoline generator could be heard coming from a tattered shoreline shack nestled into the bush just outside the lighted area. Tied to the dock was the decades-old, twenty-foot wooden commercial fishing boat christened Keeper and owned by Andriy Karpenko, who for twelve years had possessed the only commercial fishing license granted by the Ontario Ministry of Natural Resources and Forestry for the thirty-eight mile stretch of the Winnipeg River flowing from Lake of the Woods at Miskwa north to the Black Dog Dam.
The two watched silently as Karpenko, dressed in rubber boots, torn and oil-stained yellow rubber overalls and a ragged blue sweatshirt, carried an enormous plastic bin from the hold of Keeper to the dock and up the ramp. Even for a large Ukrainian man such as Karpenko, it was obvious the bin was heavy, for he walked slowly and grunted as he slid the bin up onto the table. First he removed the lid and then he removed fish, grabbing one in each hand by a gill, quickly stacking them lengthwise into two large insulated coolers resting on the tailgate of the truck. The delicate herringbone pattern of each fish's golden scales sparkled under the lights.
When only six inches of space remained in each cooler, Karpenko took a bag of cubed ice from another cooler, slit it open with a knife and iced the fish before closing each cooler lid with an audible snap. Grabbing the now empty bin he returned to his boat.
One of the observers, a slender man whose age was difficult to discern in the darkness, turned his head to whisper to his companion.
"I counted twenty in the first bin. Six- and seven-pounders. Big walnuts."
The second observer didn't respond. Karpenko had reappeared on the dock, carrying another large bin toward shore. He lifted it up onto the table, removed the lid and began unloading more fish.
Rising higher to get a better look, the soft moonlight revealed that the second observer was a woman, her long, softly curled auburn hair framing a sharp-featured face of stunning beauty.
"Some of them are eight," she whispered back.
"What do you want to do," replied the man, "roar down there and confront him? I could dust off my Indian war cry. Or should we wait for adult supervision?"
The woman gave a subtle shake of her head. The two watched silently for a few more moments as Karpenko repeated the process, loading the golden fish from the second bin into more coolers in the back of his truck. Without a sound or signal, the woman began to crawl backward toward the edge of the dense tree line. The man did the same. When they were safely out of sight, they rose, turned, and disappeared into the bush.
Current Column will be updated from the Archives on February 1.
Don Engebretson
The Renegade Gardener