RENEGADE GARDENER™
The lone voice of horticultural reason
The 2017 Renegade Gardener High Spot/Black Spot Awards
Following last year's debacle in New York City, the 2017 Awards Planning Committee focused on selecting a location outside the U.S. that would be free from any and all fake news, a politics-free zone where nothing much mattered except the throbbing desire to celebrate all that is good, and gruesome, in the world of gardening.
Certain requirements were mandatory: The city must feature a large, international airport for the convenience of attendees; ample, moderately priced hotel accommodations; a fine theater large enough to house what has become the most popular garden industry awards program in the world, and a good return on the American dollar.
Apparently, the final caveat was that the city not have a freeway within 250 miles, for where we settled on was Canada's grand center of civilization, its jewel of the north: Winnipeg, Manitoba.
Then we got here two nights ago to set up, and it was 40 degrees below zero. Celsius or Fahrenheit, take your frozen pick. 40 below is 40 below.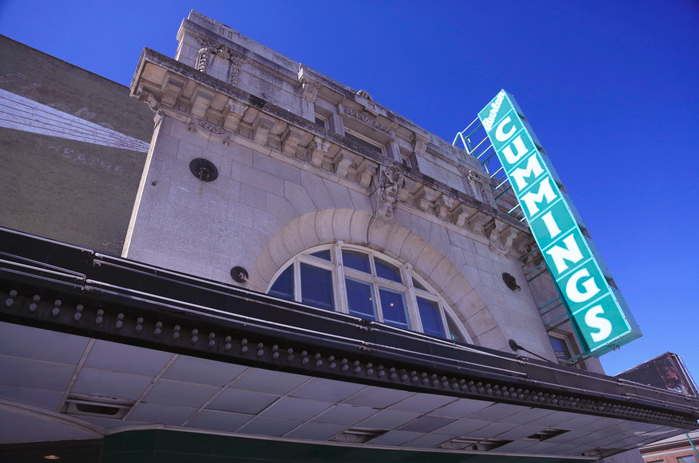 No matter. Are we not gardeners? Is not overcoming any and all obstacles a firmament of our second natures? Of course it is. So, live from the Burton Cummings Theatre (named after Guess Who) in beautiful downtown Winnipeg, it's the 18th Annual Renegade Gardener High Spot/Black Spot Awards!
High Spot Award
Best Horticulture Trade Show Exhibit:
Proven Winner's® Ball Gown Exhibit of Heuchera Primo™ 'Black Pearl'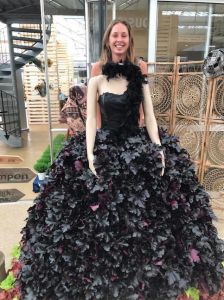 The annual Plantarium Expo in the Netherlands is one of the largest international nursery shows in the world, always featuring new plant debuts from dozens of the world's specialty plant breeders.
What better way to promote the "coming out" of a new plant variety than by using it to create a sumptuous gown suitable for wearing at a lavish debutante ball? Draped on a headless mannequin, female show attendees could have their photos taken "wearing" this one-of-a-kind (and granted, wholly ephemeral) dress. Kudos to the marketing folks at Proven Winners®.
Black Spot Award
Worst On-Camera Watering of Plants:
Nicole Kidman's Character, The Killing of a Sacred Deer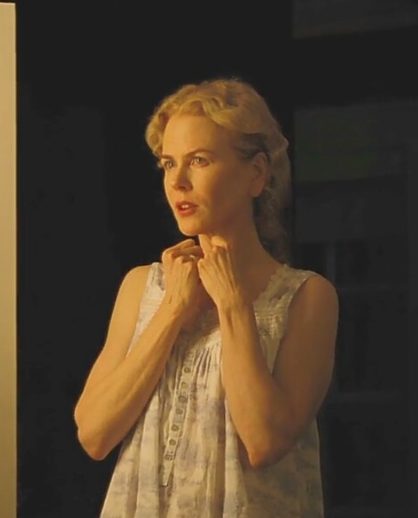 Early on in the senseless and ultimately repelling 2017 film, The Killing of a Sacred Deer, Anna Murphy, a surgeon's wife (played by Nicole Kidman) reminds her daughter to "water the plants." Later on we see why.  As is nearly always the case in movies where a character undertakes any form of gardening activity, the film's screenwriter, director and Ms. Kidman apparently haven't a clue about how to properly water plants.
Ignored by the daughter, during one of many vapid scenes in this pointlessly lurid drama, Anna appears on the front porch, which is edged by a perfunctory collection of rounded deciduous shrubs that comprise her home's front foundation landscape. Using one of those cheap, old-fashioned, pistol-type sprayers, she is mindlessly showering the vast planting area with a light mist of water from high above.
Ms. Kidman, that's no way to water shrubs. But then, name a movie where any actor handling a sprayer (correct type or incorrect), shovel, rake, hoe or pruner did so properly.
High Spot Award
Best Film With a Horticultural Theme:
Tulip Fever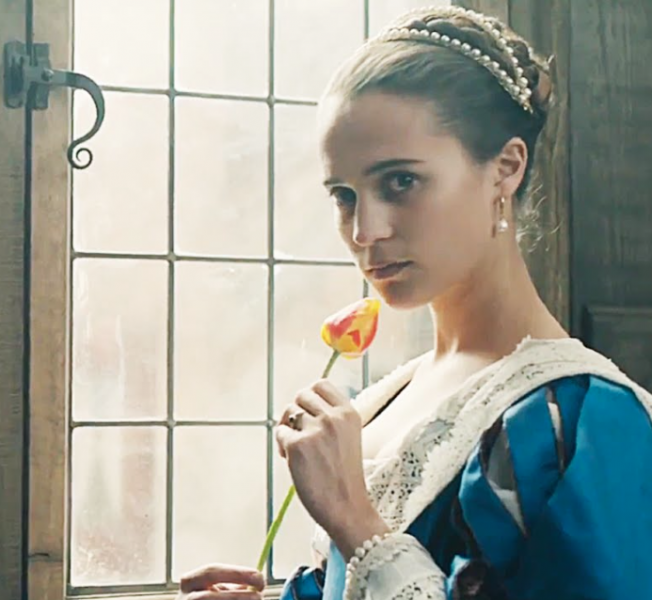 Want to know how I know that my opinion on a movie's worth is valid? I tend to love movies that get poor reviews and hate movies that some critics rave about (see The Killing of a Sacred Deer, above. Karen and I walked out with twenty minutes to go. Why would anyone care how it ended?).
2017's Tulip Fever, which received mostly poor reviews, is a glorious delight. Set in Amsterdam during the bizarre period of tulip mania (1630s) within the Dutch Golden Period, it tells the tale of poor orphan Sophia (Alicia Vikander) who is purchased by and forcibly married to the wealthy merchant Cornelus Sandvoort (Christoph Waltz) for the purpose of providing heirs.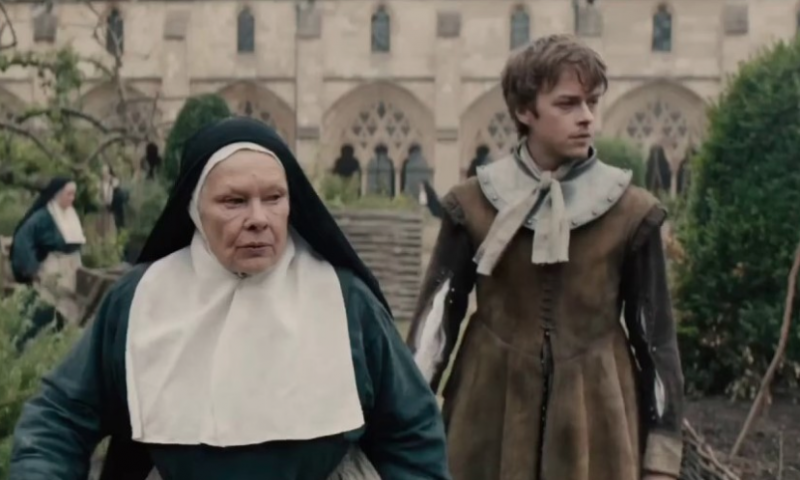 The struggling young artist hired by Sandvoort to paint their portrait falls in love with Sophia; the chambermaid gets pregnant; tulips begin their meteoric rise in value, replacing coins as the essential Dutch currency; Judi Dench, as the crafty Catholic nun running the orphanage, nunnery and an illicit tulip growing facility, dispenses justice, cruelty, grace and economic advice; the fishmonger makes a grave mistake, and the artist's alcoholic sidekick can't tell a tulip bulb from an onion.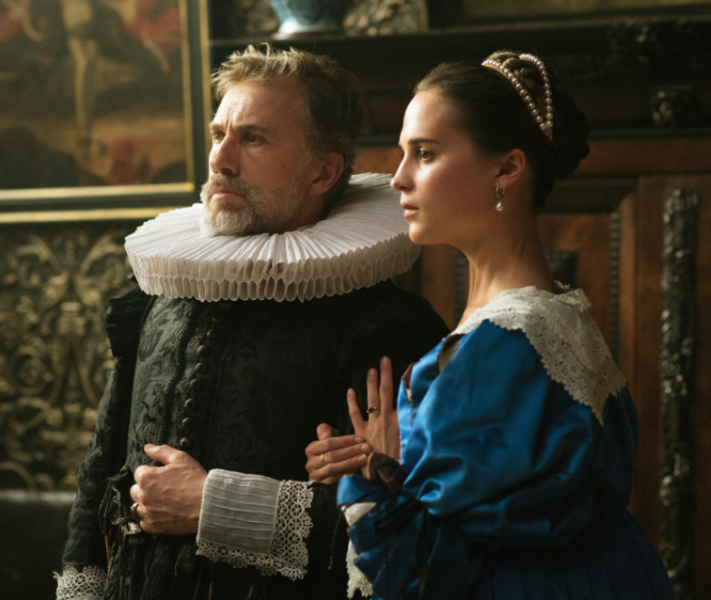 Featuring brilliant cinematography—Amsterdam of the 17th century is so meticulously recreated in costume and street scenes that some shots are like staring at a Vermeer painting—combined with a perfectly charming jostle of humor, suspense, plot twists and first-rate acting, there is NOTHING to not like here. It's just been released on Netflix DVD and Amazon streaming, and I highly recommend it.
High Spot Award
Perennial of the Year:
Allium 'Millenium'
Astute attendees to this year's awards ceremony will recognize 'Millenium' as also having achieved a somewhat less prestigious award: 2018 Perennial Plant Association Perennial of the Year. Remember, the Renegade Gardener awards are for the year just completed, 2017, meaning we beat the PPA to the punch by a full year. Who knows, maybe the PPA is ripping us off.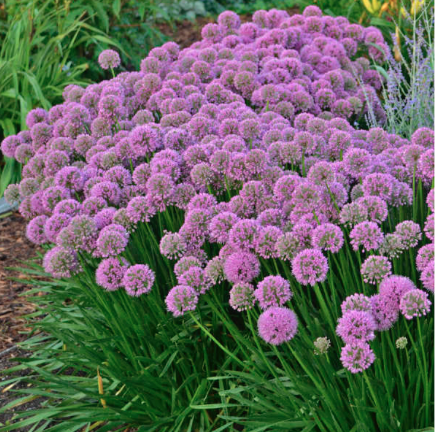 No matter. This is an eye-popping, long lasting, easy to grow perennial that hits home runs in any gear. 'Millenium' forms compact, upright clumps of glossy green, grass-like leaves and stems that give an unusual, attractive look to their space spring to mid-summer. Then the foliage contrasts perfectly with rounded clusters of two-inch, rosy purple flowers that appear in late July through August. Size ranges from 16-20" tall by 10-14" wide.
Allium is a genus of flowering plants that includes hundreds of species, including the cultivated onion, garlic, scallion, shallot, leek, and chives. It's a bulb plant, meaning at point of purchase you may find 'Millenium' potted and already growing (in which case, plant spring through summer as with any perennial) or as bare bulbs (plant in early fall). Alliums look best when massed, meaning a minimum of three in a clump, or more in a swath. Unlike some Allium varieties, 'Millenium' does not readily reseed.
Alliums adapt to a wide range of soil types (best always to loosen up heavy clay), but soil need not be terribly fertile. Sandy soils are fine, and pH doesn't matter. Aromatic foliage makes Alliums rabbit and deer resistant, and the profuse flowers attract butterflies.
Grow 'Millenium' in full sun. It's a great cut flower in arrangements and is perfect for drying. The shorter stature also makes it useful in containers. Treat them like tulips; fertilize after flowers have faded and do not cut down foliage until it has browned and withered. Carefully dig up and divide bulbs every three years or so in fall. Growing zones 4-8.
Black Spot Award
Health Alert:
Backyard Hens Linked to Increased Human Illnesses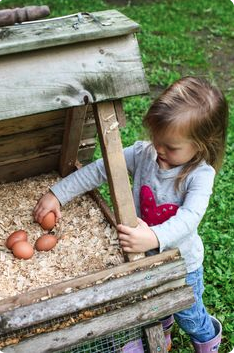 According to an October, 2017 Associated Press article, the trend of raising backyard chickens in U.S. cities and suburbs is bringing with it a soaring number of illnesses from poultry-related diseases, and at least one death.
Since January one year ago, the Centers for Disease Control and Prevention (CDC) reported that 1,100 people have contracted salmonella poisoning from backyard chickens and ducks in 48 states. "For one salmonella case we know of in an outbreak, there are around 30 others that we don't know about," said CDC veterinarian Megin Nichols, putting the actual number of cases at around 33,000. The current rate of salmonella cases in the U.S. is four times higher than in 2015.
According to Nichols, "a large contributing factor" to the surge comes from food fanciers who have taken up the backyard chicken hobby but don't understand the potential dangers. Some treat their birds like pets, kissing or snuggling them and letting them walk around the house. Poultry can carry salmonella bacteria in their intestines that can be shed in their feces. Bacterium can attach to their feathers, feet and all materials inside the fenced chicken habitat area.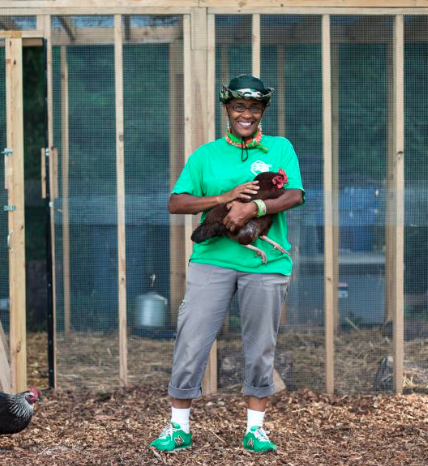 Human contact with the bacteria often causes flu-like symptoms, including diarrhea, and can cause life-threatening infections in people with weak immune systems such as young children and the elderly. In one case, a healthy 14-year-old football player developed intense pain in his chest and had difficulty breathing. An X-ray identified a large tumor, but it wasn't cancer. The chickens he cared for at his home had infected him with salmonella, which had produced a severe abscess.
The CDC recommends that people raising chickens not look to them as "pets." Handle your chickens as little as possible, wash your hands thoroughly after handling the birds, eggs or nesting materials, leave any shoes worn in a chicken coop outside, and never allow chickens outside their outdoor coop area.
My advice, documented on this site nearly a decade ago, when this fad first began, is to buy your eggs at the store. Store-bought eggs cost around twelve cents apiece and are immensely safer. Now, if you want to raise chickens for their meat, that I could envision as an economically worthwhile hobby.
High Spot Award
Coolest Urban Trend: Dog Bars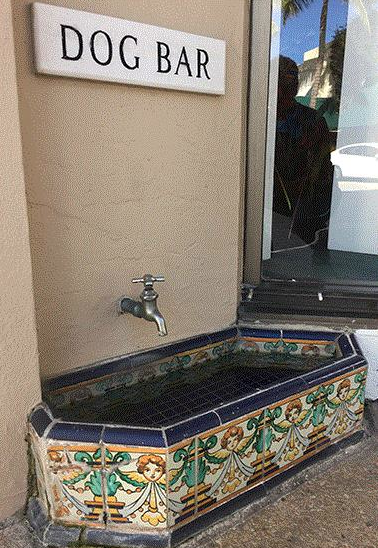 They're popping up all over North America, from Montreal to Los Angeles and Vancouver to Miami. Urban businesses are offering public dog bars, a sidewalk watering station for our canine companions. Nice! What does it have to do with gardening? Nothing. It just feels like it fits.
Black Spot Award (?)
Biggest Gardening News Story:
Amazon Enters the Retail Plant Business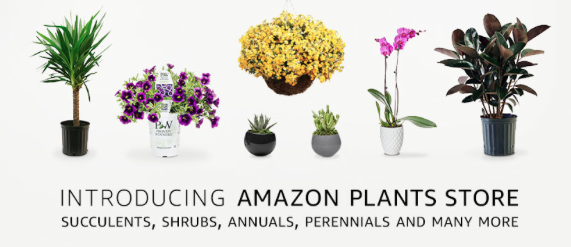 It was the biggest story of the year in the nursery grower industry: Amazon was entering the retail plant arena. And not in a small way—their announced goal is to sell annuals, perennials, shrubs and even trees.
Shrugged off as no big deal by spokespersons for the Big A (hey, we've been selling plants for some time—as in tiny bonsai, a few succulents, some seeds, Hawaiian leis), the U.S. and Canadian wholesale and retail nursery industries have had about a year to plan and adapt to the news, now that their hearts have once again started beating.
What's in store for consumers? About the only thing known for certain is that Amazon devotees will be able to shop for an ever-increasing variety of plants online, order, pay, and receive shipments directly to their doors. Not much different from the mail-order/online plant biz that already exists from hundreds of nurseries across the world. What concerns these nurseries, of course, is volume. Will private nurseries go the way of Borders bookstores?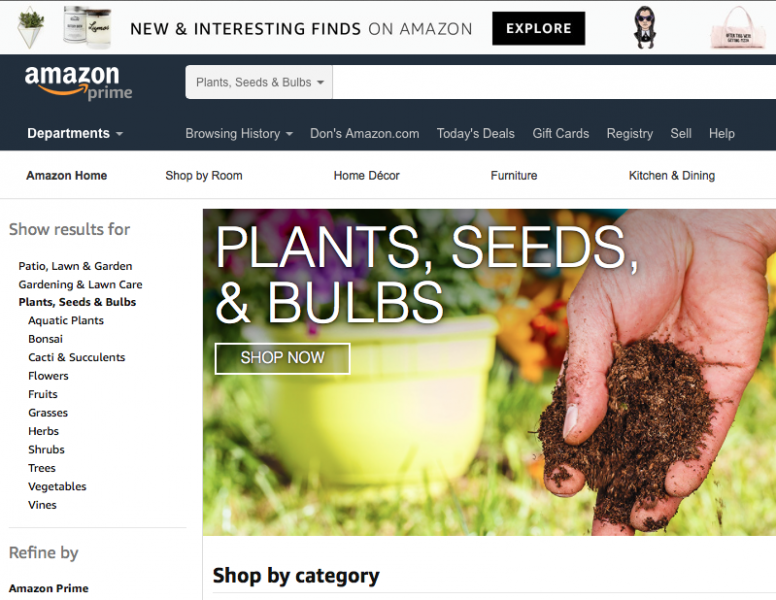 I don't think so. Mail-order/online plant sales have been a part of the nursery business for over 50 years. It makes up only a tiny portion of annual retail plant sales. Good gardeners, including yours truly, have for years been relying on our short lists of specialty mail-order nurseries we use for seeds (particularly heirloom), exotic perennial varieties and other specialty plants.
A great number of these mail-order nurseries will always sell seeds and uncommon plants that Amazon knows would be foolish to offer. Looking for that fabulous, grass-like, low-growing evergreen groundcover Ophiopogon japonicus 'Gyoku Ryu'? You're only shot is plantdelights.com. Still in the rudimentary, "I need more day lilies" stage? Amazon will have you covered.
I also don't think that shopping for plants equates to shopping for other items one desires. Unlike clothing, electronic gizmos, home accessories and anything else you've ever purchased online, plants are A) alive and B) a hobby item that involves going to a brick-and-mortar outlet that adherents to the hobby love to go to: the nursery. What avid gardener isn't delighted about their first spring trip to the nursery? As stated, ordering all manner of plants from catalogues, and now, your computer, has been around for decades without damaging brick-and-mortar nursery sales.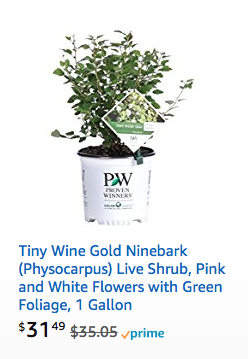 In addition, something gardeners learn early is that mail-order plants are quite small compared to what you'll purchase at a nursery. Currently, most perennials and many shrubs available from Amazon will be sent to you in 4" to 4.5" pots. Even for perennials that's small, and for shrubs, tiny.
Some shrubs are available on Amazon in #1 to #3 containers (one to three gallons), the smaller end of container sizes. Regardless of container size, I don't see any savings, and note many instances where you're paying more, Amazon Prime free delivery or no free delivery.
For instance, Amazon currently will sell you a Ninebark 'Tiny Wine' (cool shrub, by the way) in a one-gallon container (that's pretty small) for $35, $31.50 to Prime members. The average retail price for 'Tiny Wine' in a #5 container (a much larger shrub) at American nurseries is…$35. So with Amazon, you're paying quite a lot for convenience.
As for growers, well, there's a reason for the question mark after deciding to award a "Black Spot" to this new venture by Amazon. Amazon isn't going to grow anything. They are already deciding on and signing up close to a dozen commercial growers across the U.S. and Canada. That is good news: The billion-dollar wholesale nursery industry just gained a potentially, very large customer.
Perhaps this news should be the recipient of a High Spot Award (?). Only time will tell.
In the meantime, certainly there will be kinks for Amazon to work out. One grower who is now supplying Amazon has pointed out an immediate hiccup that needs ironing out: working within Amazon's heralded, no-questions-asked return and refund policy. This grower noted, "I've had people receive a plant that's healthy, they plant it in the ground, later in the season the plant dies and they want a refund. I also sell on Ebay; my refund policy is such that if they plant it and it dies, it's their problem and I won't accept a return or refund request."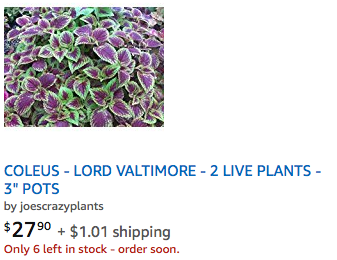 Another grower is dismayed that some Amazon customers will return a plant if a leaf is damaged or a stem is broken. "Shipping plants is not the same as shipping a book or smart phone case," he wisely noted. (This level of consumer naiveté smacks to me of young homeowners new to gardening. So perhaps not all bad?)
Will Amazon entering the retail nursery industry be a boon or bust for them? After all, Amazon developed and tried to sell a smart phone some years back, a disastrous business strategy that blew up in their face so quickly many people were not even aware of it.
Will it be good or bad for the gardening industry in general? On both counts, we will certainly find out, probably sooner than later.
High Spot Award
Evergreen of the Year:
Abies koreana 'Silver Show'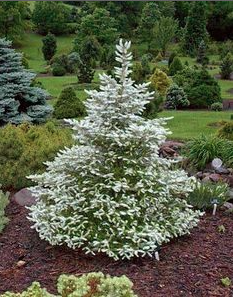 On the outer fringes of new gardeners' plant awareness ("new" is years one through nine) lie the firs, genus Abies, cast off with the hemlocks as second class evergreens to the far more prevalent pines and spruce found both in nature and at nurseries across North America.
Until that point down the road when you, as a wide-eyed, enthralled new gardener stumble, intoxicated by enlightenment, into the large realm of conifers (plants that display their seeds in cone form).  Shortly thereafter (perhaps a mere three years) you discover that when it comes to both large trees and dwarf trees and shrubs, pine and spruce offer some amazing varieties, but fir and hemlock more than hold their own.
Which brings us to 'Silver Show', or Silver Show Korean Hemlock. It's an improved sport of the splendid 'Horstmann Silberlocke' that was all the rage starting around 25 years ago and remains a beautiful specimen tree to showcase in one's landscape.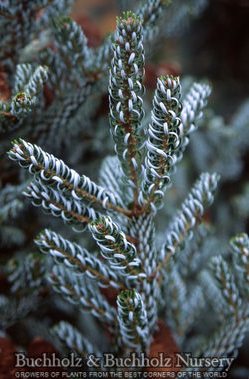 'Silver Show' grows a bit smaller, six to ten inches per year, achieving a mature height around 12' tall by 6-8' wide, though sixteen-footers are possible when the tree lands in a perfect spot and is tended to properly in its first three growing seasons.
As with 'Horstmann', the great attraction is the two-tone needles, green on top and silvery white on the underside, each stem tip so tightly curled that the shoots are almost cylindrical, fully exposing the silvery underside throughout the year. The needles of 'Silver Snow' are slightly longer than 'Horstmann', more of a good thing.
Dark purple cones appearing late summer through winter contrast brilliantly against the foliage. The slightly smaller stature makes 'Silver Snow' an especially ideal showcase tree for smaller landscapes, or as yet another addition to your ever expanding conifer garden/collection (which begins around year 15, 12 if you're particularly astute).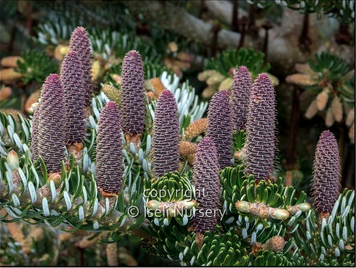 Grow the plant in well-draining soil—sandy soils are perfect—in full sun. The plant is sometimes noted as hardy only to USDA Zone 5, but hardiness to zone 4a is correct. Plant in a sheltered location (avoid winds) in zones 4 and 5. Try to avoid intense full-day sun in these northern regions, particularly midday. In the north, the tree will grow more slowly but perform well in part sun, that is, full sun in morning to early afternoon and partial shade thereafter.
Do not allow the soil to dry out—hemlocks like moisture, but not constantly moist roots. Fertilize with an all-purpose evergreen tree fertilizer each spring, particularly in sandy soils.
High Spot Award
Best Marketing Ploy:
Teleflora's "Wall of Love"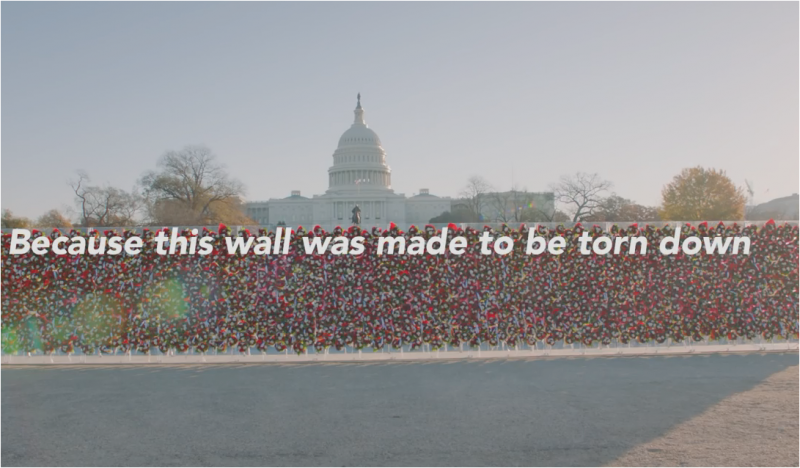 Teleflora is a floral wire service company that brokers orders to local florists for delivery.
So I almost didn't use this. Almost didn't mention it or give it an award. Because not only is this project and video bald-faced marketing, it's also…too neatly contrived, blatantly opportune, so very close to PC pandering. And I am, after all, THE FREAKING RENEGADE GARDENER. I have a hard-earned reputation as a crusty curmudgeon to uphold.
Then I watched it a second time, then a third, and this scarred and gnarly, burned out and cynical old gardening warlord softened, just a tad.
Watch the video. Then do something nice for someone. Just not me.
Black Spot Award
Most Egregious Offense:
Sickening Marketers' Emails That Lie to the Renegade Gardener
I've received five this year. Always the same scam. The personable emailer, in this case Cynthia, sends me an email that first thanks me for creating my wonderful website, then—and this is the truly sick part—says that she works with an after-school children's group of some sort that is working on a project related to gardening. Sometimes it's a Girls Scout troop, in another one I received it was a locally funded program to help underprivileged inner-city kids start a community garden.
Regardless, I am informed that the information on my site was very helpful to her and the children (thank-you-smiley-face). Then the "Cynthia" brings up that one of the girls in the group (always a girl—below, it's "Luna") found a great guide or article or website concerning gardening, "while doing research on her own." Could I possibly include a link to it on my site?
Here, read for yourself:

The link is always to a commercial gardening website that is selling something. In this case, it was Ava's Flowers, a nationwide mail-order delivery florist based in Mahwah, New Jersey. The specific page the link sent me to is a one-page, bare bones snippet on flowers for kids buried deep in the site. "Cynthia's" goal is to get a link to Ava's Flowers onto my popular site, where consumers will click on it and then click again, enter the real site, and buy something.
Because, you see, there is no Cynthia. There is no Luna. There is no after-school Arts and Education program, just as, when I do some research and then respond to the emailer, there is no Girls Scout troop, no inner-city community garden. I never get a reply when I send a cheery email asking "Cynthia" (or "Susan" or "Ralph") to give me a bit more information on their youth program, how long it's been around, what city it's in, etc. I'll even offer to make a donation. No reply.
It all sucks, basically, just a putrid example of the sick shadows darkening the world in which we live, the "curse" portion of the blessing and the curse that is the Internet. What really bums me out is that "Cynthia" may not exist but the person posing as her does, some poor dumb young person fresh out of college with a degree in marketing, working for some marketing agency that has developed a nifty scam to get their client's websites linked from popular non-profit gardening websites by lying.
I got pretty upset about "Cynthia" and sent a reply—replies do go through, someone read it—and I won't detail it, but it was of the how-do-you-look-at-yourself-in-the-mirror-you're-still-young-get-a-job-where-you're-not-asked-to-be-a-scumbag, variety.
That's about all I can do. Except, of course, give it an award that will be seen by over 100,000 people.
Top Pick Award
Deciduous Shrub of the Year:
Diervilla spendens 'Firefly Nightglow'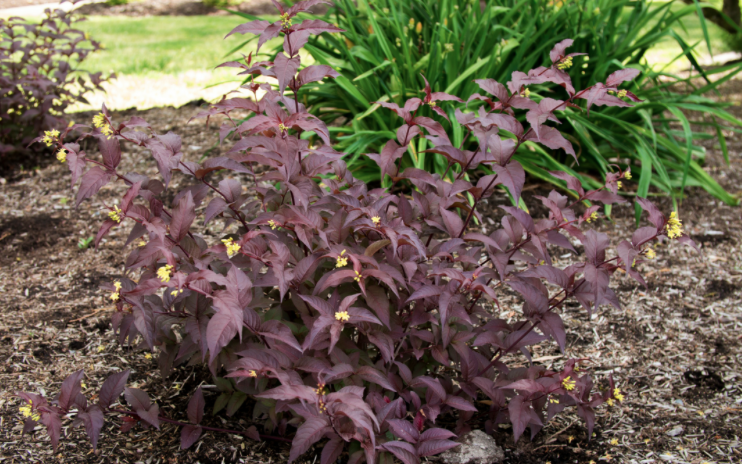 One of the best new shrubs I've encountered in years, this new variety of dwarf bush honeysuckle won the Gold Medal this year at Plantarium, the international nursery growers event in the Netherlands. There is no wonder.
Clusters of intense yellow flowers burst forth in early summer and persist all season. A small amount of this very new variety finally was available at my wholesalers in Minneapolis in early October, and even though season's end was nearing, I bought damn near all of them.
I mean, look at that foliage!
I can't think of a deciduous shrub more instrumental in expanding my design options and creativity than this one. Burgundy-purplish foliage emerges in spring (well, NEXT spring!) and darkens as the season progresses. And the great plus: it's dwarf, growing only 2-3' tall by wide.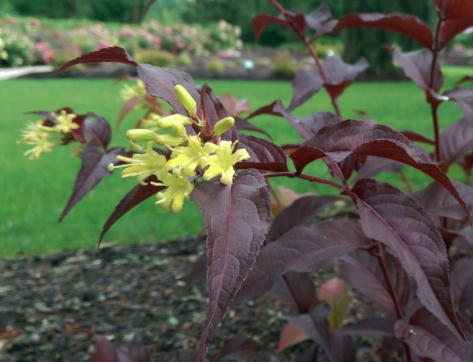 When you design a landscape, YOU NEED DOTS. You need a shrub that's small, and gorgeous, and not green, that you can plant as a single RIGHT THERE. Or in a meandering swath of three, or five. Something low to edge a sidewalk bed, or tuck in a little front corner formed by a larger green- or yellow-leaved shrub and that dwarf globe blue spruce. Something to pop into the front-to-middle of the perennial garden, then a second one staggered eight feet away, then a third.
Fantastic. Firefly prefers full sun to part sun (let's say four hours bare minimum if that includes early afternoon) and is not picky about soil. Easy to prune, if you like it a bit kempt, prune in winter.
Hardy to zone 4. Coming very soon to a nursery near you. You're welcome.
High Spot Award
Best New Gardening Product:
Robotic Garden Weeders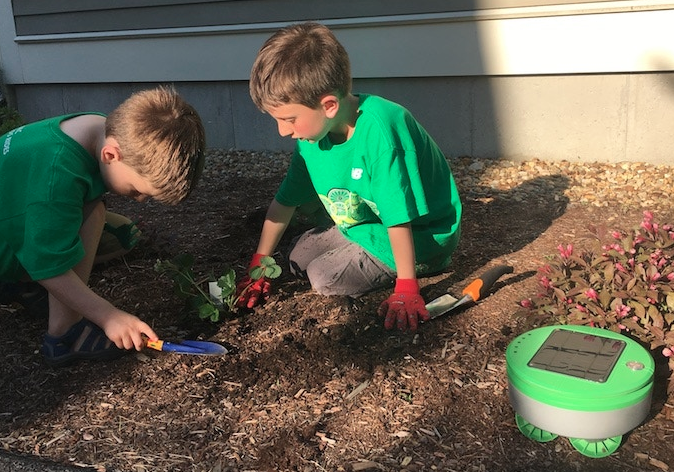 A number of chemical free, solar powered, robotic weeders for home landscapes have just come to market, including Tertill, by the makers of the Roomba, the round robot vacuum cleaner.
Roaming about your vegetable and flower gardens and snipping any weeds it encounters, these robotic weeders take manual weeding out of the gardening equation. Just think what this product will do to encourage new gardeners to learn how to garden.  They are the greatest invention since the wheel, heated car seats and sliced bread.
Black Spot Award
Worst New Gardening Product:
Robotic Garden Weeders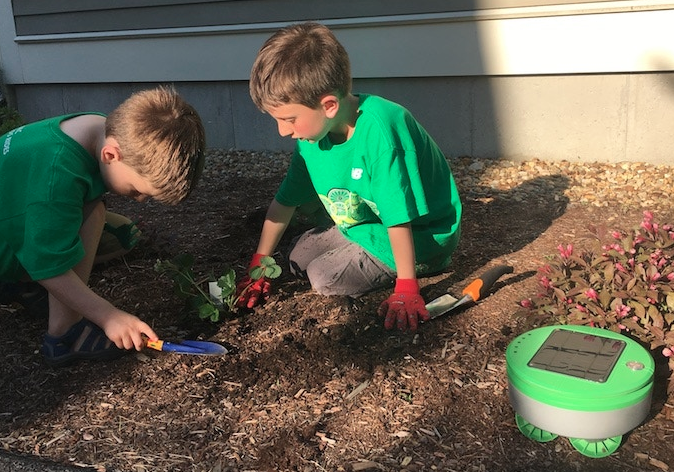 A number of chemical free, solar powered, robotic weeders for home landscapes have just come to market, including Tertill, by the makers of the Roomba, the round robot vacuum cleaner.
Absurd, fool-hardy, and priced at $250, these ridiculous gadgets snip, rather than dig, whatever weeds it happens to discover unless it tips over due to an incline or gets stuck after encountering a small stone or hard clump of soil. Just think what this product will do to encourage new gardeners to learn how to garden.  They are the worst invention since the hydrogen bomb, oxycodone and the Internet.
Black Spot Award
Worst Cognitive Abilities, City Municipal Worker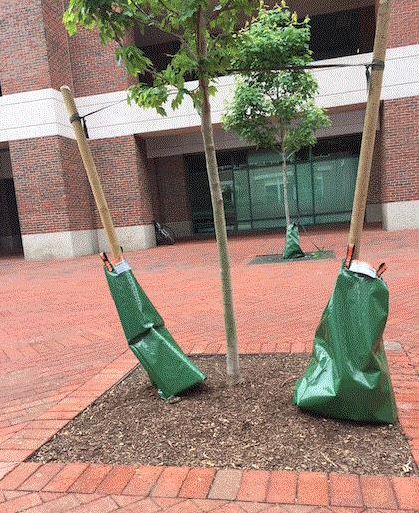 High Spot Award
Best New Gardening Product:
Plant Amp
Music buffs that keep a large supply of their favorite tunes on their smart phones should be in tune with this cool new product that acts as an amplifier for your device while adding an elegant floral touch to any home décor.
The clear, hollow, round glass device has an indented holding area for the base of your phone that amplifies the music played from it quite adequately—it doesn't get blaring loud, but it's a nice volume for a large room—accented by two planting wells, one on each end.
Each well will hold a small houseplant, succulents being an obvious choice. Search "plant amp speaker" and you'll find ample sites you can purchase it from, including Amazon, of course. Perhaps add on a Plant Amp and two succulents with your spring day lily order.
Black Spot Award
Worst New Outdoor Concept:
Forest Bathing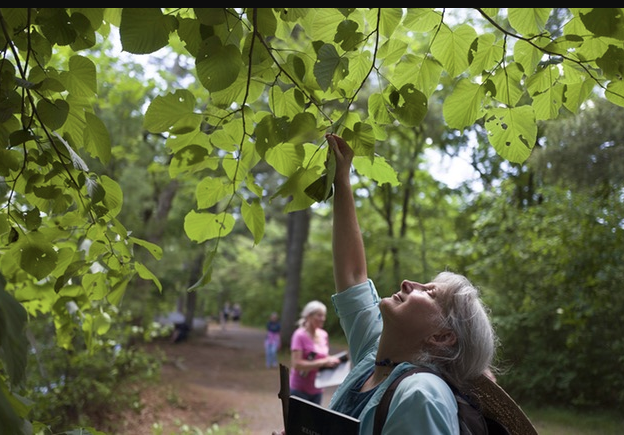 What used to be called walking in the woods has a new, puerile, preposterous and patently precious name: Forest Bathing. Defined as the practice of taking short, leisurely visits to a forest for health benefits, it's becoming all the rage.
From an article in the Minneapolis StarTribune this summer:
Under a canopy of trees, they met on the park trail and waited for instructions from their guide. In a gentle voice, certified forest therapy guide Laura West spoke to the eight adults assembled on a recent Sunday at William O'Brien State Park north of Stillwater. "This is called 'The Pleasure of Your Senses,' " she told them, inviting them to close their eyes, tilt their heads skyward and listen closely to the surrounding sounds.
Leaves rustled in the wind. Water lapped against nearby rocks. And the faint sound of children's laughter echoed from far away. Next, West asked them to inhale deeply, taking note of what they smelled: the scent of pine, smoke from a campfire, damp soil.
Other trail hikers walked briskly past, but the group continued to stand still and soak their senses in nature — oblivious to the curious looks they were getting. This, to the uninitiated, is what "forest bathing" looks like.
Sorry, no, to the uninitiated this is what being duped into analyzing that which needs no analyzing looks like. This is what it looks like to have to wait for instructions—FROM A CERTIFIED FOREST THERAPY GUIDE, no less—in order to gain benefit from walking in the woods. This is what it looks to not have a brain in your head.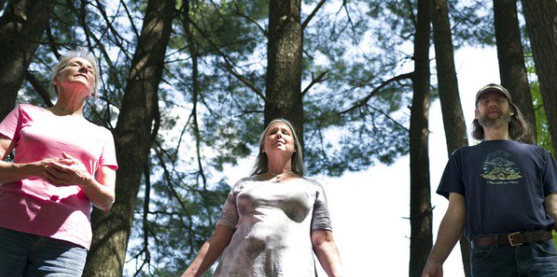 Originating in Japan, this concept that communing with nature now requires a guide, supervision, and in some cases, a fee, first hit the west coast (of course) and is now spreading across the country faster than the bronze birch borer.
It raises so many questions. I've spent time walking in woods since I was old enough to walk. The woods were so neat. Animals. Sounds. Smells. The trickle of a creek. An old stump with crazy things growing on it. A vine you could swing on like Tarzan. My best friend, Tuffer Dean and I would explore and play in the woods after school or on weekends until it started to get dark and we'd be reprimanded by our mothers for being a bit late for supper.
Unfortunately, I was unaware of Forest Bathing the whole time, unaware that I needed to be instructed as to when to stop, to listen, to smell, to absorb the healthy, powerful properties of nature. So does any of it count? This might be difficult for a certified forest therapy guide to believe, but I swear, I got it right away!
How about the breathtaking walks I've taken in the desert regions of New Mexico and Arizona, immersed in the magnificence of desert plants, dunes, foothills and 100-mile vistas? No good? Time I'll never get back?
The physical and mental health benefits of green spaces, of gardening, of walking in the woods, have been known for centuries, for heaven's sake. They are the subject of poetry, journals and historical documents since antiquity. Leave it to today's modern society, to adults who can no longer relate to anything that isn't blocked out for them, defined, guided, instructed, to glom onto such a ridiculous and contrived concept.
This concludes this year's Renegade Gardener High Spot/Black Spot Awards! The buses are ready to take you to the lovely Winnipeg International Airport for your flights home, just as soon as the wrecker arrives to jump-start their batteries.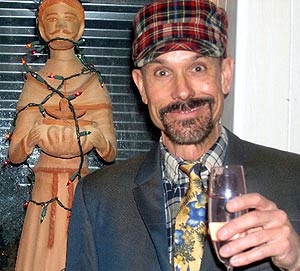 Don Engebretson
The Renegade Gardener