RENEGADE GARDENER™
The lone voice of horticultural reason
The 2001 Renegade Gardener High Spot / Black Spot Awards
Good evening! Welcome to the 2001 Renegade Gardener High Spot/ Black spot awards, honoring the best and worst of the American gardening industry. Before we get started, allow me just a few words about the 2001 Renegade season.
First, thanks to the hundreds of you who e-mailed me during the summer. Nothing makes me smile more than checking e-mails and finding a few kind words of encouragement at the end of the day. To those of you who sent attachments, I've never seen such creative viruses in my life. Excellent work.
While I'm on the topic, please, no more e-mails about deer. If you can e-mail me you can get yourself to Google.com, and if you type in the appropriate words on Google, you'll find all the deer-proofing and deer-resistant plant info in the world. Any more e-mails about deer problems, and from now on you will get my automated response, which suggests you sell your house and move into an apartment.
The Renegade season runs from April 1st to October 31st. This is the final update, so through the rest of the fall and winter months this site sits on the Web like a giant slug. Explore and enjoy.
Behind the scenes, however, we are redesigning the site and readying Renegade Phase II for a spring 2002 debut. The site will have a new look, new features, and slicker and quicker options. I'll also be offering some unique, Renegade Gardener-approved garden products for sale, so be sure to check them out when the new site springs to life on April 1, 2002.
One more note: In a few months I'll be retiring from the home and garden show industry, in order to devote full time to a career in garden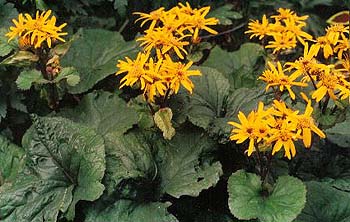 writing, designing, speaking, and television. If nothing else, starting April 1st, I will have absolutely no excuses left for not getting the bi-weekly updates up on time.
Now, may I have the envelopes, please …
High Spot Award
Perennial of the Year: Ligularia dentata 'Desdemona'
I must admit, it took me a while to figure this one out. The first year I grew 'Desdemona,' I didn't think it brought much to the party, but after three I realize why I see this plant in all the better gardens I visit around town.
It's the leaves, stupid. Huge, leathery, rounded leaves with purple undersides make a bold statement and contrast splendidly with the larger astilbes, medium and smaller-leaved hostas, aconitum, aruncus, pulmonaria, and just about every other semi-shade perennial that comes to mind.
Don't get me wrong, the flowers are great, golden yellow daisy-like clusters that stand up sprightly above the plant. Plus they hit in August and last well into September, that period in the north when not much is happening. But it's the overall habit, the oddity, of the plant that makes it such a great addition.
Like all ligularias, 'Desdemona' prefers soil kept evenly moist, and does best in part shade. Morning sun and afternoon shade is the best scenario I've found. Plant it as a single, unless the bed is huge. Hardy to Zone 3.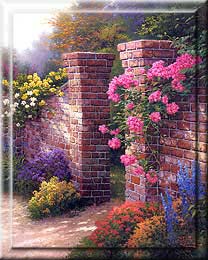 Black Spot Award
Worst Garden Painter: Thomas Kinkade
Painter of light, seller to rubes. I realize I'm going way far afield just to be snide, but if not me, then who? Am I the only person on earth who finds this guy's art dreadful? The gardens he plugs into his paintings look like set sketches from the Wizard of Oz. This isn't painting, it's illustration.
High Spot Award
Best New Gardening Product: The RockVac
Be still, my heart. One can now go out and rent (or buy) a machine that will suck up the eight tons of "decorative" rock often found ringing the perimeter of far too many American homes.
The RockVac is a heavy-duty, incredibly powerful wet or dry vac available for rental. Interesting origin: RockVac was invented and developed by Christianson Systems Inc., headquartered in Blomkest, Minnesota, leading manufacturer of machinery used for loading grain into ships.
I've always hated the look of rock around houses and in beds. What is it doing there, besides soaking up heat from the sun on hot days, helping water evaporate from the soil, and frying the roots of the trees and shrubs it covers? Every homeowner who starts gardening eventually realizes that rock in beds is a mistake – just try adding or subtracting shrubs from the equation. But shoveling it out breaks your back, and landscapers charge an arm and a leg to send two guys over with wheelbarrows and shovels. Now, you can easily and affordably take the matter into your own hands.
The RockVac is available for rent at over a dozen Twin Cities locations, and out as far as Monticello and Hutch. It can also be used to vacuum up sand, leaves, wood chips, small rodents, and Stella de Oro seedlings. If you're visiting from out of state, check with your nearest large rental center. For more information, click on www.rockvac.com
High Spot Award
Annual of the year: Torenia "Blue Moon"
This fabulous plant is the answer to the prayers of any gardener forced to make shady window boxes look good. From June through October, this draping annual shot out blooms every place I put it, from dappled shade areas to this box on the west side of my house, where it received only two hours of late-day sunlight. Here's the link to my Plant Spotlight from earlier this year.
Black Spot Award
Worst Industry Avarice: The Scotts Company, Marysville, Ohio
I was surprised by radio ads this summer in which the company spokesperson stated that, "Right now, thousands of grubs could be hatching below the surface of your lawn," then encouraged listeners to buy and apply Scotts GrubEx as soon as possible.
Well, wait a minute. A grub infestation requiring chemical combatants is a fairly rare occurrence this far north. Yet the ad tells Twin Cities residents to apply a large dose of a chemical pesticide (halosenozide) as a preventative measure for a problem that may not exist. The ad promotes the mindset in homeowners that lawn chemicals should be used annually and wantonly, the old "just in case" scenario, lest some unseen, dire catastrophe besmirch their precious lawn.
Come on, Scotts. You guys know better than that.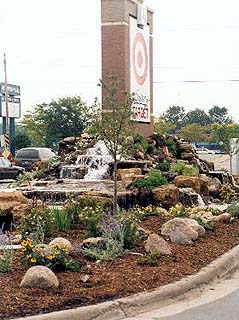 High Spot Award
Best Retail Landscaping: Highway 101 Target
The amazing thing about Target is they never screw up. This new Super Target is only a mile from my home, in the fashionable western suburbs of Minneapolis, and rather than have your typical boring entrance marker, Target shelled out some bucks to create a most attractive, waterfall garden entrance to the parking lot.
This photo was taken in the fall just after completion; I can't wait to witness it mature and flourish in the years to come. The Target Corporation just blows my mind. Did you know they donate one million dollars per week to Minnesota charities, causes, and communities?
High Spot Award
Best Landscaping Trend: Influx of Mexican Immigrants
The landscaping industry is booming to such an extent that good labor is getting harder and harder to come by. Many new Americans arriving from Mexico are finding gainful employment in the landscaping industry, and are arriving in the nick of time.
"The Mexican-American workers are going to give a real kick in the pants to a lot of young, white kids who are out looking for blue-collar jobs," says a good friend of mine who runs a medium-size landscape operation based in Woodbury. "Too many of the white kids who come to us looking for summer employment quit after a few weeks, because they can't be foremen, we don't let them drive around in pickups all day, they gripe about having to spend eight hours planting shrubs with shovels.
"The legal aliens I'm hiring from Mexico work like hell. They're dependable, polite, and train quickly. I'd be turning down business if I didn't have them."
Two of this company's Mexican-American employees have become expert craftsmen at creating mortarless, blue stone walls, and their skills are in high demand. And my friend also notes his Caucasian employees on the landscape crews are eating better. "No more Burger King and McDonalds. The Mexican guys were always bringing lunches from home, and sharing, and pretty soon all my guys were eating home-cooked Mexican food."
Black Spot Award
Worst Gardening Trend: Pre-Designed, Plant-by-Number Gardens
It started in magazine articles, then spread to plant catalogs, books, even Web sites. You can go to a craft store and buy paint-by-number sets, and in a few hours paint a beautiful picture of a pirate ship, or kittens with yarn, but ask yourself this: Would you hang it over the fireplace? Would you feel true pride in your accomplishment? Would you have learned anything about painting?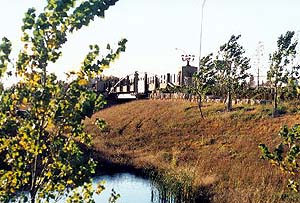 High Spot Award
Best Municipal Landscaping: The City of Burnsville
Time to replace two bridges spanning Highway I-35. Order up the Keystone retaining block, right?
Wrong. The city of Burnsville has distinguished itself not just for creating artful, serene bridges serving both Highway 13 and the Burnsville Parkway, but for landscaping them with native limestone. Both of these overpasses feature heavily bermed areas that have been planted with low-maintenance prairie grasses, wildflowers, and native trees.
The rock work was designed and created by Landscape Junction in Lakeville. Check it out the next time you head south of the Twin Cities on I-35. The two bridges come at you boom-boom, and are utter delights, making you realize just how attractive our highways can be when a city plans with aesthetics in mind.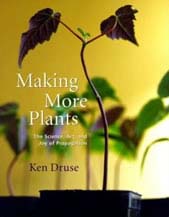 High Spot Award
Best Gardening Book: Making More Plants
By Ken Druse (Clarkson Potter/Publishers)
Propagating plants entails more than chopping 'em in half with a rusty shovel. This is one of maybe a half-dozen books that I think every gardener should own. It was a Top Pick this year. Proceed directly to www.kendruse.com. But be sure to come back; the final, most coveted award is next.
Black Spot Award
Worst New Garden Product: Plastic Wishing Well
Westech Fence, Mount Vernon, Indiana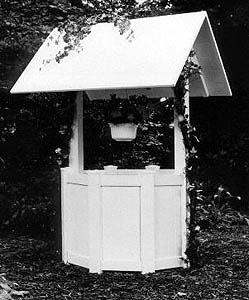 I barely know where to begin. At its best, plastic, in all its many guises, is one of the great discoveries of all time. Plastic has improved our quality of life, and made things easier, cheaper, stronger. It has saved lives.
At its worst, of course, plastic is a necessary evil, like taxes, or Blockbuster Video. Combine the dark side of the plastic industry with an utter lack of taste and you get this year's Renegade Gardener Black Spot award winner for worst product, the Niagara Wishing Well.
A picture is worth a thousand words, so I'll keep this short. If Westech would build this thing at 1/4 scale, I could see it almost working in a really big sandbox. Or, buy one for the kids and let them use it as a fort, as long as you screen it away from any garden area, plus the neighbors' view. Another use would be to cut off the posts and roof, then drill a bunch of one-inch holes all around the sides, but at $399, that's a pricey compost bin.
Ladies and gentlemen, that concludes this year's Renegade Gardener High Spot/Black Spot Awards. Thank you so much for attending. See you in April.
Don Engebretson
The Renegade Gardener