RENEGADE GARDENER™
The lone voice of horticultural reason
The 2009 Renegade Gardener High Spot / Black Spot Awards
1-1-10/Airport Holiday Inn, St. Cloud, MN – Good evening all, and welcome to the 10th annual Renegade Gardener High Spot/Black Spot Awards! We only have the Grand Hiawatha Ballroom until 8:00 p.m., after which we have to vacate for the Peterson marriage rehearsal, so let's start giving out some awards!
High Spot Award
Best Sign Gardening Isn't Dead:
Plant Catalogues Score a Storyline in Doonesbury
He may be a pot-smoking old lib whose fifteen minutes of fame flamed out twenty years ago, but Gary Trudeau still possesses the sharpest wit in cartooning.


Black Spot Award
Most Ridiculous Fad: Raising Urban Chickens
It's difficult to know where to start, perhaps by singing "Old McDonald had a farm," because that's kind of relative here, the part about having a farm. Chickens are farm animals, and how and when sophisticated, urbane individuals decided that adding a chicken coop to their city lot or suburban back yard is acceptable is beyond me.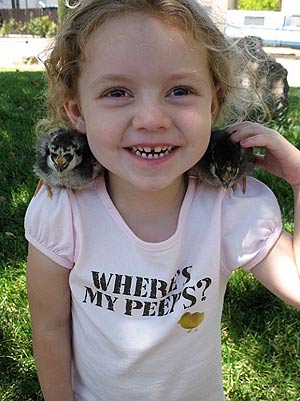 Oh sure, they're adorable now, but what happens when you have to flush them down the toilet?
You really can't blame Martha Stewart. Yes, she was among the first to famously raise her own chickens, but she has the remote property of proper size to do it, not to mention the wealth to hire the young, strapping, bare-chested Latino men she prefers handling the feeding of her poultry and the collection of her eggs. If you own eight-plus acres in the Hamptons, hey, have at it, who the hell am I.
What is ridiculous are the attitudes of city dwellers and suburbanites who mob city council meetings, appalled at the fact that zoning codes prohibit them from raising chickens in their yards. The Minneapolis paper recently had a typical story on the issue, young kid had a few chickens penned in a small city lot, the neighbors complained, the city shut him down, and the article of course elicited hue and cry from the citizenry about how the code should be changed.
Did I miss something? He was raising chickens, for chrissakes. We have people called farmers for that. There are reasons for the ordinances prohibiting such hobbies in cities and suburbs, having to do with things like noise, pollution, pests and disease.
I understand perfectly well that it's the groovy new hip thing to do, and mail-order sales of baby chicks (let's not talk about where they come from) prove that plenty of people are taking a stab at it. Luckily, it appears to be an ephemeral fad, similar to the fondue parties my parents threw in the '60s.
Many urban chicken farmers are discovering early on that raising chickens is work, there's more cost than meets the eye, and that the novelty wears thin pretty quick. Not to mention the fact that if you want to pop out to the mountains for a ski vacation, coercing someone into taking care of your chickens is a bit more involved than asking someone to swing by to feed the cat.
I do love the activists in the "Free the Chickens" movement, though. It's always telling when the same "back to the earth" environmental types who decry the stupidity of man for fostering the introduction of alien plant and animal species into sections of the planet's frail ecosystem throw hissy fits when their city government tells them that if they want to raise chickens, they should move to the country.
High Spot Award
Shrub of the Year: Sven, Ole and Lena
A few words of explanation are no doubt in order here, as this is a classic case of if you don't live in Minnesota, you don't truly understand what's going on.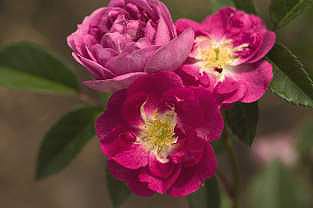 Sven
The doctor tells Ole he has only a few days left to live. Ole looks pleadingly into his wife Lena's eyes and says, "Lena, promise me, swear to me dat when I'm gone, you'll marry Sven Svenson." "Sven Svenson?!!" she shrieks. "You've hated him all yer life!" Ole answers, "Yah, and I still do."
A few days pass and Ole has only a few hours to live. Lying in bed, he smells something. Cake. Chocolate cake, his favorite! He crawls out of bed and drags himself into the kitchen. When Lena walks in, Ole is sitting at the kitchen table gorging himself on the still-warm cake. She hollers at him, "Ole, get back into bed! You shouldn't be up eating chocolate cake. It's for da funeral!"
Finally Ole dies. Lena goes to the newspaper office to arrange for the obituary. The clerk asks her, "What do you want it to say."
"Ole died."
The clerk looks up. "What else?"
"Nuttin' else."
"But Lena, you were married to Ole for over 50 years, don't you want to say anything else about him?"
"Nope."
The clerk pauses, then says, "If you're worried about the cost, the first ten words are the same price, so it won't cost more if you'd like to add a little."
Lena's eyes brighten. "Ten words, and it don't cost extra?" she asks.
The clerk nods.
Lena thinks hard, then says, "Ole died. Boat for sale."
Ba-dum-bum-bum. There you have it, a little peek into the Scandihoovian culture that permeates the great state of Minnesota like spilled red wine on white carpet. Sven and Ole jokes (or Sven, Ole and Lena, depending on the scenario) are a staple of life in The North Star State, so it is with a nod and a wink that St. Paul's Bailey Nurseries have named the first three cultivars in their new Northern Accents® shrub rose series Sven, Ole and Lena.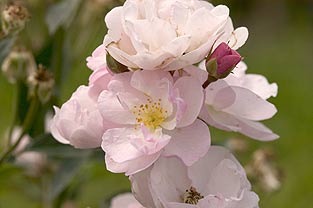 Ole
"It's getting harder to name plants," explained Peggy Anne Montgomery, a horticulturist with Bailey Nurseries. Because the new roses were developed at the University of Minnesota, the Bailey folks were looking for names that reflected their hardiness and home-grown appeal. "We started tossing out Minnesota place names – Lutsen, Duluth – then someone suggested Sven, Ole and Lena, as a joke," said Montgomery. "We decided to go with it."
But there's nothing funny about how the new roses perform. Bred by Kathy Zuzek at the University of Minnesota, these robustly blooming, fragrant shrub roses continue the Bailey legacy as one of the world's great purveyors of exceptional shrub roses for home landscapes. Ole has white flowers, two inches-wide and fully double, the buds exhibiting a tinge of pink before they open; Lena is a soft pink with single, one-and-a-half inch wide blooms; Sven is a very handsome mauve-purple with one-and-a-half inch wide, double blooms.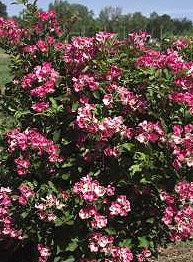 Lena
Sven is the most fragrant, but all give off a classic rose bouquet. All are fabulously disease resistant, with shiny green foliage that stays clean through summer. Each plant produces waves of hundreds of blooms at one time, and continue to bloom well into fall. Perhaps the coolest thing is that they stay truly compact in the mounding, thirty-inch high and wide range, so you can plant them near the front of the garden border where they can be viewed, smelled and appreciated.
Extra kudos to Bailey for the oversized, cartoonish plant tags featuring classic Minnesota-isms such as "Uff-da" (the Swedish-Norwegian expression of surprise) and "Ya, you betcha." Even the planting directions remain true to the story line: "One ends smells good. Ya put the udder in da dirt." Ah, Minnesota. I think our state's motto should be changed to, "You gotta love it."
Each is hardy to USDA Zone 4, with good results in Zone 3 when mulched for winter. Sven, Ole and Lena were available in limited release in the north this season, but that will expand in future. Whether or not nurseries in your region of the country will stock them depends on nursery industry word-of-mouth and performance review, so keep an eye out.
Black Spot Award
Strangest Makeover: Horticulture magazine
We've turned over a new leaf (and become the gardening magazine you've always wanted!) gushes the exterior envelope blurb containing the subscription pitch for the new Horticulture. To me it begs the question: Then what were you before?
What they need to do at Horticulture, of course, is change the name of the magazine. Every consumer study in the last ten years shows that each new generation of gardeners is becoming dumber and dumber, that they are stupefied by and frightened of getting involved in the hobby because it's so, well, scientific. If new homeowners are leery of gardening, one can imagine what they think of "horticulture."
When I was on the board of the Minnesota State Horticultural Society, the first thing I did was lead the charge, against thousands of kicking and screaming members, to change the name of the society's 100 year-old magazine from Minnesota Horticulturalist to Northern Gardener. A title like Minnesota Horticulturalist didn't exactly fly off the newsstand shelves, or grab many new subscribers. Northern Gardener does, in increasing numbers across the US and Canada.
Even the new Horticulture tag line that appears under the name – THE ART & SCIENCE OF SMART GARDENING – gives unintended pause. There's that damn word "science" again, and man, did I ever hate chemistry in high school.
I wish them luck. Horticulture is as good a gardening magazine as any, and they've definitely loosened their cummerbunds since being purchased by FW Publications of Cincinnati. But in these tough and changing times, my advice to magazine publishers is simple: Figure out how to make money from your website.
High Spot Award
Gardener of the Century: Norman Borlaug
On September 15, 2009, Norman Borlaug died at his home in Texas at age 95. Not many people in history are credited with saving a billion lives.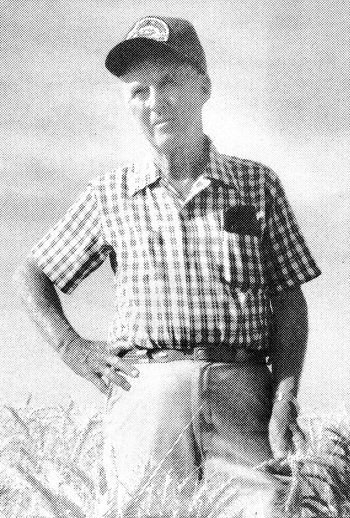 Born and raised on an Iowa farm, Borlaug enrolled at the University of Minnesota in 1930 to study forestry. By his own admission he struggled academically, though excelled on the Gopher's wrestling team, good Iowa farm boy that he was. Lack of finances forced Borlaug to postpone his studies numerous times, and seek work. One of his jobs, in 1935, was as a leader in the Civilian Conservation Corps, working with the unemployed on U.S. federal jobs. Many of the poor who worked for him were starving. He later recalled, "I saw how eating a meal changed them. All of this left scars on me."
He finally achieved a Bachelor of Science degree in 1937. After stints with the U.S. Forestry Service in Massachusetts and Idaho, he returned to the University of Minnesota and found his true calling: plant pathology. He achieved a master's degree in 1939 followed by a doctorate in 1942.
Think of the age – the world population was exploding, and advancements in communication technologies were bringing the reality of world hunger to the fore. Around the globe, natural crop diseases were advancing unabated, causing mass starvation, particularly in developing nations. Borlaugh went to work as a microbiologist on the staff of the du Pont de Nemours Foundation, where he made breakthrough after breakthrough in the fields of agricultural bactericides, fungicides and preservatives.
Next he directed the Cooperative Wheat Research and Production Program, a joint undertaking by the Mexican government and the Rockefeller Foundation. It was here that his research in genetics, plant breeding, plant pathology, entomology, agronomy, soil science and cereal technology set him on a path that would lead to him being dubbed, "the father of the Green Revolution" in the 1960s and '70s.
His work developing a high yielding, disease resistant wheat revolutionized farming in Mexico, India, Pakistan and numerous African countries. (Mexico, which had had enormous problems growing wheat, became a wheat exporter by 1963). He then moved on to improving rice crops for Asian countries, raising rice yields by as much as six-fold. By most estimates, his work has saved one billion people from starvation.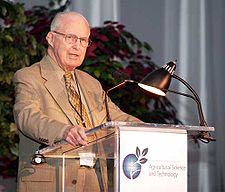 Borlaug received the Nobel Peace Price in 1970 in recognition of his contributions to world peace through increasing food supply. In 2007 he was awarded the Congressional Gold Medal of Honor, along with Nelson Mandela, Elie Wiesel, Mother Theresa and the Rev. Martin Luther King Jr.
Borlaug never really retired. Well into his 90s he took advantage of his fame to speak out on world hunger and population issues and used his status as an elder statesman to get world leaders' attention. Two years ago he returned to the University of Minnesota for the plant pathology department's centennial celebration. All who gathered wanted to hear what Borlaug had to say, but he chose not to make a speech, preferring instead to listen to presentations about student scientists' research. He knew he was a celebrity, but he wanted the spotlight to shine on those who would be carrying on his enormous legacy.
Science, people. Science and smart kids raised in good places like farms in Iowa, educated at cutting-edge agricultural schools like the University of Minnesota, these are the people who, unlike you and I, truly make a difference in the world. This is one reason I get mad when ignorant people who do not know the past, do not appreciate the present, and do not understand the problems of the future, protest and fume against genetically modified grains and other technological advancements in agriculture.
From the final paragraph of his obituary in the September 16, 2009 Wall Street Journal:
Norman Borlaug

The man who fed the world.

In later life, Borlaug was criticized by self-described "greens" whose hostility to technology put them athwart the revolution he had set in motion. Borlaug fired back, warning in these pages that fear-mongering by environmental extremists against synthetic pesticides, inorganic fertilizers and genetically modified foods would again put millions at risk of starvation while damaging the very biodiversity those extremists claimed to protect. In saving so many, Borlaug showed that a genuine green movement doesn't pit man against Earth, but rather applies human intelligence to use the Earth's resources to improve life for everyone.
Rest in peace, Dr. Borlaug. Ski-U-Mah.
High Spot Award
Greatest Pleasure Secret Women Hide from Men: Pedicures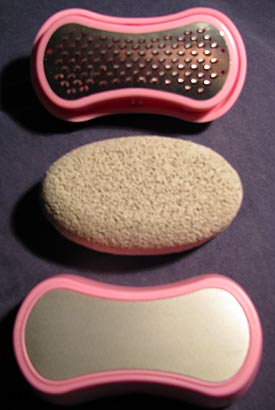 What every real man needs: coarse grit, medium grit, fine grit.
So I'm hanging out with my girlfriend last week and she and her daughter are hooking up later in the day for a pedicure. Have I ever had one, she asks. I'm a guy, I answer. Well, they're good for your feet, she says. That's nice, I say, but would it do anything about the calluses on the side of each big toe that have been driving me stark raving crazy for the past ten years? Yes, they could remove them, she says.
Guys, listen up. Women have been holding out on us. My feet were in tatters from years of gardening. I'll spend a week doing stonework in steel-toed boots, then a week planting trees and shrubs in my Redwings, followed by three days of mulching and primping in my trusty Mucks. They all fit well, but ten years ago I started getting calluses, some around the heel but mainly two huge honkers on the outside edge of each big toe.
They were hard, cracked, peeling, the color and size of a pearl onion. During the day you could strike a match on one and I wouldn't notice, but at night, a few times a week, they would start to tingle, then itch, to the point where I had trouble getting to sleep.
So I headed out with the girls for my first pedicure, not knowing what to expect. Well, if a glass of cold water after a dish of chocolate ice cream is a one, and an orgasm is a ten, I'll give a pedicure an eight. Eight-and-a-half.
We parked at a strip mall and entered the salon – this one happened to have an Asian motif – and settled into comfortable raised chairs, similar to a barber's chair. You remove your socks and shoes, roll up your pants, and stick your feet in the gurgling well of warm blue water at the foot of your chair. Yes, they change the water before each pedicure (was I that dumb to ask?). The joint was packed. I was the only male.
My pedicurist was newer to the country and didn't speak much English, like every young woman working there except the older woman at the cash register, but it hardly mattered. Guys, if you like a woman who takes charge with her hands and knows what she's doing, you have to try this.
First she washed my feet, then clipped and filed my nails. Then she worked over each foot with a pumice stone, followed by a lethal-looking metal shaver into which she had inserted a rounded, steel razor blade. I'm not certain about the exact order of all this, everything she did felt so good my eyes were rolling into the back of my head.
With the shaver she began shaving the dead skin off my feet. She kept returning to and carefully working the calluses. They do one foot at a time, so at this point you have one foot in the water and the other resting on a towel on a little foot bench at the edge. The dead skin peelings from the shaver dropped onto the towel until they made a pile of coarsely grated Parmesan cheese approximately three inches high.
What happened next is a blur. She presented some paint colors, and I picked the one that looked the most natural. While my lady friends went red with white snowflakes, I made the best hand gestures I could to communicate "flower."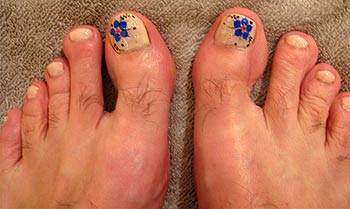 As always with this site, more than you need to know: A picture of the Renegade Gardener's feet.
After the paint job, they give your toenails six coats of a clear lacquer varnish, then you sit across the room with your feet in an electric drier for twenty minutes, praying the lacquer doesn't ignite. Then they wrap your feet in cellophane, you put your socks and shoes back on, your girlfriend pays for your pedicure, and you go to Starbucks.
Back at my girlfriend's condo, I removed my shoes, socks and the cellophane, and for the first time took a good look at my feet. They were as smooth and pink as a baby's bottom. The hard pads on my heels were gone. The calluses on my toes were gone. The red center of my flower twinkled in the light.
Two days later, in my Christmas stocking, I received a Revlon foot kit and a beautiful new pumice stone. And once a day, after bath or shower, I give each foot a good working over, mindful of the words spoken by the woman at the cash register after I had regaled her with lavish praise for how much I adored her industry. "You want feet feel good," she told me,  "you come back once a month."
Once a month it is.
Black Spot Award
Deceit in Advertising: Home Garden Seed Association
The judges for this award had dozens of candidates to choose from this year, no doubt all perfectly wonderful and well-intentioned companies, associations and community organizations, so the award probably went to HGSA because their promo materials happened to be on top of the stack.
From their list of Eight Great Reasons To Start From Seed:
1. Grow your own food, it's healthier and more nutritious.
So right off the top, one has to give them an F for "false." OK, get me weeping drunk and I might let you convince me that growing your own vegetables is "healthier," in some obtuse, generic sense – healthier for the gardener because he/she is getting exercise, healthier for the planet in some minute way, gotcha.
But eating the stuff does not induce greater health, and the produce grown organically from seed is not "more nutritious," as has been proven in study after study. Growing your own vegetables and fruits is great, hell, raise cattle if your property is so zoned, but there are reasons why the organic food industry is constantly getting their hands slapped by those meanies at the Food and Drug Administration every time they try to formally advertise that organic-grown food is healthier and more nutritious than conventionally grown food. Because it's not.
Promoting the myth that organic food is more nutritious, thus leading to better health, is left to the thousands of organizations that, God Bless America, will benefit monetarily from the notion, in this case, by selling seeds.
For the truth of the matter, read the article here.
High Spot Award
Most Hilarious New Garden Product: Dirty Little Cover-Up™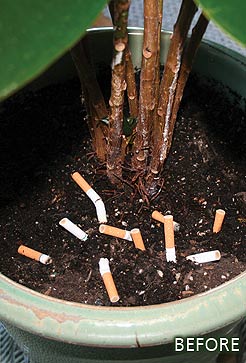 Don't you just hate it when your guests do this?
The 30 second TV spot (viewable on their website) is eye opening, to say the least. Among the list of problems this product (decorative, circular pads used to cover the dirt around container plantings) helps solve:
Prevents guests from pouring their drinks into your potted ficus tree.
Prevents guests from using your potted lemon tree as a trash receptacle.
Prevents guests from using your potted houseplants as ashtrays.
And of course, mention is made (with backing visuals) of the obvious fact that nothing is more upsetting than the cat using your potted fig as a litter box. Judging from the type of abuse the product inventor has witnessed during the drunken frat-boy raves he apparently hosts, I'm wondering why the video lacks a scene of a blacked-out male reveler stumbling toward a corner plant while unzipping his jeans.
Here's the website: www.dirtylittlecoverup.com.
Black Spot Award
Most Ludicrous Editorial Lead:
September/October Issue, Garden Design
From the editorial in the September/October, 2009 issue of Garden Design:
EVERY ROSE HAS ITS THORN. The most gorgeous garden, just by its very existence, is a drain on resources and sometimes harms the very ground it grows from.
My, my, we've certainly come a long way, haven't we? Why, I remember back to olden days, when gardening was a good thing. The editorial goes on to tout the magazine's first annual Green Awards, "developed to celebrate the designers who have devised the most creative and effective ways of mitigating a landscape's impact on the environment, while still upholding the quest for beauty that is inherent in the garden design process."
"Mitigating a landscape's impact on the environment?" Once again, I'm confused. And here I thought all these years that building ponds and planting trees and shrubs was me being nice to Mother Earth.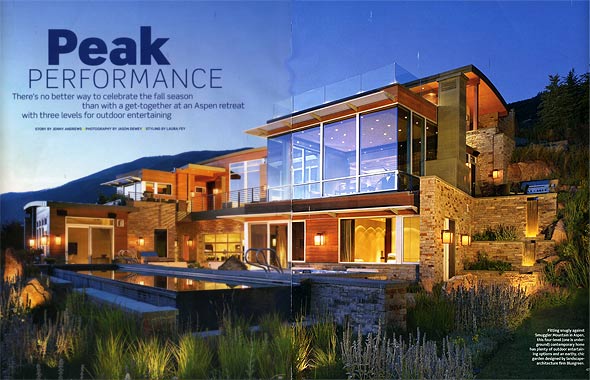 The house in Aspen.
The typical hypocrisy of these award affairs is evident as one peruses the winners, page after page of truly spectacular landscapes, not one of which could be even conceived of for less than six figures. The amount of diesel fuel burned by the Bobcats during their construction alone would be enough to choke every methane-farting herd of cattle in Oklahoma, Nebraska and Iowa combined. The homes aren't shown because you'd no doubt cry at the size of their carbon footprints.
Most telling is the article that follows the award section, a lavish photo spread of the landscaping surrounding a mammoth, modern, four-level Aspen mansion that is the pride and joy of its single occupant, a successful young bachelor who enjoys throwing parties. While the copy oohs and ahs about the multiple nifty decks, pools, patios, fireplaces, fire pits, hot tubs and other features crafted from stone, glass, wood, metal, acrylics and lord knows what other materials, nary a mention is made of the home's square footage, which I conservatively put at around 30,000 square feet.
Can anyone say greenwashing?
High Spot Award
Perennial of the Year:
Lysimchia congestiflora 'Walkabout Sunset'
(lie-si-MOCK-ee-uh con-jes-tih-FLOR-uh)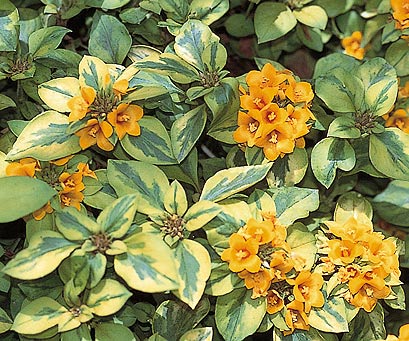 I've always loved the genus Lysimachia, from the early days when I started growing Lysimachia punctata – so gorgeous, so trouble-free, so fun to say out loud. Well there's plenty to love about 'Walkabout Sunset' beginning with its festive, tropical look.  The wide, oval, gently furled leaves are variegated light green and yellow, and contrast splendidly with the golden yellow, upward facing blooms that feature blood-red centers. Flowering time is from late spring well into summer.
She's a short, undulating sprawler, which is great, the spreading stems from each plant nosing around at between two to ten inches in height. One of the great features of the genus is that plants seldom succumb to fungal diseases. Pest problems are rare. You don't need to deadhead. 'Walkabout' even makes most deer-resistant lists, although good gardeners realize that simply means that they will be among the last plants to be eaten if the deer are hungry.
Use it as a prime focal point by dotting triangular plantings of three along the front of the herbaceous border. It's terrific in the rock garden, massed or in swaths as a sunny groundcover, and is a perfect perennial for large containers, because that killer foliage sits there looking gorgeous all season.
Some catalogues list the plant as hardy to only Zones 5 or 6 (some say Zone 7!) but that's nonsense. None of the fancy-schmancy east or west coast growers ever bother to check in with us gardeners up north, we could tell them in a phone call the true growing range of whatever new perennial or shrub cultivar they've spit out in the last ten years. Plant it in good garden soil that has decent drainage and organic material content, give it full to half-day sun, and it's perfectly hardy as low as Zone 4, although it is one plant on which I recommend applying a winter mulch in the true gardening Zones 4 and 5.  In Zones 6-8, you can't kill it with fire.
One of the mysteries that will dog me to my dying day is how a new gardener, limited by budget to purchasing one perennial, could see this plant in a garden or nursery and purchase a tall red garden phlox or orange daylily instead. As I have kindly admonished, for many years: You're not growing flowers, you're growing plants.
Black Spot Award
Worst New Gardening Product:
Plastic Trees and Shrubs for Landscaping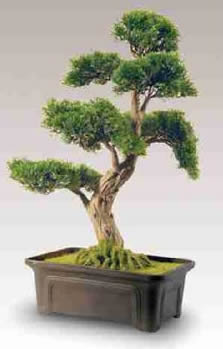 I swear to God, if I live long enough, everything I have joked about and made up when it comes to gardening products will come to pass. It was probably ten years ago I asked the question in an article, "What next? Are people going to start Astro-turfing their lawns?" They did. Then awhile back I wrote a bit, complete with phony press release, about a company marketing plastic flowers for the garden. Well, I was close.
The National Tree Company of Cranford, New Jersey, was out loud and proud at nursery industry trade shows in 2009, promoting their burgeoning line of fake trees, shrubs, and topiaries. The copy from the accompanying sales literature is superb:
"Landscaping is made easy with these authentic-looking shrubbery products. With no need for water, dirt or sunlight, our line of maintenance-free shrubs and topiaries can be displayed indoors or out."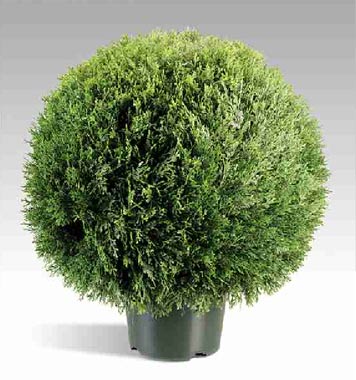 Particularly that fine bonsai tree. Displaying that in your home, just think of the pride in achievement! Someone, just track me down and shoot me, will you? I'm not certain I can handle another year on this planet.
Gosh, look at the time! This concludes this year's Renegade Gardener High Spot/Black Spot Awards. I'd like to close with a little story about Ole, back when he was migrating from Sweden to the US, via ship. While crossing the North Sea during extremely rough weather, Ole was hanging over the rail, vomiting violently. A sailor came by and asked, "What's wrong Ole, got a weak stomach?" Ole replied, "No, I don't tink so, I'm puking yust about as far as everyone else."
After establishing himself in Minnesota, Ole met Sven.
Sven: "Ole, stant in front of my car and tell me if da turn signals are working."
Ole: "Yes, No, Yes, No, Yes, No, Yes, No…"
Finally Ole met Lena and got married. On their honeymoon trip to St. Paul, Ole put his hand on Lena's knee. Giggling, Lena said, "Ole, you can go a little farther now if ya vant to." So Ole drove to Duluth.
I'll be here all week. Goodnight!
Don Engebretson
The Renegade Gardener