RENEGADE GARDENER™
The lone voice of horticultural reason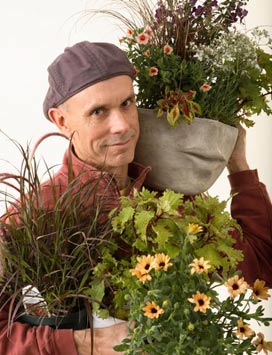 Welcome, comrades.
Day after tomorrow, the world!
RENEGADE GARDENER is the Web's best site for gardeners seeking truth, hope, and one lousy sign that someone unfettered by industry prejudice is helping you become a better gardener.
Originally designed to help gardeners banished to the forgotten USDA Zones 2-4, bold content has made it one of the Web's most-linked gardening sites. Gardening is gardening, design is design, dumb is dumb, and truth conquers all!
Spring Training
Late winter/early spring is a trying time for gardeners, a sort of seasonal purgatory, part numbed inertia from day upon day of cool to freezing temperatures, part champing at the bit for the energizing warm-up soon to come. Instead of waiting idly for the start of a new gardening season, I suggest you spend the next two months getting a jumpstart on design improvements to your landscape. After all, were he alive and playing baseball today, Rogers Hornsby wouldn't be staring out the window in winter, he'd be in the batting cage in his basement, taking some hacks.
Current Column will be updated on April 1. 
The 10 Tenets of Renegade Gardening
Full version is required reading: CLICK HERE.
Gardening should be challenging, relaxing, and fun.
Renegade Gardeners are cautious and wise when perusing the plethora of products and plants sold by the commercial gardening industry.
Gardening involves commitment.
Renegade Gardeners learn the Latin names of the plants they grow.
Gardening is not always easy.
Renegade Gardeners come to realize that lawns are essentially a dumb idea.
Gardening and rock music do not mix.
Renegade Gardeners buy first from local growers.
There is nothing wrong with cutting down a tree on your property.
Irreverence is essential.