RENEGADE GARDENER™
The lone voice of horticultural reason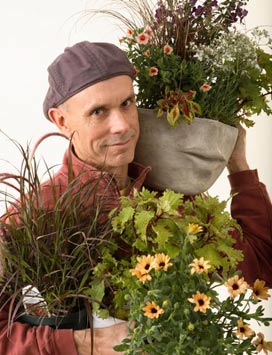 Welcome, comrades.
Day after tomorrow, the world!
RENEGADE GARDENER is the Web's best site for gardeners seeking truth, hope, and one lousy sign that someone unfettered by industry prejudice is helping you become a better gardener.
Originally designed to help gardeners banished to the forgotten USDA Zones 2-4, bold content has made it one of the Web's most-linked gardening sites. Gardening is gardening, design is design, dumb is dumb, and truth conquers all!
The Renegade Gardener is Don Engebretson, an award-winning Minnesota garden writer and designer.
NEW! Click HERE for Don's 2017 
national speaking schedule
Thanks howtostartagarden.org!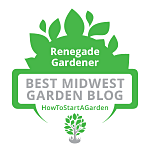 Crafting Cool and Creative Containers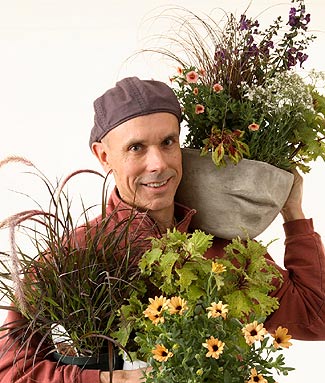 I BLEW IT. I gardened for six years before it occurred to me to grow plants in containers. I was a man, damn it, and grew my plants in the ground, where they belonged. I wasn't going to fool around growing pansies in a pot. But then…
I began to visit arboreta and fine public gardens, good gardener's properties, and started closely studying photos of evocative residential landscapes in garden magazines. It became obvious that the really fabulous views, the dazzling scenes, the greatest shots, were made even more spectacular by the ample use of cool containers filled with flashy, creative plant arrangements.
Easy to do? Hell no. Once I finally began making my own, I was ten years in the woods creating crap before I started figuring anything out. Now, sure, in a pinch I could knock out a serviceable corsage and boutonniere set from kitchen compost scraps, but like so much of gardening, it's a relatively simple skill that takes some time to hone.
So tag along. This is a brand new article with plenty of pictures that will fast-forward you through at least ten years of the container gardening learning curve, while explaining the key design secrets to creating beautiful container arrangements.
Current Column will be updated from the Archives on July 1.
The 10 Tenets of Renegade Gardening
Full version is required reading: CLICK HERE.
Gardening should be challenging, relaxing, and fun.
Renegade Gardeners are cautious and wise when perusing the plethora of products and plants sold by the commercial gardening industry.
Gardening involves commitment.
Renegade Gardeners learn the Latin names of the plants they grow.
Gardening is not always easy.
Renegade Gardeners come to realize that lawns are essentially a dumb idea.
Gardening and rock music do not mix.
Renegade Gardeners buy first from local growers.
There is nothing wrong with cutting down a tree on your property.
Irreverence is essential.